The Jazz Head and Funk Heart of Jason Raso
Jason Raso embraces his jazz leanings and begins a new musical chapter with The Red Arrow
Bassman Jason Raso's journey into jazz could be chronicled into an intense musical reformation totaling about 3 years and cumulating in his sixth album The Red Arrow.
Really though, the long slide began years before with the discovery of Jaco Pastorius. To Raso, Pastorius was both devastating and consuming. Jay was forced to expand his abilities and try to avoid being totally consumed as he dove into everything Jaco. Pastorius was a bridge between funk and jazz. It was a bridge that had to be crossed.
With over twenty years of playing and perfecting his technique, Jay Raso is discovering his own instrumental voice through writing, recording, and

People think that everything is some big jam session. The writing is huge. If you're not playing on a good song then the improv probably won't mean that much

countless live performances. He has developed a style which is decidedly funky, a kind of 'sophistifunk' with a sprinkle of jazzy things. Though Jay continued to be enamored by jazz and jazz composition, he brushed off those whisperings, preferring not to deal with the duality that was coming to the surface. "I've always had a huge interest in jazz," says Jason Raso. "But at the same time I didn't want to lose what I've done before."
With the release of his fifth album Groovespeak, a live recording, there was a change taking place. "Just after Groovespeak, which I was really happy with, and coming off of all the shows from that, I really didn't know where things were going," says Raso. "I decided it was time to really learn this jazz stuff, to take it more seriously."
For three years Jason Raso embarked on a program of intense practice and study. He also picked up the electric guitar to work out harmonies and ended up adding it to his imposed jazz curriculum. "I just kind of fell in love with that jazz guitar sound and started studying that on the side, before you know it, it became 'why not play it on the album'," says Jay.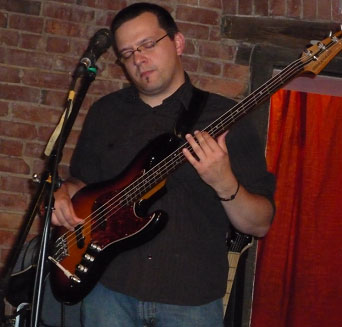 If I don't nail it tonight, I'll get it tomorrow night.
There's always that chase.While he enjoys playing the electric guitar, the bass is where he really lives. He explains, "For me, bass is home. It speaks to me like no other instrument. But sometimes you need to get out and see the world. Guitar is like a nice vacation. I can take on a new role when I play guitar. I write almost exclusively on the guitar but afterwards I love heading home. I really want to deliver the finished product with my bass." Jason Raso plays electric guitar as well as electric bass and acoustic double bass on The Red Arrow.
The evolution of Raso not only included mastery of the instruments, which he says is always on going, it also encompassed his writing. Previous albums featured the bass in a spotlight role, where Jay was able to drive the melody.
On The Red Arrow Jay's compositions focused not only on his own instruments but on the entire conception of the album. His writing became more complex, inclusive of the colour that other instruments and players would bring to the music.

I still want a groove, and my hope is that those two sides continue to blend

Joining him on the recording as guests soloists are Hammond B3 virtuoso Tony Monaco, Richard Underhill on alto sax. Italy's Francesco Pinetti on the vibraphone, and one of Canada's pre-eminent jazz drummers Ted Warren. Rounding out the cast are long time collaborators Rob Hannam on keys and Brent Rowan on saxophone.
The sprinkling of little jazzy things in the past has become a full pour of jazz. Jason was no longer swinging between love and fear of the jazz idiom, he was just plain swinging.
The evidence is found in the songs on The Red Arrow. "Corner Pocket" tips the hat to bass player Paul Chambers and has a great groove accentuated by the B3. "Baroness" is a beautiful ballad inspired by the story of Baroness Pannonica de Koenigswater and explores Jay's love affair with the key of D minor. "Ten Barons Blue" gives a nod to Charles Mingus, and the title track "The Red Arrow" could be the soundtrack to a film noir that Raso loves so much. He certainly doesn't shy away from putting his stamp on the stories and sounds that influence him.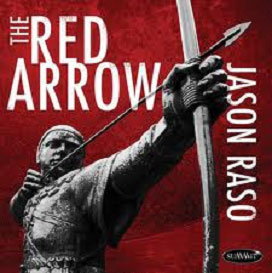 Jason Raso's The Red Arrow
When asked what jazz meant to him, Raso takes a breath and laughs, "Fear and freedom for sure, because you can improvise. It's freedom in a sense that I get to write what I want, and get to improvise over it. If I don't nail it tonight, I'll get it tomorrow night. There's always that chase." He continues, "I also like the composition side. I think sometimes that gets overlooked. People think that everything is some big jam session. The writing is huge. If you're not playing on a good song, then the improv probably won't mean that much."
It has been said Jason Raso has a jazz head and a funk heart. The two have been introduced in The Red Arrow. Jay comments on the duality, "The head can sometimes play games and push you away from some things. I still want a groove and my hope is that those two sides continue to blend."
For more information, music and blogs visit Jason Raso's website at www.jasonrasomusic.com