MYTHS is even more vocally demanding but in a totally different way.
Myths of Vancouver
Vancouver's MYTHS create scary soundscapse of fantasy, light and sound. Techno witch rave, you might say
This month we continue with our "Getting to Know Your Local Bands" series. This time, we track down the spooky sorceresses behind MYTHS!
Scott Wood: MYTHS... Why did you guys decide call yourself that?
Quinne: I think it was a bridge between our interest in fantasy and the unknown, and politics. It's a word that encompasses a lot, the intersections between our shared realities and unrealities.
Lief: Just to elaborate on how mythology relates to politics, we look not only at mythology as fantasy but also the mythos of our current cultural ideology, and the myths that are produced within that. We are interested in myths that exist and to recognize and reveal them, to create our own mythologies, and freely enter into realms of the unknown.

Scott Wood: Can you tell me the origin story of MYTHS? How did you guys get together? What is it about Leif/Quinne that makes you want to make music together?
Quinne: I admire Lief so much. I've always been in awe of her creativity, and that's pretty much how we started hanging out, I think, helping out with each other's projects. So before MYTHS started we'd been friends for years, working on creative projects together, going out dancing.
Lief: Yeah… Way back in the day Quinne asked me if she could make some costumes for me to wear in my old band Kiku-Haux, and of course I was thrilled to wear her crazy frills and pearls, so that's how we began. We became really good friends and had always talked about collaborating more sometime…and so we did!
Scott Wood: Leif, you were a part of local legendary band The Mutators from the equally notorious Emergency Room scene. The Mutators has been called one of the "most intense bands" from that scene. Can you talk a bit about re-forging your music identity in MYTHS? (The Mutators and MYTHS are pretty different.)
Lief: Yeah, hmmm, well I didn't think of it as a re-forging… I wasn't really worried about my musical identity or anything so much as I was focused on what I wanted to do next musically. I had another project more immediately after Mutators called Glaciers, which was an improvised sound art kind of thing where I did accappella voice improvisations and I started doing solo vocal performances at that time as well and had been planning on these new projects even when I was still with Mutators, so I was always very open to new and diverse forms of music. MYTHS for me was actually moving closer in a direction back to Mutators in that it is loud, aggressive and fast. MYTHS was different from Mutators in very specific ways that were important to the transition between the two for me though- the lyrics are more meaningful in terms of their political and social ideas and the music is (arguably) more accessible. Of course so much rests upon the dynamics of one's collaborator, so all these ideas were just a launching point for the creative process. Essentially it is a very natural process based on creativity, inspiration and collaboration and while Mutators was an influential part of my life, so were many other things, and I take so much inspiration from all of them and forget all of them too. When it comes to my creative direction I guess I just follow my instincts.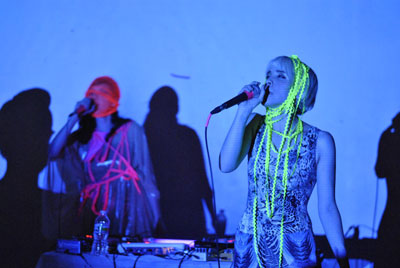 Quinne: Lief never seems too concerned with her image or musical identity or whatever, she's always just chasing the creative dragon.
Scott Wood: Quinne can you talk about working with someone who already has this kind of "rep" (established) and how you add your distinct voice to the Myths mix?
Quinne: I don't think her "rep" has ever really affected me. I've never really felt like I'm intruding into something, it's all very much something we've built together. My voice has kind of grown with MYTHS to turn into some kind of banshee thing.
Lief: The Mutators rep really made it easier to book shows and tours, so in that way it benefited MYTHS. But because we are so different I think people sort of forgot about the Mutators history pretty fast and just saw MYTHS for MYTHS. And really once Quinne dyed her hair blonde nobody seemed to recognize me anymore anyway, haha.
Scott Wood: Can you guys describe your show for those who have not seen it? (And for those who have not, you really should try to! It is difficult to describe.)
Quinne: They're hand-crafted environments using sound, visuals, light and costume, lots of blacklight and strobe. They're various attempts to overload your senses and recreations of nonexistent dimensions.
Lief: Haha, yeah, that's a good description! Every show is different- some are more barebones, others are insane theatre works… We try to gauge what will work best with the space and the mood we want to create with each set. Perhaps the ideal show would be described as you could describe the show as a spooky fantasy landscapes of glowing neon, blacklights and strobe in the midst of sweaty thrashing or slowly swaying bodies. (Although our upcoming electronic opera will have seating!)
Scott Wood: I have heard your sound described as "a techno-witch rave being held in a whale's stomach while aliens with sonic weapons attack outside"... What do you think? Did he get it right?
Quinne: That's pretty awesome. Hmmm... While we've never discussed or aimed at a particular sound, each song has its own little world in our minds. We talk about the scenery and taste and smell and colour of a song. So maybe all these little worlds exist within a whale's stomach somehow, like on the back of a turtle.
Lief: Definite techno witch rave! We have been known to build things with whale bones, wander the watery shorelines, float in the deep abyss of space, but more often than not we are mountain dwellers.
Scott Wood: I read that you guys once did a lunch hour performance for a girls rock camp (10-year-old girls)... Taylor Swift, Britney Spears and Beyonce are well known musical paths for girls... Can you talk about exposing kids to MYTHS "sinister electro performance art" and the strange and wonderful reactions?
Quinne: That was one of the best shows ever. I guess I was a bit surprised that girls as young as 6 were jumping up and down and screaming along, but then, it's something you probably don't see very often, women being aggressive. I don't want to say that's entirely it, we had our little strobe light and it's danceable music. But for me, when I hear a woman let out a battle-cry shriek in a song, something primal sparks in my body. Girls are still taught to be passive and submissive, or aggression is framed by sexuality.
Lief: Yeah, I definitely think it's great to expose children to new things, new forms of music and different kinds of role models. (Yay Girls Rock Camp for doing just that!). It was really powerful to see the way the girls connected with the music. I think kids are so open and ready to expand their minds, just often they are only exposed to pop music. Our friend Reba who was teaching there said that the kids were doing pulsating yelps and shrieks all day after we left! Haha: so we may have a little MYTHS army in the making!
Scott Wood: There is a lot of shrieking during a MYTHS show... When you tour, do you worry about your voices doing that night after night?
Quinne: We do have to be careful about that, Lief used to cough up blood during Mutators tours. So we arrange our schedule to get days off in between shows, and are careful to play songs that aren't as hard on the voice. There's lots of tea drinking and water drinking and honey. We warm our voices up before shows. And when we get back from tour I can do a really good Velociraptor impression.
Lief: Yes, Mutators was great training for MYTHS cause now MYTHS seems so gentle on my throat in comparison, haha. But actually MYTHS is even more vocally demanding but in a totally different way. In Mutators if I could still scream then I was good to go, but in MYTHS we need to be able to sing like angels, scream, then sing like angels again, which is much trickier actually and takes even more care of the voice. But generally healthy food, lots of water and vocal warm up does the trick! It just means we generally don't party hard on tour.
Scott Wood: I read a quote from Leif about your music "everything has absolute meaning and intention"... Can you guys talk about what this means when writing music? Does this mean MYTHS fans will have to wait years between records? :P
Quinne: I hope not! Our process does take a while though, like everything we do, really! We both have to agree on all of our output, and we're kind of perfectionists. But it turns out well in the end when you're happy with what you're putting out into the world. Songs go through many, many forms while we work on them, and we'll just keep forging the steel til the blade is strong, you know? Every scene has to fit; we have to plant all the trees in the forest and sprinkle the snow and hear the birds singing. And when a song is done, everything tied to it will have a thread to whatever atmosphere the song inhabits.
Lief: Yeah, with everything being so multi-layered and intentional, it is time consuming… but also well worth the work for our united happiness with the final outcome. It might be a while until the next album if we make it in the same way, although we are starting to find things flow faster the more that we get experience working with one another so the next album has the potential to be a faster process. Also now we know how to mix an album, so we won't have to learn that all from scratch. And for those who are excitedly waiting, we are planning a constant flow of pop operas, music videos and things for those lonely dark nights.
Scott Wood: You guys are a band that puts as much effort into the performance/spectacle as the music... and it definitely pays off. Not every band makes this decision. Why is it important to you? Can you talk about the trade-offs involved?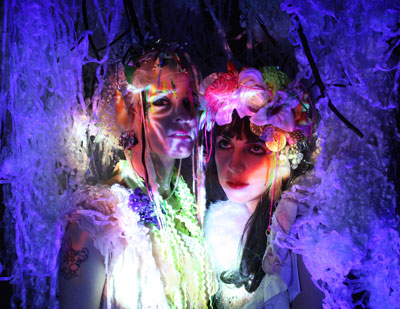 Quinne: It's an opportunity to immerse people into another world. It definitely has its trade-offs though, it's kind of something we struggle with. Live shows can definitely take over our lives and push other things aside. But playing live is an energizing force as well, so we can go back to the basement with new lifeblood and work on shit.
Lief: The music definitely is first and foremost important to us, but the live show is a really exciting opportunity to bring the imagery in our minds into reality in some small way when we play. We have had to cut back on how many shows we play because of how time-consuming they are, but I think that just makes the shows we do play all the more special. I think creating a unique environment at shows not only gets people into the mood of the music and makes them experience it more fully, but I think it allows us to transform into the characters within the world we create and to get into it in a way that we might not experience otherwise. It makes the band way way more time-consuming than a lot of other projects, but what better way to spend time than making weird costumes and sets and videos and such with your best friend? This is why I let projects take over my life…cause its super fun!
Scott Wood: People often focus on the dark and harsh aspect of your music and image (for good reason)... with images of you guys digging graves and stuff. When was the last time you did something cute and cuddly, like wear a pink floral print, eat bubble gum-flavored ice cream and contemplate buying something with Hello Kitty on it?
Quinne: We're kind of already like this, really? It could be seen as a dichotomy, but we're just human beings.
Lief: Haha! Actually we are really into cute and cuddly! We fill every grave with cotton candy! Yummm! (Oh, and Quinne is lying about the human thing).
Listen to upcoming episodes of the interview show for a full audio interview with the band!

The Interview Show is everywhere.
Follow me on twitter @interview_show
Listen to The Interview Show on SoundCloud soundcloud.com/interviewshow
SoundCloud RSS Feed
www.cjsf.ca (Vancouver, BC, Mondays 4:30-5pm PST and Wednesdays 12:30am PST)
www.ckdu.ca (Halifax, NS, Saturdays 1:30-2:00am AST)
www.radiocfxu.ca (Campus Community Radio, Antigonish, NS, Fridays 11pm-12am AST)
www.cfru.ca (University of Guelph Radio, ON, Tuesdays 3pm EST)
www.umfm.com (Winnipeg's Hit Free Radio, Fridays 6-6:30pm CST)
www.caperradio.com (Cape Breton University Radio, NS, Wednesdays 3-3:30pm AST)
www.localfm.ca (Campus Radio Saint John Inc., NB, Tuesdays 11:30am and Fridays 3:30pm AST)
comments powered by

Disqus