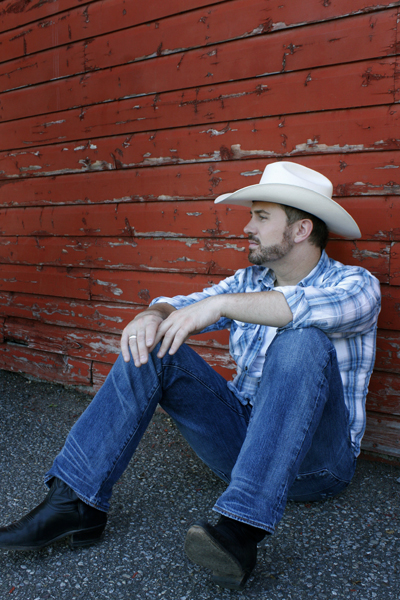 Patrick Masse Tells How to Mend the Man
As an openly gay country-music artist, Patrick Masse is a bona fide trailblazer.
Adam Lambert may not have won American Idol that year—can anyone remember who did?—but he has indisputably changed what people can expect from a popstar. Shortly after Idol was over, Adam Lambert came out of the closet and he has proved to fans and sceptics in the music industry that an openly gay man can reign on the pop charts.
Vancouver son Patrick Masse has been openly gay and making country music—yes, you read that right, country music—pre-Adam Lambert's coming out. He calls himself "A Traditional Yet Refreshing Brand of Country." Here's my chat with a real bona fide trailblazer.
Scott Wood: Most gay men are pushed towards dance music and I think it's really cool you do your own thing. Has it always been country music or nothing?
Patrick Masse: As a singer yes, but I love and listen to all kinds of music, I am a sucker for pop. I have always been into pop. I go way back to pop stars like Debbie Gibson, Tiffany, and New Kids on the Block. Gosh I am showing my age, lol. Pop music is really influencing my current CD. I am working with a co-producer that is in the AC/Pop music genre. I am sure that fans of my older music will see the evolution. For some reason, I am attracted to more female artists. Maybe being a gay man, I can relate to the lyrics?
Scott Wood: Can you pick a recent pop song and talk about what you like about it?
Patrick Masse: Sure I love "Last Friday Night" by Katy Perry, I am a huge fan of all her stuff! I like how she writes about her real life, or chooses songs that are about what is important to her. Her song "Firework" is another favourite of mine. It has a great message, and I love the video.
Scott Wood: I read kd lang was one of your influences. She started in country, moved to pop then to dance. What do you think of that kind of trajectory for a musician?
Patrick Masse: I think that you should do whatever feels right—after all it is about expressing yourself through your art. My sound has changed over the years. My new album we are doing right now is different than my latest, Mend the Man. I think that this is a natural progression. When my first CD came out in 1998, I was a totally different person and at a different place in my life. Life has a way of changing your surroundings, and as an artist, for me anyway, that comes out in my music. This may in turn change the sound as well.
Scott Wood: Can you talk about your appreciation for a country artist that people might not expect you to like?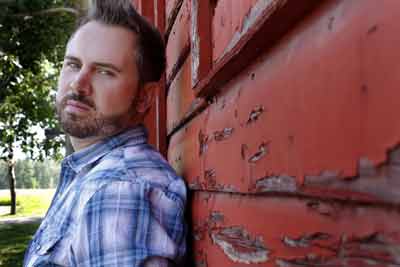 Patrick Masse: I really like some of Toby Keith's music, but I hate his politics and how he treated the Dixie Chicks... There are not many country artists I don't like. I am not a huge fan of gimmicky songs though. I find most of them cheesy. There are a ton of them in country music!
Scott Wood: What's one good tip for finding the right cowboy hat?
Patrick Masse: Make sure it is the right size! My first hat was too small and my head hurt when I wore it. You should also get the right kind. There is felt (material) and so on, I love to wear a straw hat, they are cooler to wear under stage lights...
Scott Wood: I can only imagine the reactions you get when you say you are an openly gay country artist. Some might say it's like being a gay Republican.
Patrick Masse: I am not sure about that comparison; I don't agree I am an artist. For the record, there is nothing Republican about me. I think that this is one thing that makes me stand out in country music. Being openly gay in a musical genre that is not that open-minded to who I am can be very liberating. I am not sure how one could be gay and support a party that wants to limit basic human rights for gay people.
Scott Wood: In indie music circles, there is a certain perception of the country music fanbase is totally made up of slack-jawed, truck driving Toby Keith fans. What do you think?
Patrick Masse: I don't agree; being openly gay as a country artist, I see all walks of life at my shows and country music is like POP music these days, so mainstream. I think if you feel this way then you don't know much about country music fans. I would suggest going to a country concert, you just might be surprised at the type of fans you see there. Country music for the most part is about real life issues, I think that most people can relate to that.
Scott Wood: In person, you look like you would be right at home at the Calgary Stampede. Do you ever feel pressure to glam it up? Rhinestone belts? Pink cowboy hats?
Patrick Masse: Funny you say that a friend right now thinks I should do that. I have nothing against it, but it is just not me. To be confident, I need to be who I am. I am drawn to people like that, and I think that most people are too. I don't think I could be the Lady Gaga of country music, if that is what you are implying. I could not sell that. If I was that guy, hey, you would see it. But I love to live out loud. I am not a shy guy really.
Scott Wood: If you had to glam it up, what's one compromise you would make?
Patrick Masse: Wearing a suit, lol. I am a casual dresser, so if I had to glam it up, it would be getting dressed up.
Scott Wood: Adam Lambert has done a lot for breaking "gay" music out of the dance floor and into the pop charts. Is the world just waiting for a gay country star to do the same thing for country? What would it take to change?
Patrick Masse: I hope they are and I am on that journey right now! We are developing a reality show about my life as an openly gay male country artist. I came out publicly in 2004, so I think I was the first commercial one around. It is all about the music in my books. I think that when the smoke clears about me being gay, that it will all come back to the song. What do the fans of your show think? At the end of the day, the public will decide. I am not going to stop what I am doing. It is a passion and it is my life. It is 2012, I hope that the world is ready, but look at pro sports. They also have a long way to go accepting gay athletes.
Scott Wood: I would love to hear a fan encounter where people find out you are gay and don't care. Or that it is a pleasant surprise.
Patrick Masse: Years ago I was in Nashville singing at a private party. There was a very handsome man there; I was looking at him from the stage. After my show, he came over and started to chat, with a bunch of female fans around. He gave me his business card and, when I got to the hotel, I read the back he wrote, "You are so handsome, call me." So I did, and we went for dinner. That was over 10 years ago, and we still are in contact. I had no idea he was gay when I was talking to him after the show.
Scott Wood: Your record has an awesome title: Mend the Man. Can you tell us about this man?
Patrick Masse: Well I was on the mend, then I lost my Dad on June 15, 2011 and it broke me again, but he is up there helping me out and it gets better every day. Mend the Man is a song that is so important to me; we are shooting a video for it. I feel a lot of men can relate to a song like it. There are a lot of wounded men in our world. I feel that it has a lot to do with how man and women are raised. What it means to be a man, all the BS about "boys don't cry" and "be a man" crap. I mean what does that even mean?
Scott Wood: It seems like a lot of the time, people are trying to further the distinctions between gay and straight men. Can you talk about your take on speaking to what is universal in the experience of all men, straight, gay or whatever?
Patrick Masse: I think gay or straight men are men. I am not sure why society wants to separate the two. I never got why some people think that if you're gay, you're less a man. Your sexuality is only one aspect of your life.
You can find Patrick on the web at www.patrickmasse.com and one twitter @PatrickMasse.
Listen to upcoming episodes of the interview show for a full audio interview with Patrick!
The Interview Show is everywhere.
Follow me on twitter @interview_show
Listen to The Interview Show on SoundCloud soundcloud.com/interviewshow
SoundCloud RSS Feed
www.cjsf.ca (Vancouver, BC, Mondays 4:30-5pm PST and Wednesdays 12:30am PST)
www.ckdu.ca (Halifax, NS, Saturdays 1:30-2:00am AST)
www.radiocfxu.ca (Campus Community Radio, Antigonish, NS, Fridays 11pm-12am AST)
www.cfru.ca (University of Guelph Radio, ON, Tuesdays 3pm EST)
www.umfm.com (Winnipeg's Hit Free Radio, Fridays 6-6:30pm CST)
www.caperradio.com (Cape Breton University Radio, NS, Wednesdays 3-3:30pm AST)
www.localfm.ca (Campus Radio Saint John Inc., NB, Tuesdays 11:30am and Fridays 3:30pm AST)
comments powered by

Disqus