Pemberton Rolls to new Heights on Hope in Dirt City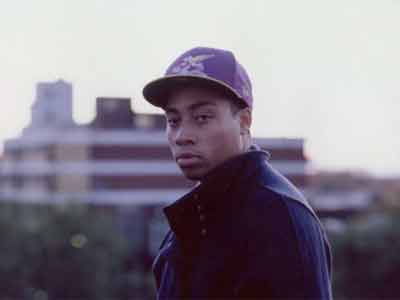 Cadence Weapon reflects on where he is now and what helped him get there.
In the late 70's and early 80's, a young Brooklyn-Canadian known to would-be backpackers as T.E.D.D.Y. settled in Edmonton, Alberta. Before long he started a radio program on CJSR, the fledgeling campus radio stat the University of Alberta. . The station itself, however, wasn't the only burgeoning movement on Teddy Pemberton's radar; his program 'The Black Experience in Sound', was a ground-breaking program and one of the first to feature the subject of it's moniker on Canadian airwaves; Jazz, Funk, Reggae, R n B, Blues, and Hip Hop.
"Not even just on CJSR, I would say he's a Western Canadian radio legend, he was the first person to bring hip hop and a lot of funk music to the airwaves in that time period," says Rollie Pemberton, aka Cadence Weapon, who accepted the 2010 Stylus DJ Awards Hall Of Fame induction on his father's behalf. "He was coming from New York, Brooklyn, physically bringing those records that there was no access to before he existed, so I've got to give Teddy props for that."
It wasn't just the greater Canadian public that the elder Pemberton was influencing with his trailblazing; young Rollie, whose third full length album, Hope in Dirt City was released on Upper Class Records on May 29th to just about unanimous approval, says this about the influence of The Black Experience in Sound, and Campus/Community radio in general:


I think it's pretty fair to say that maybe I wouldn't be making music if my dad wasn't on Campus and Community radio. Honestly, it was that influential to me

"I think it's pretty fair to say that maybe I wouldn't be making music if my dad wasn't on Campus and Community radio. Honestly, it was that influential to me. Just having those records around the house; he would get records from the station – the different promos he would come across – the first time I heard Eminem, he got that as a promo and he didn't want it. 'I don't know what this is, check it out!' As a young person that was such a formative thing, The Slim Shady LP!
"When I was younger, one of the first examples of me DJing, he had me actually program a show; I'd done that a couple times on CJSR actually as just a young person; I was programming a show with my dad there, and I got the excitement of picking a song and knowing that hundreds of thousands of people are listening to it, and that really effected me today. I'm a DJ today – more in the club realm… I'm a total music addict, and I'm constantly making mixes and thinking of how songs go together and looking at the interconnected nature of all songs and what better way to do that than with campus radio"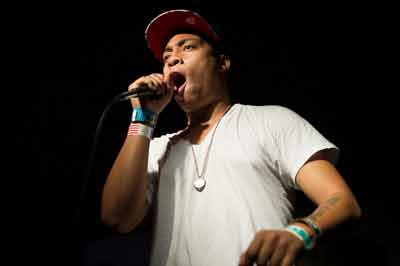 Cadence Weapon on stage at SXSW.
Fast forward from the early 90's, when young Cadence Weapon was still literally finding a name for himself; "It was something I used to say 'My cadence is my weapon, my cadence is my weapon,' I always try to come out with a different flow in each song, a different cadence every time, it ended up being like a mantra that I repeated to myself, I should just call myself that," and the reverse Shayne Corson (Pemberton left Edmonton just ahead of the Oilers' scoring phenoms Taylor Hall and Ryan Nugent Hopkins, while Corson left Montreal for the socalled 'Dirt City' just before they won Canada's last Stanley Cup) has continued to rep Campus/Community radio at Montreal's CKUT at McGill University, "I was DJing for a monthly artist-in-residency series that they do."
The series is called the Montreal Sessions, and it's impressive that Cadence Weapon would find himself performing live in the Canadian Campus and Community sector after a whirlwind past five years or so that has seen him become one of Edmonton's first ever poet laureates; perform with the likes of Public Enemy, Kool Keith, De La Soul, among a laundry list of others; play the Vancouver Olympics; and participate in the National Film Board of Canada's National Parks Project alongside basically (hyperbole) every established Canadian musician from the past decade – Laura Barrett, Jennifer Castle Kathleen Edwards, Sarah Harmer, Matt Mays, Sam Roberts, Shad, and members of BSS/DMST, The Constantines, DFA '79, Ohbijou, Prop/Weakerthans, Torngat, Woodhands, and oddly enough, Hole and those Pumpkins who Smash among other still.
Or maybe it's not so impressive after all, for an MC/Producer that prides himself on staying true to his roots, and representing as authentic an image of himself as he can; "Before I made my own beats I used to get my beats from people on the internet, and random people in Edmonton, and I always felt like songs didn't really sound like me – they didn't represent what I was trying to put out there. And it wasn't until I started actually making my own beats that I thought 'this is how I can really explain myself, this is the way to really present the real me.'
"Hope in Dirt City, for me, is the clearest and most refined example of who I am."
And therein lays a theme unto its own.
"I hate to sound weird but, I really like my music. I like all of it so much it's hard for me to pick just one thing. (As a favorite)
"That said, again, I gotta say, my newest album I just love."
He goes on: "I would say this album is far and away dramatically the best thing that I've done. I think that honestly, if I could wear an article of clothing to represent me for the next ten years, it would definitely be Hope in Dirt City."
High praise, even of his own work, coming from a writer who as a mere teenager was one of, if not the very first Canadian to be published online by the very publication which single-handedly vaulted The Arcade Fire into international stardom in 2004, and was primarily responsible for much of the fin-de siecle indie music renaissance that's dominated the advertising, film, and awards show industries in the adolescence of the 21st century.
When it comes to qualitative appraisal of art and aesthetics, specifically where hip hop, dance and studio production is concerned, the wise would be inclined to take Rollie Pemberton's word for it.
"I think as I've made albums, and gotten better at making albums, I feel like I have less and less regrets with each successive album," and if that trend continues – and there's no reason to expect it won't – this summer's UK/European Tour with Vancouver's surging Japandroids, a riveting recent live performance with Scratch Bastid on CBC's Strombo, and some of the best press Pemberton feels he's received so far in his career is by no means a peak.
"I feel like it has a lot of potential to be heard by a lot of people, I've been getting press in different places that I never did before; I just did an interview with Vibe magazine for instance. I think people are gonna like it."
Why not?
With a brand new recording process and collaborations out the skullcandy, Hope in Dirt City might be Cadence Weapon's personal favorite to date, but he wouldn't take all the credit for himself.
"I've always been proud of the fact that I did something different, and I was always trying to be original with the way I present myself, and the fact that it's always been supported by Canadian radio and Canadian TV channels, and it's… made me feel really good, makes me wanna just continue making more music and continue repping Canada wherever I go, because without this kind of support I wouldn't be anywhere, so shout out."
There's no telling what kind of heights he can surge to, especially given the recent propensity of well connected Canadian word burglars to find success internationally, to steal a line, it's "far from over" for young Mr. Pemberton, even if he's come a long way already right in front of our eyes.
"I'm a rapper, that's my core thing, and I have a new album and that's the only thing I'm advocating right now, I don't want to be getting on a pulpit right now."
That caveat from a distinct leader in the Canadian Arts industry follows a caution.
"I think the general thing is continuing to foster the creative environment that we've been making ourselves. There was a time when Canadian music was like a dead zone, during the early 90s growing up, there was very little credible Canadian music, and there was more of an explosion at the turn of the century, and a part of that was the arts funding and the support that CBC gave to the independent music communities in Canada. If we start cutting it back now, don't be surprised if there's more things to make fun of (in Canadian music)."
So we can thank and appreciate T.E.D.D.Y. and CJSR for doing what they did and still do respectively, and we can look forward to watching Cadence Weapon as he continues to develop as one of our country's leading writers; taking hip hop, art, and a part of our national identity wherever he goes with him.
comments powered by

Disqus