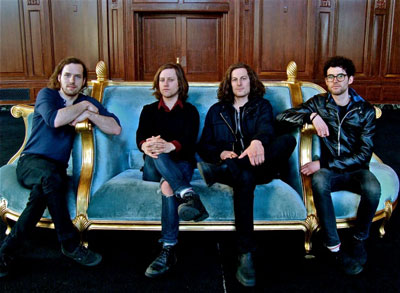 Yukon Blonde was #1 on the weekly charts for most of April, but...
Chart Mysteries Explained
If Yukon Blonde was #1 for most of April on the weekly charts, how come Grimes got the top spot on the Top 200. Our Charts Editor shows how it all makes sense.
Once it became clear that Yukon Blonde would release their anticipated sophomore album "Tiger Talk" in 2012, anyone who follows the Canadian music scene could reasonably predict that it would perform very well on campus/community radio. Their self-titled debut ranked #24 on the !earshot Top 200 of 2010, and the "Fire//Water" EP released a few months leading up to "Tiger Talk" also performed quite well. While spending multiple weeks at #1 you might wonder how it's possible that Yukon Blonde isn't #1 on the !earshot charts for April 2012. Enter Grimes.
While her first two albums ("Geidi Primes" and "Halfaxa," respectively) received a considerable amount of play on campus/community radio, it wasn't until 2011 that we noticed an upward trend in her

Grimes was #1 on the April Top 200. Strange,
but it makes sense. popularity and potential to become a breakout star in Canadian music. The "Darkbloom" split with d'Eon was #101 on our Top 200 of 2011 chart, and with the simultaneous release of her new album on Arbutus Records and 4AD Records, there was a very good chance that "Visions" would continue her rise in popularity. However, who could have predicted how tremendously popular the album has become?
Even after six consecutive weeks at #1 on the !earshot National Top 50 chart (as compiled from the weekly charts generated by individual campus/community radio stations), "Visions" retained the second spot for the next four weeks when Yukon Blonde was beginning their chart dominance. Meeting the publication deadline for Exclaim! magazine, in which the !earshot charts appear each month, usually requires that we utilize the last week of the previous month and the first three weeks of the current month. For April the Top 200 was compiled from all the individual station charts for April 3, April 10, April 17 and April 24) As such, when Grimes was #1 and Yukon Blonde was #9 in late March (Top 50, April 3, 2012), the small lead that Yukon Blonde achieved in the rest of April was unfortunately not enough to overcome the continued popularity of Grimes.
The good news is that Yukon Blonde, Grimes and so many other Canadian bands are getting a lot of radio play right now, which accurately reflects their skills at creating great music. Not to provide potential spoilers about the May 2012 charts, but Yukon Blonde is currently dominating the competition by such a strong margin that it won't be surprising next month if we see "Tiger Talk" take the top spot that it so clearly deserves.
comments powered by

Disqus