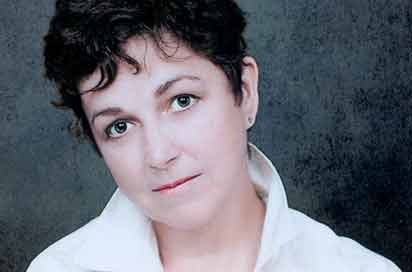 Raylene Rankin died on September 30 of cancer
Remembering Raylene
Raylene Rankin of Canada's best loved singing families passed away on September 30
Although I was raised on the west coast of Canada, I grew up on the music of the East Coast. Maybe it's my Celtic heritage seeping through. Anything from fiddle music to traditional Irish folk shanties, I listened to it all. Great Big Sea, The Barra MacNeils and Ashley MacIsaac were just a few of my childhood favourites. However, no band defined my youth more than the Rankin Family. I had all their albums, knew the words to many songs and whenever John Morris Rankin or Howie McDonald played a rocking fiddle solo, I was step-dancing somewhere (mostly in my bedroom). That's why when I heard the news of Raylene Rankin's death on Sunday from cancer, I felt part of my childhood die with it.

This is not the first time the Rankins have faced tragedy

Raylene Rankin was the fifth of twelve Rankin children, and the second oldest of the five that ultimate made up the internationally acclaimed and award-winning band (the other four were older brother John Morris, and younger siblings Jimmy, Cookie and Heather). All the siblings were great singers and musicians; Raylene seemed to be the most technically adept of the bunch and, in my opinion, possessed the greatest vocal range.
Each of the siblings had their signature song. Without a doubt Raylene's was 'Rise Again' (which arguably was the Rankins most famous song). Her soprano vocals still give me goose bumps every time I listen to the song. Although it was Heather who turned the siblings on to Gaelic, it was Raylene who took the lead on songs in the traditional Scottish language (my personal favourites are Mo Run Gael Dileas and Leis An Lurgainn).
Raylene was first diagnosed with breast cancer in 2001, shortly after the death of John Morris, and just two years after the break-up of the family band. In a documentary that aired on CBC in June, she recalls how her mother Kathleen was diagnosed with breast cancer at the age of 44 (Raylene was 40 when her cancer was first diagnosed) and how she persevered for another 18 years. She stated she was really worried for her son, who was just three years old at a time. After having a lumpectomy, she was declared cancer-free. During the siblings second reunion tour in 2009, Raylene's cancer returned, and this time she underwent a masectomy. She also stated this was when her 'mid-life crisis' began. She started thinking about mortality and how to stop being afraid of the ultimate fear. This process lead to the release of her second solo album "All in Diamonds", released just earlier this year. Even during her worst days, she managed to perform – with a wig and all – at a benefit for homeless youth back in May, even singing her signature Rise Again.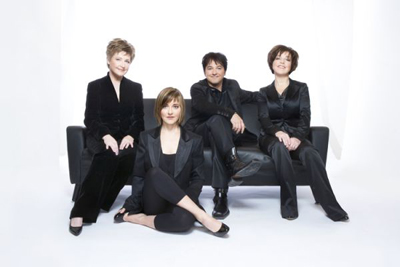 Ali says having her band behind her relaxes her.
This is not the first time the Rankins have faced tragedy. Their father, Alexander "Buddy" Rankin died unexpectedly in 1981. Then in January 2000, just four months after they announced their break-up, John Morris Rankin was killed when his truck swerved on some road salt and flipped on an icy road. He was 40. On the eve of their first reunion tour in 2007, founding member Geraldine Rankin died of a brain aneurysm. Throughout it all the Rankin siblings have persevered.
The siblings released their first album in 1989 – self-titled the Rankin Family. Both that album, and 1990's "Fare Thee Well Love" were originally self-released. In 1992, they were both re-issued by Capitol Records. "The Rankin Family" hit platinum statues, while "Fare Thee Well Love" was certified 5x platinum. 1993 saw the release of "North Country", arguably the band's biggest and most well-known album. Two more CDs followed – "Endless Seasons" in 1995 and "Uprooted" in 1998 – before the group disbanded in 1999. In those 10 years the siblings sold two million records, won six Junos, three Canadian Country Music Awards and fifteen East Coast Music Awards.
Although they went their separate ways in 1999, many of the siblings have remained active in music. Jimmy Rankin has been the most prolific, having released four solo records – the most recent being 2011's "Forget About the World". Raylene herself made two solo albums. The aforementioned "All in Diamonds" was released in June of this year; her previous solo effort "Lambs in Spring" was done in 2004. Heather has dabbled in acting appearing such films as "The Hanging Garden" and Canadian indie favourite "Marion Bridge", co-starring Molly Parker, Ellen Page, and written by Daniel McIvor. The three sisters have also performed together on numerous occasions.
The siblings' interests also extend beyond the music industry. In 2005, Raylene teamed up with her sisters Cookie and Heather to the Red Shoe Pub. The inn has played host to numerous concerts from the Rankin sisters, as well as Jimmy Rankin and a whole host of other local Cape Breton musicians. (and many Cape-Bretoners as well).
In her conversation with Michael Enright, Raylene was candid about her cancer battle, as well as her difficulty in having children; her only child, Alexander – named after her father – was born when Raylene was 38 years old. (By comparison, John Morris already had two toddlers by the time the band released their first album). Perhaps that was part of the reason the group split in 1999. Raylene explained that when they first formed as a group they had a five-year plan, a ten-year plan; but neither of those included family. She remembers fondly how her brother John Morris sacrificed so much in those first few years. Her son was just a year old when the band disbanded and Raylene clearly wanted some family time after trying so hard for many years to start one.

In those 10 years the siblings sold two million records, won six Junos, three Canadian Country Music Awards and fifteen East Coast Music Awards.

After beating cancer, Raylene reunited with her siblings in 2007 and they went on tour for the first time in almost ten years. They were joined on stage this time round by niece Molly (daughter of John Morris, she was just twelve when her father was killed). The tour also resulted in a new album, simply titled "Reunion". A second mini reunion tour followed in 2009 as well as the album "These Are The Moments". Raylene almost didn't make this reunion tour; her cancer had returned and at times she felt she was too ill to perform. But, like so many times previously in her life, Raylene relied on her faith and pulled through.
What many fans might not know Raylene is that she has a law degree. She finished up law school in the late 1980's, just before the band hit it big. She made the wise decision to follow her and her siblings musical dreams.
In the hours and days following her death, there has been an outpouring of support. Fellow Cape Bretoner Rita MacNeil spoke fondly on Rankin and even Liberal Rodger Cuzner read an emotional letter in parliament. Other memories were recalled by her uncle Donald, former neighbour and fellow musician Joey Beaton and songwriter Leon Dubinsky (author of Rise Again).
There are plenty of Celtic-type musicians from Cape Breton and the surrounding area; Ashley MacIsaac, Barra MacNeils, Natalie McMaster, Leahy, Madison Violet, but the Rankins were among the first and certainly the most well-known and influential. Raylene was often seen as the vocal centrepiece of her family's musical group and had the talent and poise to back it up. (In the early days she, along with John Morris, also acted as the band's managers).
Raylene said that Rise Again was about Hope and the future of our children. While it is not yet known whether Alexander – now 14 – will carry on his mother's music, his older cousin Molly Rankin certainly has picked up the family tradition. In 2011, she released her debut "She", which is available on zunior.com. The album steers away from traditional and Celtic tunes that made the family famous and is instead a more folksy, singer-songwriter piece of work.
Raylene may be gone, but her words and her voice live on. That's the thing about music – it's eternal. This family has dealt with tragedy before and will in the future. They will deal with it the way have always dealt with it – through their faith and their music. It is unclear whether there will ever be another Rankin Family album. What is clear is that Raylene's angelic voice, her spirit, her memory will certainly Rise Again.
IN MEMORY OF RAYLENE MARGUERITE RANKIN-ANDERSON
September 15, 1960-September 30, 2012
An angelic voice,
So pure and poised
Hitting the highest notes of heaven
And the deepest tones of our soul
Her brothers' hands following her lead
As the strings fade away
Three sisters in harmony
A truly beautiful tune
And now she has gone to the north country
comments powered by

Disqus