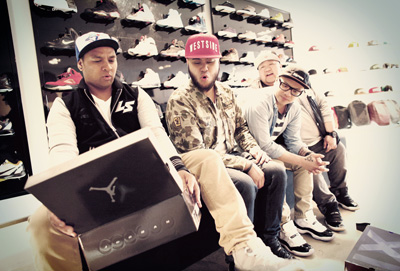 Boombox Saints Blast the Internet
Taking Over the World, One MP3 Player At A Time!
Who are the Boombox Saints? I stole this from their website's bio: "Consisting of Freeky P, Adlib, Huggy Fresh and DJ Relik, this multi-faceted quartet of sneaker fiends, street-wear enthusiasts and addicted to fresh junkies have an uncanny ability to capture the attention of anyone within earshot of their music, creating fans with their own brand of Hip Hop & R&B infused Pop." A good starting point, but of course, I had to find out more!
Scott Wood: I hear your band's name is inspired by the 90s cult classic film, Boondock Saints. I have never been able to understand why people like Boondock Saints, but some people LOVE that movie. What do you guys love about that film so much that you decided to name yourselves after it?

Who are Boombox Saints? There's Adlib, the primary dancer and sultry singer; Freeky P, the body romancer; and Huggy Fresh, the ladies Huggy Hefner!

Freeky P: I came into the group after it was formed, so I have no involvement with its naming. I like the movie. It's about righteous killings. So I guess you can transfer that idea to our career, in some way.
Huggy Fresh: Like Freeky, I joined the group after the name was already created, but to my understanding the originators had the concept of killin' the music they made in the name of God. It's such a dope movie!
Adlib: The name was inspired by the movie, but wasn't really relative to the type of music we were making at the time. It was more of a play on words, if anything.
Scott Wood: Who are the Boombox Saints and how did you guys come together? What do the others bring to your mix?
Freeky P: Boombox to me is fam'—all related through our musical influences. We were all raised by the same sounds and grew up to similar vibes. We all bring our individual interpretations of those influences to the group, making incestuous babies named by song.
Huggy Fresh: There's Adlib, the primary dancer and sultry singer; Freeky P, the body romancer; and Huggy Fresh, the ladies Huggy Hefner! We all grew up listening to the same genres of music, so we feed off of each other's interpretation of those genres to create a unique sound!
Adlib: Boombox Saints are a collective of brothers, who all come from different upbringings but similar influences, which come together and make amazing music.
Scott Wood: You guys are all Filipino. How does your background shift how you look at hip hop?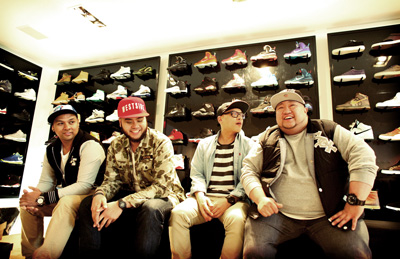 Freeky P: I gravitated to hip hop because they were the only visible minorities making music I can relate to. Being Filipino, you don't see a lot of us in the spotlight. So it didn't really change my view, it just helped me relate more to it. Hip Hop's story is my own. We share the same struggles.
Huggy Fresh: I don't feel our Filipino background "shifted" our look on hip hop by any means. I mean hip hop was a minority genre to begin with. So for us bein' Filipino in the genre, I guess it can be seen as us bein' a minority, but that's never really played a role. We just do what we do, baby!
Adlib: No not really, I think that everyone discovers hip hop differently, no matter what your background is, but our background definitely influenced the other types of music that we grew up listening to. Growing up in our household, there was a variety of music played, from R&B, Motown soul to Elvis, gospel, etc.
Scott Wood: Hip hop often works best with exaggerated characters. What's a Filipino stereotype that could be pinned on you? Or church-going stereotype? Or east coast stereotype?
Freeky P: I drink whiskey, I eat pork, and I have an east coast hustle. I don't go to church, but I do give sermons at the club.
Huggy Fresh: Filipino stereotypes? Probably the fact we have mad style, baby! And our love to entertain is nothing short of the truth! Growing up being always expected to perform at family parties and every special occasion prepped us for this!
Adlib: Not much of a stereotype, but more of a reality. I grew up in a church, my Dad's a pastor and I guess I would fit in all definitions of that life.
Scott Wood: I have read you guys are all sneaker fiends. (And your current album's cover is a close up on a pair of sneakers.) Can you each talk about your favorite sneeks right now?

What's the hardest part of the hustle right now? Keeping up with content. Videos, new music, tweets, Instagram and all other social media. With the net and the oversaturated market, it can be hard to always put something out.

Freeky P: My all-time favorite sneakers are the Jordan 4s. They were my Dad's pair. I used to rock them when I was a kid. Even if they were a couple sizes too big for me. They are all black with mesh sides and the air bubble. There was nothing like it at the time—even to this date. But as of late, I have been really feeling New Balances. The classic sneaker retro look, plus they are the most comfortable shoes I've worn.
Huggy Fresh: My favorite pair at the moment, well for the last couple years, would have to be the Jordan 8's. Jordan's just because he's an icon to every kid from our generation! The 8's in particular because that was the shoe Jordan wore when the [Chicago] Bulls won their 1st 3-peat to mark their dynasty... which correlates to a winning formula coming in 3's ...like Boombox Saints' own 3 peat of Adlib, Freeky P and myself!
Adlib: My favorite pair of all time are the Concord 11's. Only because I grew up playing and loving the game of Basketball. Jordan is the greatest of all time and those are the greatest pairs of shoes to play in. They always made me feel I could play like him no matter how obvious it was that I couldn't.
Scott Wood: Freeky P described your record For the Moment as "a post-modern, modern epic love tale of our collective lives tracked by a new-stalgic soundscape, detailing the joys and falls of relationships in the never ending chase of happiness. In short, walk 14 songs of our lives and you'll forever be changed." The tracks are all very confessional and revealing. What's one thing you guys would NEVER rap about?
Freeky P: I will write about anything. Nothing is off limits; everything can be used in metaphor. People might think I'm talking about drugs, but really I'm talking about substance. Nawmean?
Huggy Fresh: I don't think there's a subject we wouldn't write about! Like you said, our album is "very confessional," so we hold nothing back. If we feel a subject, whether serious or comedic, we'll go with it! A lot of our songs start off or stem off a joke, to be honest with you!
Adlib: I guess as long as I've experienced it, it has a chance to make it on to a song. The music is always a reflection of me and the feelings and emotions I've been through.
Scott Wood: Your sound is at that sweet spot in between introspective hip hop and R&B. How did you guys get to this point? Did you ever worry about a balance? How do you avoid genre clichés?
Freeky P: A lot of trial and error. The more we worked together, the more we learned about each other. You start anticipating what each one of us is gonna do and you try to compliment it. It basically balances itself out, without really thinking about it.
Huggy Fresh: I think it's our main influences growing up that allow us to walk that fine line. We're all fans of underground hip hop and commercial hip hop; R&B, most definitely without question; and top 40, whatever the genre! You're lying if you've never wanted to dance to the hottest dance track back in 94-96. Lol
Adlib: The more and more we write together, the more cohesive the sound becomes. It's almost organic now. As far as staying away from genre issues, I really don't think anyone sounds like us. Just the balance of us as individuals, creates something unique.

Why give away your current record for free? So many established artists are already giving away incredible music, so who are we as new artists to charge for our music?

Scott Wood: The record seems very influenced by current Canadian heavy hitters like Drake and The Weeknd. If you had to be critical about one (or both) of those guys, what would you say?
Freeky P: I'm a huge fan of both of them. I have nothing critical to say at all. They are where they are for being themselves.
Huggy Fresh: We're huge fans of both! Drake reopened the door internationally to make the world pay attention to the abundance of talent north of the border! I think the fact that both The Weeknd and Drake make honest music makes them as successful as they are!
Adlib: Can't really be critical. They've done amazing things for Canadian Music, especially opening the doors to the US market, which is something very difficult to do as Canadian artists.
Scott Wood: What's the hardest part of the hustle (being in hip hop right now) for you guys and why?
Freeky P: Keeping up with content. Videos, new music, tweets, Instagram and all other social media. With the net and the oversaturated market, it can be hard to always put something out. We want to be relevant, but don't want to shove it in your face. Walking that line is probably the hardest part.
Huggy Fresh: The hardest part of the hustle I wouldn't say is a hard thing at all, but if anything it's to maintain a fresh sound and to continue to evolve and stay away from trendy sounds that a lot of artists tend to follow. We are definitely not about that life—y'heard meh?!
Adlib: Getting the music out to the masses, no matter how dope your music is. If no one hears it, it's irrelevant
Scott Wood: Can you take a slept on Canadian hip hop track and talk about why you (and everyone else should) rediscover it?
Freeky P: One of my favorite Canadian tracks. A perfect example of R&B blended with hip hop. I believe it was originally a Saukrates track, then Ray Robinson came and just made it smooth as fuhhh.
Huggy Fresh: I'd have to either say "It Takes Two" by Choclair featuring Jully Black or Kardinal Offishall's "On Wid Da Show"! Mind you, they are older tracks and probably their introduction to the nation commercially, but I always felt they held their own. At that point in time, the Internet wasn't as accessible as it is now to really get those artist out and gain the proper respect they were due! CIRCLE ZOOM!
Adlib: I'm a big K-Os fan and I'd have to say [his track] "Sunday Morning"—just cause, at the time, it was so different [for everything else] that was out. Him singing on the record was just genius.
Scott Wood: You are giving away your record For the Moment for free on your band website! (Head to www.boomboxsaints.com, if you would like to check out the record.) Why did you decide to give it away?
Freeky P: We're still no ones. Who are we to charge people in this day in age? There is so much good music out there for free. When we build up a solid fan base, and have the attention of the masses, we will charge muhfuckers an arm and a leg for this shit. lol. It's my soul, so why not?
Huggy Fresh: Like Freeky said, so many established artists are already giving away incredible music, so who are we as new artists to charge for our music? We do give the option to buy the album off iTunes to show support, plus you get extra content—so it's still swagfest 2013!
Adlib: Like I said earlier, it's so important for people to get their hands on it and listen to it. And who are we to really charge when we're still "nobodies?" But those who like us and support, will buy it!
Listen to upcoming episodes of the interview show for a full audio chat with Boombox Saints!
Find more about Boombox Saints online.
www.boomboxsaints.com / @BoomboxSaints
The Interview Show is everywhere.
Follow me on twitter @interview_show
Listen to The Interview Show on SoundCloud soundcloud.com/interviewshow
SoundCloud RSS Feed
www.cjsf.ca (Vancouver, BC, Mondays 4:30-5pm PST and Wednesdays 12:30am PST)
www.ckdu.ca (Halifax, NS, Saturdays 1:30-2:00am AST)
www.radiocfxu.ca (Campus Community Radio, Antigonish, NS, Fridays 11pm-12am AST)
www.cfru.ca (University of Guelph Radio, ON, Tuesdays 3pm EST)
www.umfm.com (Winnipeg's Hit Free Radio, Fridays 6-6:30pm CST)
www.caperradio.com (Cape Breton University Radio, NS, Wednesdays 3-3:30pm AST)
www.localfm.ca (Campus Radio Saint John Inc., NB, Tuesdays 11:30am and Fridays 3:30pm AST)
comments powered by

Disqus