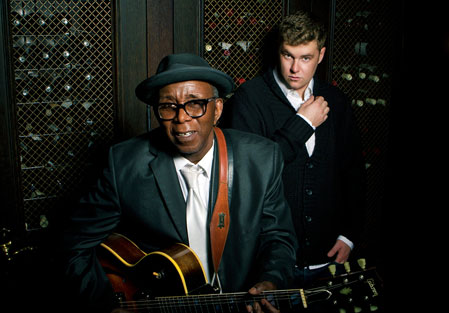 Cityreal (right) and Wes Mackay
Cityreal: Real World, True Grit
With a startling new hip hop/blues collaboration with Wes Mackay, Vancouver's Cityreal graples with the tough issues facing his city
Most Hip Hop collaboration records are two rappers teaming up, but Vancouver rapper Cityreal had a different idea.
While he works on his upcoming second album, Cityreal decided to partner with legendary Blues singer-guitarist Wes Mackey to release a collaboration album Good Morning Blues. Cityreal came up in the crew of local Hip Hop legends Swollen Members is known for his powerful delivery and socially conscious rhymes. Mackey has been playing music professionally for nearly five decades and he has backed the likes of Muddy Waters, John Lee Hooker and Stevie Wonder. "The concept for the album was to pair traditional blues elements with modern production and sampling techniques," says Cityreal, and the result makes for a unique Hip-Hop record.
The first video from Good Morning Blues, "Passing Me By", perfectly showcases what these artists bring to the table together. Says Cityreal, "I wanted to spark discussions on what's happening in our city, specifically on the poverty and unfortunate living conditions in the downtown east-side. So I got stats from the homeless count Vancouver does every three years, along with images from the community and an affordable housing protest, it seemed to be the perfect message for this track and our position on more supportive housing in that community." The video was nominated earlier last year for a Western Canadian Music Award for Best Multi-media piece.
Scott Wood: The name Cityreal sounds like you might be an indie band, not a rapper. Can you explain why you choose this stage name?
Cityreal: I got the name from reels of old city footage, and it's meant to represent images and realities of the city.
Scott Wood: You produce beats (your own and for others) as well as write the rhymes. This makes you a bit unique in the hip hop world. Could you ever be a guy who has to hustle for other people to give him beats?
Cityreal: No, I like being able to design my own sound. I just create based on what sound/style/instruments are inspiring me. Both old and new. Then try to put a unique modern spin on it.
Scott Wood: Good Morning Blues is your second record, and, not only that, it's a collaboration with legendary blues singer-guitarist Wes Mackey. How did you find this guy?
Cityreal: I first saw him at a very nice restaurant in Vancouver called the Shore Club on New Year's Eve. His sound was amazing and authentic, so I couldn't resist attempting a collab.
Scott Wood: What was it like working with someone from another generation?
Cityreal: It was a great learning experiee to work with someone from the older generation. Musicians from those days tend to be tremendous players due to circumstance, compared to the ease of creating with computers and Pro Tools. Once we got into the studio together, things flowed very well though and any kind of generation gap seemed to become irrelevant and it was more about fusing two genres together.
Scott Wood: You're a Vancouver rapper who isn't afraid to talk about Vancouver in your music. Why do you think so many Vancouver bands have at least one song about California?
Cityreal: Because we all either secretly or openly wish we were living near the Sunset Strip.
Scott Wood: You are a Battleaxe Warrior inductee. Can you explain what that is?
Cityreal: I had toured with Swollen Members many times before I became a member of the Battleaxe family. "Battleaxe Warriors" is a crew/movement started by Madchild meant to create a network and bring together like-minded people who support hip hop culture.
Scott Wood: In all the press photos for your first album The Beginning, you were wearing a backwards cap and hoody. For this record, you've cleaned up a bit. Can you talk about this change?
Cityreal: I was trying to fit into the stereo typical Hip Hop image way too much on my first album. I just completely stopped doing that and decided to be myself.
Scott Wood: I would love you to explain more about this quote: "That's what's missing from hip-hop these days… It's not really growing up with its audience. There hasn't been a new representation of the millennial generation growing up, and it's still directed at 14-year-old girls to a certain degree."
Cityreal: I think a lot of people who were brought up on Hip Hop have gotten really fed up with its mainstream image, its overall direction and lack of growth. I honestly get embarrassed to tell people I'm a 'rapper' because of the massive stereotypes that statement carries with it. Generally speaking, the way Hip Hop reaching mass media is perceived and marketed these days does make Hip Hop culture as a whole seem more shallow. Seems like every other genre has more of a balance when it comes to ignorant vs. intellectual material, but the image being broadcast to the world as Hip Hop is too often directed to an immature audience. Hopefully as us 'Millennials' take over, Hip Hop's image and target audience can become more mature.
Scott Wood: In interviews you seem like such a nice sweet humble guy—everything you want in a dude who is dating your sister. When is the last time you acted like a complete hooligan?
Cityreal: Last night.
Note: Last night Cityreal opened for Method Man.
Scott Wood: Can you give me a brief intro to your video for "Nightlife?"
Cityreal: We shot this music video in the Tar Sands region near Fort McMurray with the help of Greenpeace Canada.)
Listen to upcoming episodes of the interview show for a full audio chat with Cityreal!
Find more about Cityreal online.
http://www.cityrealmusic.com/ @cityreal
The Interview Show is everywhere.
Follow me on twitter @interview_show
Listen to The Interview Show on SoundCloud soundcloud.com/interviewshow
SoundCloud RSS Feed
www.cjsf.ca (Vancouver, BC, Mondays 4:30-5pm PST and Wednesdays 12:30am PST)
www.ckdu.ca (Halifax, NS, Saturdays 1:30-2:00am AST)
www.radiocfxu.ca (Campus Community Radio, Antigonish, NS, Fridays 11pm-12am AST)
www.cfru.ca (University of Guelph Radio, ON, Tuesdays 3pm EST)
www.umfm.com (Winnipeg's Hit Free Radio, Fridays 6-6:30pm CST)
www.caperradio.com (Cape Breton University Radio, NS, Wednesdays 3-3:30pm AST)
www.localfm.ca (Campus Radio Saint John Inc., NB, Tuesdays 11:30am and Fridays 3:30pm AST)
comments powered by

Disqus