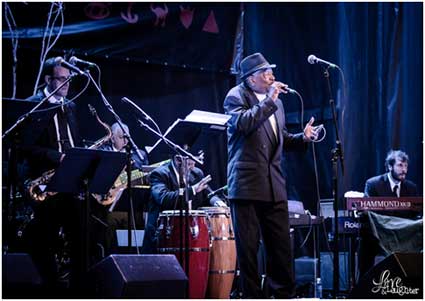 Delbert Nelson in his element
Motown North with Delbert and the Commotions
Delbert & The Commotions have refreshed the Motown sound with their debut album Let Me See Ya Dance.
Motown. The name conjures up images of Detroit in its heyday and the music that poured from the motor city. The Motown sound was a synthesis of pop and soul with a groovin' rhythm section, and tight blaring horns topped by smooth soulful vocals and became an institution unto itself. Integral to the sound was a tight group of studio musicians, the Funk Brothers who played on the Motown hits coming out of Detroit.
Today Detroit has fallen on hard times but the rich legacy of the Motown sound continues with Delbert & The Commotions and their debut album Let Me See Ya Dance.
Delbert & The Commotions is a cross-border collaboration between singer, Delbert Nelson, a Detroit native son, and Brian Asselin, a gifted musician from Ottawa. What could these two possibly have in common? They both have Funk Brother pedigrees.

The Motown spirit was in us, so to speak, so it came out that way in the music

Delbert Nelson grew up listening to Aretha Franklin and all the great musicians of Detroit. When he finally opened his mouth to sing, his talent was apparent to those who heard him. Nelson has been singing all his life.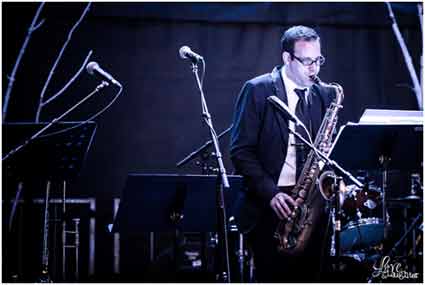 Brian Asselin playing a soulful horn
Brian Asselin grew up with images of becoming a rock star after taking guitar lessons as a youngster. He moved to the piano and finally the saxophone. In addition, Brian has a degree in music and while he didn't tour the world as a rock star, he does tour as a top shelf saxophone player.
Delbert Nelson explains how the two met. "I had the opportunity to be with the Funk Brothers in their movie Standing In The Shadows of Motown. After that they went on tour and asked me to be with them. While out on the road, time to time we had to have horn players. We looked up some horn players out of the Canada area and that's how we met."
Brian recalls, "I got the gig through a mutual friend, a trumpet player who had been touring with the Funk Brothers. They had a bunch of dates in Canada and asked if I wanted to come along. Once I was able to speak again I said 'yeah'. I don't know how many times I saw Standing in the Shadows of Motown. I woodshedded all the Junior Walker lines I could find and I got to tour with them for about 6 years. Delbert and I formed an amazing relationship and I always wanted to work with him. I would write songs on the side and show him. Then we'd write songs together." Delbert continues, " We started from there. When I first heard the guy play I called him Junior Walker Jr."
When Delbert was asked if Brian was nervous about joining the group the response was good-natured. "No he wasn't nervous, because he knew his act. He just had to familiarize himself with the people and everybody in the Funk Brothers was crazy as I don't know what. Brian was crazy also, so that was an easy task."
All kidding aside both Brian and Delbert recognized their unique musical bond and wanted to do something in the vein of Motown. "Brian went home and started writing tunes of his own and I did likewise," says Delbert. "The Motown spirit was in us, so to speak, so it came out that way in the music."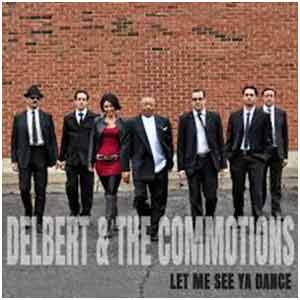 After two sessions in the studio, the album Let Me See Ya Dance has become a reality. It has those Motown building blocks – a great horn section, a locked in rhythm section and smooth soulful vocals but the songs are new, written by two people who have a first hand understanding of Motown. The musicians were hand picked from the best of the tight knit Ottawa music scene and the album was recorded and mastered in Ottawa. You could very well call this 'Motown North' and both Delbert and Brian are okay with that.
"I really think this music has never gone away. It's always been in the mainstream in movies and television and it's been the heart and soul of a lot of American cities. I really think it's coming back and hopefully that'll lead to more work for Delbert & The Commotions," says Brian.
When asked to sum up what we should know about Delbert & The Commotions, Brian's thoughtful response was, "I'd like to say that this group is a dedication to all the music that has inspired us to play music and become musicians."
Delbert acknowledges that the music comes through him to share with others but the bottom line and last word is his. "Have us come out, you come out and let us help ya dance."
Delbert & The Commotions are going back into the studio to record their second album. Brian says they've mostly been writing in the Motown/soul genre but there will be a few surprises on the album.
For more information log on to http://www.delbertandthecommotions.com


comments powered by

Disqus