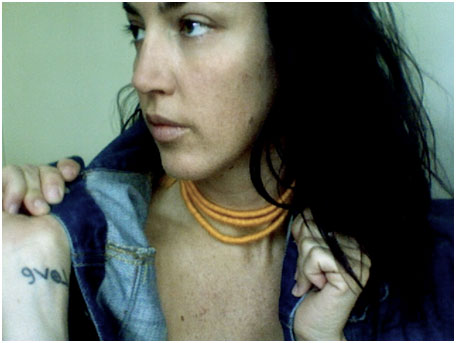 Kinnie Starr Pipes Up On The Environment With 'Save Our Waters'
Kinnie Starr is ready to raise awareness and waves with her political protest song from her seventh album From Far Away
Canada's celebrated underground artist and Juno winning producer, Kinnie Starr has long been provoking thought and discussion through her art. She uses her unique rap style and at times a minimalistic folk form along with keen observational lyrics to advocate for fringe communities. Her art is her reaction, expression and connection to her world.
As an underground artist, Starr is able to tackle more difficult and complex subjects. While she wouldn't mind being more mainstream, she is not about to sacrifice content for popular songwriting.
"The most interesting part of my job as a recording artist is to try and create work that summarizes something relevant," says Kinnie. "I use rap forms and folk forms to try and communicate what I'm interested in, which is primarily the health and well being of people, and that spills out into the health and well being of the environment we occupy. Water comes to the forefront pretty quickly in the conversation."

The more I knew, the more I had to write the song Save Our Waters

Her exploration of the concepts of social priorities, home, family, culture and race has led to a direct connectivity to issues surrounding the use and misuse of water.
"My grandfather owns land about two and a half hours north of Toronto in the Cognashene area. We've seen it grow fast in the last 30 years. The Saint Claire River has been dredged since the fifties and we've watched Lake Huron drop about a metre and a half in a decade. It directly affects my family, our history, our place and attachment on that land and all of the other families there as well." At great expense her family had to repair their dock due to the dropping water. Kinnie noted not only the property damage, but also the devastation of the wetlands and decline in business. It was to be the trigger for a more vocal activism on water.
"It made me look around and realize that I have an opportunity because I've built a fan base over the last twenty years. I need to talk more about this. There are so many little ones in our family. Who would I be if aunty didn't even talk about this, if aunty just looked pretty in the videos with her hair styled for four hours or showing her figure? I mean I can do that too, but I wanted to do more."
As a blogger for The Huffington Post, Kinnie has written that she is tired of being a closet environmentalist. "I've always been aware that water is very powerful. I became more educated about the tar sands and began to study the fracking (hydraulic fracturing) process." While at a festival in Sweetwater, BC Kinnie became aware of the story of the Wiebo Ludwig family who was there.
https://www.nfb.ca/film/wiebos_war/trailer/wiebos_war_trailer/
She had also noted a strong push that exists against the petro-chemical and natural gas industries in those northern communities, due to high incidences of health problems in both human and livestock. "I started being exposed and being introduced to people like Caleb Behn, who is working toward the right to water in Canada

and to Maude Barlow a renowned water activist."

http://lizmars.com/film/water-on-the-table/
"The more I knew the more I had to write the song "Save Our Waters". The song itself probably took about three years to write. I had to really figure out what I wanted to say," says Kinnie. "Political protest songs need to touch on the centre of an issue to be a successful protest song." The image of the tailing ponds so toxic and overflowing and leaching into the land was a very powerful one for her as was the image of tap water catching on fire in some of those communities. Kinnie's lyrics reflect this: "Thems just go splitting the land. They carve her up and spit her back in poison." Joining her on the song is Jason Alsop who is a rapper but also on the Haida Nation Council. He contributes equally strong lyrics referencing roadblocks.
Kinnie Starr is fully aware that we need petro-chemicals. She feels the petro-chemical industry needs to be looked at more aggressively and has her own views on it. "First of all, fresh water should be taxed for use in the petro-chemical industry. It may force them to slow down. The exportation and import of dangerous goods is not a good idea," she says.
Kinnie Starr is connected to the politics of water use in the petro-chemical industry but there is also her spiritual and cultural connection to water. When asked what her relationship to water is Kinnie had no hesitation in the response. "I am mixed blood – Mohawk and white. Water has always been for me a place where I can express my indigeneity. There is something in it where I'm able to tap into something inside me." To illustrate further she shares a memory from her childhood. "Water has always been something I prayed to. When I was little I would put water in a glass and put it up where it could collect light. Then I would drink it and think about that light. When I was older I met some women from the Mohawk nation. It was interesting in that were doing a ceremony similar to something I had done since I was a kid. It was a pivotal moment for me where I realized that water connects me to my culture as a Mohawk person."
Kinnie Starr specifically wrote 'Save Our Waters' to raise awareness of the use and misuse of water in our society and in our industries. The song is found on her newest album From Far Away to be released in the fall. Kinnie continues to educate herself and raise awareness of water issues in Canada.
comments powered by

Disqus