A City of Glass Fuelled by Alcohol

photos: Christoph Prevost
Scott Wood gets the details on Romancing Music Bloggers, Dying in Star Wars and Bad Dye Jobs.
Vancouver's City of Glass is a duo comprised of Michael from City of Glass Champion and David Phu, two longtime friends and opposite personalities. The band was born in Vancouver and cut its teeth in Berlin and across Germany. Champion and Phu describe their sound as a mix of older dark pop favorites (The Cure, New Order), modern inspirations (Foals, The Whitest Boy Alive) and a love of electronic music,
This is my chat with Michael Champion.
Scott Wood: Your band name (I'm going to assume) is inspired by the Douglas Coupland book City of Glass. (Wink: Although the band name might be inspired by the third book in the young adult fantasy-romance Mortal Instruments series.) Douglas Coupland (also writer of Generation X) is one of Vancouver's most famous resident writers and the book City of Glass is about your shared home city Vancouver. Can you talk about the book, the city and why you chose your band name?
Michael from City of Glass: It's definitely Douglas Coupland inspired, although it's as much of an homage to Vancouver as it is to his writing. We've both identified with his books in the past and we try to recreate that same balance of sadness and hope in our music. His writing observes life in a pragmatic yet romantic way and we really like that. As far as Mortal Instruments goes, I don't honestly know much about the series. Unfortunately it looks like they've started making them into movies, and I sort of hope it's not successful enough to reach the City of Glass book in the series because that might make things awkward for us pretty quickly.
Scott Wood: City of Glass is also the third book in The Mortal Instrumentsseries, a young adult urban fantasy series set in New York written by Cassandra Clare. The series has been described as "a sprawling urban fantasy packed with just about every type of creature known to the genre." If you guys were able to play in a party scene in a cheesy fantasy-romance YA novel (like the Mortal Instruments series) which series would it be and also imagine which mythical creature would attack and eat you while trying to get the heroine of the series?
Michael from City of Glass: Woah. How many cheesy fantasy-romance YA novel series are there? Probably too many, I don't think I want to know the answer. Can I just cheat and say we'd play the cantina in Star Wars? That's a fantasy series. Then we'd probably freeze to death on the ice planet long before the wampa got us, unless I pulled a Luke Skywalker and turned David into a sleeping bag but I think I'd rather just freeze to death.

On naming themselves after a Douglas Coupland book: We've both identified with his books in the past and we try to recreate that same balance of sadness and hope in our music.

Scott Wood: Hmmmm. Maybe we should talk more about music. City of Glass is a partnership of two long-time friends Michael Champion (vocals, guitar) and David Phu (guitar). Can you identify an unexpected strength and a funny weakness in each other?
Michael from City of Glass: Ha ha. Nice of you to try and stir the pot. I'll try and be as diplomatic as possible. Unexpected strength of David's… I'll say managing the live show. He hates it, but he's good at organizing with the promoter, the venue, and the sound guy, and even helping out on sound if he has too. He can wear all the hats and still play a solid show. As far as a funny weakness… I'll go with having to unexpectedly banter. There's been a few times where I've talked myself into a corner and thrown it to Dave to take over only to be met with a shrug. Then I panic and start talking even more and really get myself into trouble.
Scott Wood: Your day job is in advertising making music for commercials. How do you think your day job has affected your music writing? (Compared to

On traveling to Berlin: We only go to regular music-sex clubs. Those places are great!

another musician whose day job is in web design or working in a bar?)
Michael from City of Glass: I think it's really beneficial. The more writing I have do in other styles, the more I find it helps all the others. Musical ideas transfer between genres very easily, and sometimes writing with less conventional instrumentation can really help the creative process. That being said, sometimes writing music can be a nice break from other work, but if you're always writing you don't get that same feeling of escape. Still, it beats the alternative.
Scott Wood: Michael, you and David are high school friends. High school is a time to experiment with different looks. It's also a great time to make some mistakes while finding a look that works for you. Can you confess a fashion mistake one of you made in high school?
Michael from City of Glass: There's too many of these stories. It's a bit depressing. One time in high school, David and I went to our friend Chris' house for the night and we all decided to bleach our hair—because it was the 90s and we had no taste. Anyways, we hooped up our hair and waited and nothing happened, so we tried again. After a few hours of letting our scalps burn and nothing happening, we realized that we'd forgot to mix the bleach in and had just let hydrogen peroxide sit on our heads for way, way too long. We mixed what was left with the bleach powder and tried again, but we didn't really have enough, so I ended up having really bad leopard-print spots all over my head. Why I didn't just shave my head after that I don't know.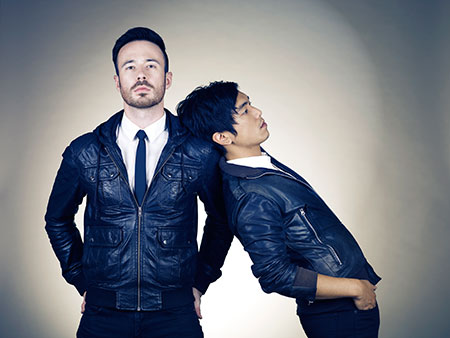 Scott Wood: You guys recently did stint in Berlin. It seems like it's mandatory for Canadian bands to do some time in Berlin these days. What did this do for you guys professionally and personally?
Michael from City of Glass: It was fantastic on both levels. Professionally it allowed us to develop in a market that was really in line with what we were doing and to tour many major cities with relative ease. Plus being in a city that is drenched in the arts and finding it around every corner was inspiring both as musicians and as people. I love Berlin and miss that city and all our friends there dearly.
Scott Wood: Could I corner you guys at a City of Glass show and get you to talk about all the strange music-sex clubs you've gone to?
Michael from City of Glass: No, no. We only go to regular music-sex clubs. Those places are great! What? Although music-sex sounds like a pretty fantastic combo of two things everyone likes.
Scott Wood: You guys have told me you are considering making your drummer a full time member of the band. In general, when a band decides to make a sessional player an "official partner" what are two things they need to look out for?
Michael from City of Glass: Loyalty is a big part of it for us. The main reason we set this band up as a two piece was because we were tired of being in projects that fell apart when one person moved away or decided to do something different. Ty has been playing with us for a couple of years now and has done everything he can to help the band. It's just been a great fit so it feels like a natural progression.
Scott Wood: You guys started as a two piece and now are a almost three piece. Can you talk about the limitations of being a two and three piece and working with that? An advantage?
Michael from City of Glass: In many ways being a two piece is way easier. Decisions only have to be run by two people. Because of that, we've been able to have way more control over the sound, image, branding, and all those other discussions that are fun to have in groups of people with many differing opinions. It can be a little overwhelming with the workload though. When you don't have a label or management, it can be a lot of work for two people, and that's aside from writing the songs and working on the live show.

On dying in Star Wars: we'd probably freeze to death on the ice planet long before the wampa got us, unless I pulled a Luke Skywalker and turned David into a sleeping bag but I think I'd rather just freeze to death.

Scott Wood: I actually met the guys from City of Glass at a Vancouver music blogger beer night--hosted by the fantastic Backstage Rider. What's one sure fire tip for romancing music bloggers?
Michael from City of Glass: Alcohol. This industry is fuelled by a great river of alcohol, just keep buying them drinks. No, I don't know really. I guess just be friendly and yourself. You see some people really try and play a game with how they meet people and, while networking is important, I find I'm just not very good at forced conversations. Most bloggers are just giant music fans and so am I. It's way more fun to just make friends with like-minded people than any other approach. Also, Backstage Rider is a fantastic blog and Mikala is such an awesome person, check it out if you haven't already!
Scott Wood: What, the interview show gets no love? Geez! Thanks for answering my questions, City of Glass. Can you introduce your favorite City of Glass video?
Michael from City of Glass: Thank you! We're particularly proud of our latest video we did with the always amazing Jem Garrard, Todd Leblanc, and our creepy eyeless friend Christoph Prevost (him not having eyes isn't what makes him creepy, although it works in the video). It's for the title track off our new album, The Modern Age. We flew down to Vegas and drove out into the desert for a few days, really great experience and I couldn't be happier with the results.
Find more about City of Glass (the band) online.
Official cityofglassmusic.com
Follow facebook.com/cityofglass
Tweet @cityofglass
Hear / Buy cityofglass.bandcamp.com
Listen to upcoming episodes of the interview show for an audio chat with City of Glass.
The Interview Show is everywhere.
Follow me on twitter @interview_show
Listen to The Interview Show on SoundCloud soundcloud.com/interviewshow
SoundCloud RSS Feed
www.cjsf.ca (Vancouver, BC, Mondays 4:30-5pm PST and Wednesdays 12:30am PST)
www.ckdu.ca (Halifax, NS, Saturdays 1:30-2:00am AST)
www.radiocfxu.ca (Campus Community Radio, Antigonish, NS, Fridays 11pm-12am AST)
www.cfru.ca (University of Guelph Radio, ON, Tuesdays 3pm EST)
www.umfm.com (Winnipeg's Hit Free Radio, Fridays 6-6:30pm CST)
www.caperradio.com (Cape Breton University Radio, NS, Wednesdays 3-3:30pm AST)
www.localfm.ca (Campus Radio Saint John Inc., NB, Tuesdays 11:30am and Fridays 3:30pm AST)
comments powered by

Disqus