The Many Talents of Caitlin Goulet : a Jazz Notes Interview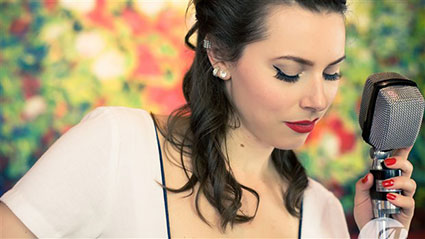 Cory Weeds at the Cellar Jazz
The talented Kamloops triple-threat is branching out with a new EP
For someone only in her mid twenties it seems like Caitlin Goulet of Kamloops, BC has been performing forever. She has performed musically and in theatre and film in Canada and the United States from an early age. Now she has added composing to her repertoire and she recently released her first EP. The house was full of adoring fans at a local lounge were she held her CD release party. Her EP contains a mix of blues, jazz and R&B tunes sung in a sultry fashion that never goes out of style. It leaves you wanting more. She has gone from Mom's living room dance parties, to television productions, lounge and house concerts and recently to the cast of Les Miserables. When not doing all this she holds down jobs in the retail and food and beverage world. She recently spoke to me live on Jazz Notes.
JD: Your educational background is quite varied. Did you go to school in LA (Los Angeles) for a while?
CG: I didn't go to school in LA. I competed in LA. It was called World Championship of Performing Arts and they bring people to compete from all over the world and it was really neat because I could see artists, actors, singers, musicians from all over the world. The level of talent was incredible and having such a high level of competition was really good for me, just to challenge myself and push myself to be ready for it. (Caitlin won several categories in the 2009 World Championship of Performing Arts : overall winner and gold medal in the 18-24 group in Female Acting Classical and silver medal in the 18-24 group for both Female Acting Contemporary and Female Vocal Original. The judges also awarded Caitlin with an Industry Award.)
JD: At such a young age we can say that you have been a star of stage, screen and television. You've done plenty of acting work and recently you took on a tough job being in the live stage performance of Les Miz (Les Miseables) at the Sagebrush Theatre in Kamloops. Tell us about that, It sounds exciting.
CG: It was so great. It was my first professional theatre production and I'm so glad it was with Western Canada Theatre. They are a wonderful family; great people to work with. Because it was a smaller cast that usually goes into Les Miz, all of us had multiple rolls and a lot of variety. There was a lot of running around backstage and trying to get ready for the next scene. It was really, really cool. They were a really talented group of people to work with, too. I am really pleased I had the opportunity.
JD: How many shows did you do back-to-back?
CG: I think there were around seventeen shows in ten days and that was including previews and matinees.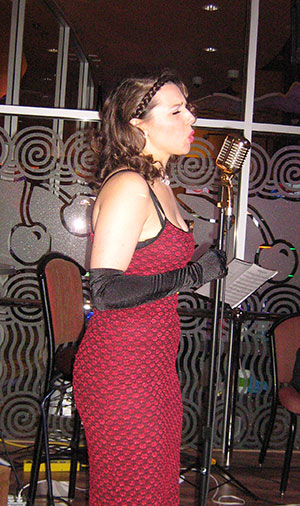 Cory Weeds at the Cellar Jazz
JD: Seventeen shows in ten days, singing and dancing and multiple parts?
CG: (Laughs) The dancing wasn't that intensive. It was mostly walking and singing and very basic dance. It was almost all sung and there was very little speaking. So, yes!
JD: Caitlin, you've performed on television and stage. What do you prefer?
CG: That's tough because I like both for different reasons. I like the intimacy of film and the subtlety of it. The way that you read on film: doing a smaller movement or a more natural reaction to things is more appropriate for film. But the challenge with that is that you don't always shoot in sequence, so you have to create these moments just out of nowhere sometimes. Where with theatre, because it's in a larger environment you have to make everything larger because the people at the back of the room can't see what's going on and you have to be able to tell the story in a larger way. You have to be in the moment because there is no second chance. For that evening you have on chance to do that moment. I like that about theatre. I like the thrill of it. I like that you go through the story chronologically so you live that story as you go through it. So they are very different and like them both for different reasons.
JD: Yes, it's just amazing the work you have to go through to be an actor or actress. People don't have any idea the work that's involved and good on you that you done this.
CG: Thanks.
JD: I'm going to get back to your singing career now. The other good news is you have a new EP out. Maybe you can tell us about it.
CG: Yes, I'm actually really pleased with what we put together. I worked with Kris Ruston and he did the production and the engineering. Not only did he do that but he played guitar, bass, piano, organ. So he was a huge part of creating this with me. We had Richard Graham play drums and he's an animal on drums. He can create such cool rhythms, so I was really pleased with that. I'm looking forward to going into the studio again and doing some more songs.
JD: I noticed that you have composing credits on Hunter Hunted. That's pretty cool.
CG: Yes, thank you. I wrote the lyrics and the vocal melody and Kris Ruston created the instrumental parts.
JD: You mentioned the track "Mercy" is quite special to you. Tell us about it.
CG: That track is a cover of Duffy's hit song "Mercy." It came by request of my partner and she just loves it when I sing that song and I sang it for my family at my mom's grad down in Santa Barbara. She graduated with a PhD in Environmental Sciences and everyone was saying that when you record you have to do that song. They just wouldn't let me get away with not doing it, so I had to throw that one in there. So I really enjoyed what we created with it and I'm so pleased with how groovy Kris (Ruston) was able to make it. So, ya.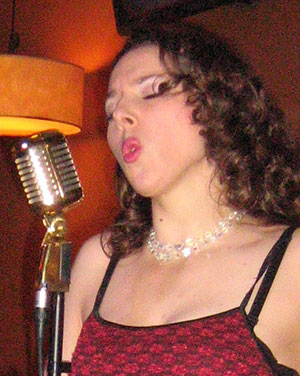 Cory Weeds at the Cellar Jazz
JD: That's a great version of that song. Love it!
CG: Thank you.
JD: I see that you will be playing at The Heritage Plaza's Fireside Lounge on May 9-10 from 8-10 PM. Other than that how can people keep track of you?
CG: If you want to more about what I'm up to I have a Facebook page, Caitlin Goulet, and if you Like the page you can stay up-to-date.
https://www.facebook.com/Gouletmusique
JD: Thanks for coming in. I plan on seeing you at your Plaza gig and good luck with your future plans.
CG: Perfect! Thank you.
http://music.cbc.ca/#/artists/Caitlin-Goulet
Jim Dupuis is the host of Jazz Notes, now in it's 13th year on Wed. 5-7 PM PT at www.thex.ca
comments powered by

Disqus