Jazz - North of Sixty
Yukon Jazz Singer Fawn Fritzen wins The Julian Award of Excellence with her debut album Bedroom Voice
"Whitehorse, Yukon – 60.6167° N. The wilderness city, land of the midnight sun, aurora borealis, the Klondike gold rush - and jazz?
Fawn Fritzen has been a woman of the north for a large part of her life. She possesses a spiritedness that accompanies most people who choose to live and play in a remote community. It's this attribute that has propelled Fawn to pursue her passion for music and Performance.
With a degree in business and a background in classical piano and theatre, Fawn jumped feet first into the jazz pool.

I was getting such wonderful energy and joy from working on the artistic part of my life

About 7 years ago she joined the seventeen-member Whitehorse Big Band as a pianist. She recalls, "After the first rehearsal I was practically in tears. I had never played in a band setting before and I had never played jazz before. Big band charts for piano can be eight pages long and if I got lost somewhere, that was it, I was out for the rest of the tune because I didn't know how to listen for phrases or where to come in again. That was a fantastic growing experience for me because I learned how to listen to the music, I learned how to play the music and I fell in love with the music."
The Julian Award of Excellence for Emerging Canadian Jazz Artists
The Julian Award is the brainchild of Peter Prentice, host of The Jazz Spectrum, which airs on CJSF 90.1 FM Wednesday 6-7 p.m. and Sunday at 8:00 a.m.
The award was developed in 2010, to recognize and encourage young and emerging Canadian jazz artists who are producing original work.
Peter approached Patrick Julian, a Vancouver lawyer who is a long time board member and current president of the Coastal Jazz and Blues Society, with the concept. Julian, who works tirelessly behind the scenes to promote jazz and the arts in general in Vancouver, agreed to lend his name to the award.
To be nominated, the jazz artist/group must be a Canadian, and have released an album, (usually the first or second effort,) in the fifteen months before nominations close in December. The album must contain at least one original tune by the artist/group and meet the SOCAN MAPL criteria. They cannot be signed to a contract with a major label.
Peter Prentice chooses the finalists in consultation with Patrick Julian. Once the finalists are chosen they are featured on The Jazz Spectrum in the first few weeks of January and then people get to vote. It is a listener and fan-generated vote that takes place over one week using Survey Monkey. The first and second place winners are announced on The Jazz Spectrum the last week of January.
Fawn Fritzen is the third recipient of the award for Bedroom Voice. The first two winners were Turtleboy for Smart Matter and The Tyson Naylor Trio for Kosmonauten.
Because of her theatre background, some of the music was familiar and some was new. Illustrating this Fawn says, "We have an instrumental version of 'Black Coffee' and I thought that was a really neat tune, so I went and looked it up and found out there were words to it. I didn't realize that it was such a well-known standard. I love singing the stuff too."
That was the beginning for Fawn Fritzen. The big band already had a vocalist so she had to find other places where she could sing and find other musicians to play with. Fawn credits Whitehorse musician Grant Simpson for getting her the first jazz gig. Simpson is a well-known stride piano player and owner of the vaudeville theatre production The Frantic Follies, which Fritzen performs in as well. "It was nerve wracking," recalls Fawn of that first gig. "There have been a lot of musicians who have helped me in every step forward," says Fawn. "The jazz community freely and willingly mentored me. I'm grateful for that. It's a very nurturing environment here for a musician."
Just what is the music scene like in Whitehorse? Fawn goes on to explain, "The music scene is really active. We have lots of different musicians, singer/songwriters, and lots of folk things going on. We also have a really amazing jazz scene. I think a lot of jazz musicians that come up here are surprised. The Yukon Jazz Society brings in musicians from all across the country. We had Bill Coon and Oliver Gannon here recently. Kellylee Evans was here earlier this year. Diana Panton is going to be here. When they come they can't believe that they'll fill all the seats that are available for that show and everybody's listening. Yukon Jazz also has another series that highlights local jazz groups and it includes a jazz jam as well. Part of the idea is building people's skills up, like learning how to bring your own charts for different instruments, jamming on different instruments or on vocals. We have a really active jazz community. It's so nurturing and I can't say enough about that really."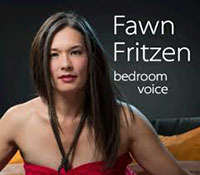 Fritzen's debut Bedroom Voice
Having the support of the local music community played a roll in her jazz career decisions. "I was getting such wonderful energy and joy from working on the artistic part of my life," says Fawn. With more performances, coupled with all the positive feedback she had been getting and a very supportive husband, it was a natural evolution for Fawn to leave her day job and become a full-time musician in addition to being a mother to her two daughters.
It was another evolutionary step to for her to write and record her debut album Bedroom Voice. In the recording studio, Fawn Fritzen was once again facing a learning curve. She was there every step of the way soaking up all the different ways you can work a song. The result was Bedroom Voice, an album that, in its simplicity showcased Fawns voice, which is more intuitive than formal. It also garnered some surprising attention from the folks who administrate The Julian Award of Excellence for Emerging Canadian Jazz Artists.
Says Fawn, "It was really exciting having the honor of getting the award. It was unexpected when I got the nomination. I wasn't familiar with the award. I'm relatively new to the jazz world and am still learning names of people, and artists and groups and awards apparently. As an emerging artist you have a lot of clutter to cut through. It's really hard to be noticed in the first place. It's an honor to have been nominated and know that somebody did notice."
With her jazz career underway and an optimistic attitude about the unknowns that lie ahead, Fawn is in agreement that having The Julian Award under her belt is a real confidence booster. "It's certainly exciting to have that on my musical resume," she enthused.
Fawn Fritzen is the third recipient of the award that also comes with a cash prize. She was able to invest that in another recording and video project which includes a song in her native Mandarin language called "Green Island Serenade". It's a love song that was written in Taiwan in the forties and became popular in Mainland China as well. Fawn Fritzen continues to work on the next project.
http://www.youtube.com/watch?feature=player_embedded&v=S3HeicM3Sx0
For more information http://fawnfritzen.com
comments powered by

Disqus