No Sinner's Public Confession
Scott Wood hears about everything from old obsessions to running naked through the streets of Brooklyn"
Vancouver's No Sinner started with frontwoman Colleen Rennison sprawled on a dirty kitchen floor, drinking wine and writing songs with a pal. (Gold star if you guessed: yes, "No Sinner" is Colleen's last name "Rennison" spelled backwards.) Since those humble beginnings, No Sinner has become a full-fledged band made up of several Vancouver music scene mainstays, centred on Rennison's incredible "Marlboro- and Jack-stained" voice. Common adjectives used to describe the band's sound are "bluesy," "smoky" and "hard-drinking." You get the picture. They're a rhythm & blues indie rock band.
The band is currently finishing up their first full length record, set for release sometime in mid-2014. I caught up with No Sinner frontwoman Colleen Rennison while she was on set in LA. (She acts too.)
Scott Wood: A lot of people like to describe your voice as "whiskey-soaked"... When you want to over indulge, what's your weapon of choice?
Colleen Rennison: It's always cheap, light beer and whiskey, the origin of which changes depending on my mood. I drink this everywhere I go, always. I wouldn't know what else to order.

It's always cheap, light beer and whiskey... I drink this everywhere I go, always.

Scott Wood: You added No Sinner guitarist Eric Campbell to the band in a strange way. It's been said you felt inextricably drawn to Eric after seeing him perform in a bar one night. So you tracked him down by searching most of West Vancouver with nothing but a first and last name, even calling all the Campbell's in the phone book. How did he react to what could be perceived as your somewhat psycho-stalker-behavior? (It sounds like a great story and I am sure you were a sweetheart.)
Colleen Rennison: He wasn't even aware at the time, and didn't find out until probably a year later. I didn't wanna scare him. I just called his house and his mom picked up the phone. I asked if Eric lived there and she said, "Yes" and got him. Little did he know that was like, the 25th time someone picked up the phone and I'd asked for him. Oh, and he's from North Van, not West Van, just to set the record straight.
Scott Wood: Local weekly The Georgia Straight reported in 2012 that you were stopped by the New York police (along with No Sinner's guitarist Eric Campbell and one-time bassist Parker Bossley) for running naked through the streets of Brooklyn. Can you tell this story, and why hasn't this happened in Vancouver? (http://www.straight.com/music/no-sinner-has-got-big-balls)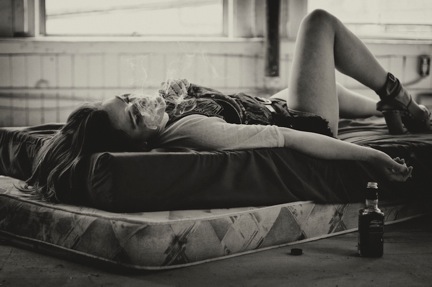 Colleen Rennison: We had just come from some weird little gig that my friend at Shady Records set up. We played between a DJ and some dude that rapped with 3 girls onstage just standing there. Walked down the street and into a photo show by someone from Whitesnake's girlfriend, and were generally just having a weird, weird night.
After kicking ourselves out of that party and hopping in a cab to back to our friend Cheylenne's house on Locust Street in Brooklyn, it started to pour hot thick rain (which is the reason this has never happened in Vancouver, we just don't get rain like that). Eric and Parker just had to feel it on their bare skin. I was wary, having already had problems with the law in NY (that's another story), but seeing their naked bodies streaking up the street, I just couldn't resist. About 3 seconds after my tits came out, a squad car with 2 lady cops pulled up. They proceeded to make us stand there in the pouring rain, holding our bits and pieces, while they wrote out our summons. We ended up having to pay about $2500 each and hire a lawyer, which was pretty ridiculous considering some of the shit that goes on in the world today without punishment, but at least we sorted it out and can go back to the States.
Scott Wood: I read an interview with you where you said you didn't want to listen to new music to sway your musical direction. I was hoping you could talk more about this. (http://www.gonzoonline.ca/music/new-bands/nosinner.html)

About 3 seconds after my tits came out, a squad car with 2 lady cops pulled up.

Colleen Rennison: I don't necessarily feel that way anymore. If anything, I've done a disservice to myself being so far removed from what's current. I was talking to my boyfriend Shawn about this, and it's almost like reading literature. I very rarely pick up any new books 'cause there are so many classics I still have to consume. But I'm starting to be less intimidated by all the new music and trying to just let myself listen to whatever comes these days.
Scott Wood: What do you think about the so-called movement of young bands taking up "old sounds"? (Like say the Black Keys or Vancouver's The Ballantynes.)
Colleen Rennison: It's awesome! It's been going on forever though, from everyone from The Band to The Stray Cats. It's easy to like and kind of glorify things of the past 'cause it's not really your reality. It's fun to borrow from a bunch of different things all over history and make them your own. No song is ever 100% original, we're constantly using what's already happened as stepping stones to get further.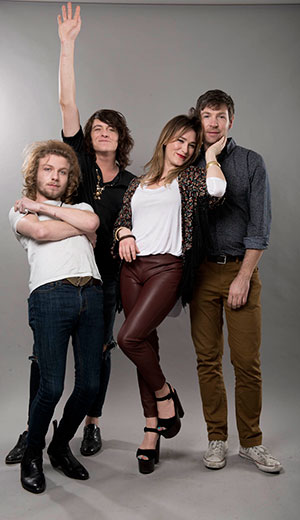 Scott Wood: You've been compared to Etta James and Janis Joplin. I don't doubt those writers were being complimentary--and let's face it, you have a great voice. Being compared to those legends can be a double-edged sword. Can you talk about someone you've always wanted to be compared to?
Colleen Rennison: I always wanted to be compared to the frontmen, like Mick Jagger, Robert Plant or James Brown. That's how I feel up there, masculine yet feminine at the same time. It's pretty androgynous, moving and shaking and trying to enrapture a room. My friend Kevin House told me that I sound like Karen Dalton and it made me cry. She has the most incredible sound, and it was nice to be compared to someone who doesn't spend most of the time screaming their head off.
Scott Wood: You are not only a singer, but also an accomplished actor. An actor friend of mine was complaining the other day about being cast in a poorly written movie. It's great to be working, but still a challenge. How does an actor make so-so material great? How does a singer make an average song soar? Is it the same thing?
Colleen Rennison: Definitely. It's all about where it comes from. If you can somehow find a reason, a focus to believe in, you can even turn "Little Miss Muffet" into a tear jerker. It's really just about making it real for yourself. I think of someone or something that relates and connects me to the song, it can be really surprising and powerful. But you can't polish a turd, and sometimes bringing truth to a shitty script or song can be painful.

If you can somehow find a focus to believe in, you can even turn "Little Miss Muffet" into a tear jerker.

Scott Wood: You haven't even put out a full record yet and your song "Boo Hoo Hoo" (which has also become your signature track) has already been placed on several TV shows. Which has been your favorite placement? Why?
Colleen Rennison: We got it on WWE during their yearend award show and that was pretty effing cool, definitely surreal. It was also pretty cool to see Carmen Electra dancing to our song on 90210!
Scott Wood: Right now, you are finishing up/ready to release your first full length release. I've heard that you and friend, former No Sinner band member, and general man-about-town Parker Bossley wrote the songs in a kitchen. You've said how Parker had to coax the songs out of you (since you were less than confident). After hearing your singing voice, it's hard to imagine you as less than confident. How does one coax songs from you?
Colleen Rennison: Writing the Boo Hoo Hoo EP was a special time of just trying to get those songs out of me, any way we could. Wine and dirty kitchen floors seemed to be just what the witch doctor ordered. This next album has changed a bit. After signing with Provogue Records and augmenting our EP with some new songs for the European and full North American release, we've got some pressure off and more time to write and shape this next album, which is cool. We're hoping to put it out in the fall, but will see what happens. It's a whole new ballgame writing with the full band. We've met so many people and come such a long way since that kitchen floor, we really want this next release to reflect that …and I think it will.
Scott Wood: Thanks for answering my questions. Can you pick your favorite No Sinner video and introduce it for us?
Colleen Rennison: My favourite is still "Love is a Madness." We filmed this right before the summer when we'd just met a cool new crew of people and a lot of them were at that party. It's a nice little snapshot of good friends and good times. I'll be able to show my grandkids when I'm old and grey that their granny was fucking rad and so were her pals. It's also nice to have two of the most handsome boys I've ever met (Christian Whiticar and Parker Bossley) fighting over me. Even if it is just fiction...
Find more about No Sinner online.
Official http://nosinner.com/
Follow facebook.com/NoSinner
Tweet twitter.com/nosinnermusic
Hear https://soundcloud.com/nosinner
Listen to upcoming episodes of the interview show for an audio chat with No Sinner.
The Interview Show is everywhere.
Follow me on twitter @interview_show
Listen to The Interview Show on SoundCloud soundcloud.com/interviewshow
SoundCloud RSS Feed
www.cjsf.ca (Vancouver, BC, Mondays 4:30-5pm PST and Wednesdays 12:30am PST)
www.ckdu.ca (Halifax, NS, Saturdays 1:30-2:00am AST)
www.radiocfxu.ca (Campus Community Radio, Antigonish, NS, Fridays 11pm-12am AST)
www.cfru.ca (University of Guelph Radio, ON, Tuesdays 3pm EST)
www.umfm.com (Winnipeg's Hit Free Radio, Fridays 6-6:30pm CST)
www.caperradio.com (Cape Breton University Radio, NS, Wednesdays 3-3:30pm AST)
www.localfm.ca (Campus Radio Saint John Inc., NB, Tuesdays 11:30am and Fridays 3:30pm AST)
comments powered by

Disqus