Sprïng: When the band implodes, umlauts are born
Vancouver's Neo-Psychedelic Quartet Sprïng are Determined to Hide from the Internet
One of the more challenging aspects of covering a local music scene is how fast things can change. You turn your head for a minute and then you find out your favorite local band is dead and the surviving members now have a new band with a completely different sound.
Sprïng is one of those "new" completely different bands reconstituted from the remains of some of my deceased local favorites. The band's website told me a little: "The musicians of neo-psychedelic quartet Sprïng have been playing together in various incarnations for more than six years. The band is made up of some of the busiest tour-hardened musicians in East Vancouver's vibrant music scene. Hello folks, Scott Wood here! I'm the host of the interview show, which is a syndicated radio program you can find on several campus community radio stations across Canada. Each month, I profile one of the "hidden talents" in my local Vancouver scene. Basically, I am going to give the campus community radio readers the chance to get to know some of Vancouver's most interesting, up-and-coming bands. Having been instrumental in the success of bands like psych rock quartet SSRIs, iconic Canadian punk outfit The Rebel Spell, and acclaimed indie pop experimentalists Aunts & Uncles, Bleating Hearts and Thee Ahs, the seasoned multi-instrumentalists of Sprïng are excited to build upon the successes of their past projects." But this band bio wasn't enough. I had to find out more and let the world know!
Here is my chat with the band.
Scott Wood: Hello new east Vancouver band Sprïng. Congrats on your new release Celebrations! I have heard Sprïng described as 1) the SSRIs rebranded, 2) the members of the SSRIs who crawled from the wreckage of that band's implosion, and 3) a SSRIs spin-off project. Let's set the record straight. Pick the most truthful quote and use it as a starting point to discuss the birth of Sprïng!

In my experience of band implosions the hardest part is just letting go of the songs, realizing you'll never play them again

ELLIOT: It's a mix between #1 and #2. SSRIs was a band me and Jo formed in 2006 that lasted for 6 years and had 3 drummers and 2 bass players over its history, including a very good friend of ours who passed away. The band became known for writing really crazy, spazzy music, had a small amount of success, and meant a lot to us. When Ridley and Kevin both joined SSRIs and we started writing new music, the sound became more psychedelic and less post-hardcore, and we decided that rather than continuing on as SSRIs version 6, we'd launch it as a new band, because it felt in many ways like a new project.
Scott Wood: What's one tip on surviving a band implosion/ending? The hardest part for you?
ELLIOT: Fortunately the way it worked out, it really just felt like SSRIs slowly morphed into Sprïng. I was disappointed at one point when it didn't seem like SSRIs was going to be carrying on, as we'd put so much time and work into the band, but now we have Sprïng and everything's better than ever!
RIDLEY: Though I wasn't really around for the implosion of SSRIs, in my experience of band implosions the hardest part is just letting go of the songs, realizing you'll never play them again. But then you just write new songs and are more stoked on them cos they're fresh, and you're off again.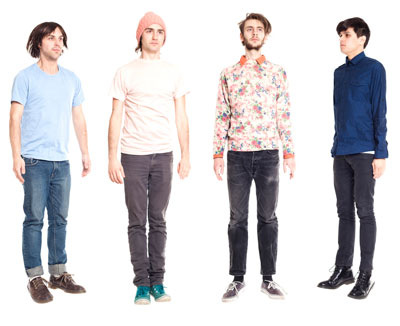 Our name can also be thought of as SprALT-Uing on mac computers.
Scott Wood: The new project is called Sprïng. It's a very vague name. :P Are you trying to hide from people on the internet? :) Sometimes Sprïng is spelled with an umlaut over the "i." Sometimes the "S" is spelled with a "5." Which is the official spelling? Can you help me out here?

KEVIN: The name "Sprïng" appealed to us because of the simplicity of it, but also because it's multi-faceted, lots of different meanings—the season, a bouncy coil of wire, "to leap", a little stream of water. The umlaut started as a way of navigating the internet. Facebook won't let you name your page after a city, and there's a city in Texas called Spring, so we had to modify the word somehow. Turns out having two dots over the "i" looks really cool, and also help differentiate from the 200 other bands also called Spring.
JO: Our name can also be thought of as SprALT-Uing on mac computers.
Scott Wood: You guys share a house together in east Vancouver. You've said this is like "tour training." Can you talk about how everyone else in the band has learned to accept or cope with a weird habit of yours?

ELLIOT: I'm known for spacing out and ignoring people and disappearing into a magical world called "Elliot Land," but people forgive me about it usually.
KEVIN: Every few months I get on a Tony Williams kick (he was Miles Davis' drummer in the early 60s) and lock myself in my room playing fast jazz drums for hours. Elliot says I'm working on my first solo record "60 minutes of up-tempo bebop ride cymbal."

Many of my greatest musical epiphanies have indeed taken place on the toilet.

RIDLEY: One of my favourite activities is deliberately annoying Kevin, usually with some extremely lame joke like, "Hey Kevin, why are you putting hot sauce on your food?!?!!!", even though he always puts hot sauce on his food. He managed to put up with it for a few months, and then finally found my weakness: chanting my name in a weird gremlin-y voice. Kevin annoyance has since dropped 90%.
JO: I usually run around the house screaming. I'm not sure if it's accepted or not, because I can't hear anyone's complaints over my primal screams.
Scott Wood: You also recorded your debut record Celebrations in this house. Did it help that you could not escape this project while creating the record? Did you ever have an epiphany while you were taking a dump and rush downstairs to record it?

KEVIN: A lot of the sounds on the record came out of jokes, or accidents, or silly ideas that we wouldn't have had the time to try out in a commercial studio. The song "Storyteller" is a good example of that. Elliot had written this really nice guitar and vocal arrangement, and we didn't really know what else to do with it. I think we decided to record stuff onto it bar-by-bar from start to finish, and to record the first idea that anyone came up with. At one point a mellotron flute sample enters a-la "Strawberry Fields," only to be cut off by a voice in the background "No wait, that's been done!", and the keyboard fizzles out.
RIDLEY: Many of my greatest musical epiphanies have indeed taken place on the toilet. In the case of this album, however, I think the main advantage of living in-studio was just being able to put joke instruments on the album when we felt like it—such as the bowed oscillating fan, or the electric sitar.
JO: We couldn't take dumps because of the energy drinks.
Scott Wood: Sprïng drummer Kevin Romain said about making the record in your basement studio, "We spent days at a time recording... and trying out unorthodox recording techniques." Can you talk about one unorthodox recording technique that worked for the record/band and one that didn't?
JO: We double tracked and hard panned a whole drum kit while recording it with ribbons in a vintage-y style for "To Accuse." Previously we tried to hard pan and track different parts but it didn't end up working, so the drums are double tracked in that song which gives it this more intense and fat character. There was a lot of tweaking of weird distortion effects on "Follow," which give it that kind of hairy weird character. There were A LOT of things that didn't work when we were trying that out...
Scott Wood: Previously unveiled single "Yer Chimurenga" didn't appear on the announced track list for Celebrations. What happened?
ELLIOT: That was an older song that was sort of part of the transition from SSRIs to Sprïng. It didn't feel like it fit with the other songs so we left it off.

JO: If we release a single as a single, it won't end up on an album.
Scott Wood: Your bio describes you guys as "made up of some of the busiest tour-hardened musicians in East Vancouver's vibrant music scene." Can you talk a bit about how touring can harden a man?
ELLIOT: You learn how to try to stay positive and upbeat while sleeping on some gross couch that smells like cat pee, and then driving for 10 hours to play to 15 moderately stoked people. The ups and downs of touring can be a lot of fun, but they aren't for everyone.

The bus is called the "flaming skull."

KEVIN: I think I wrote that bio, and now "tour-hardened" seems like a bit of an analogue with "prison-hardened", which is a bit extreme. But when you're half way through a sixteen hour drive through snowy mountain passes in a minivan full of gear and hungry, underslept bandmates, it can start to feel a bit like prison! I think the truly "tour-hardened" musicians are the ones who learn how to be humble and accept criticism, how to be extra chilled out under stress, how to be kind and loving toward their bandmates even when you want to strangle them. People who don't figure this out won't be able to tour for very long. So maybe it's "tour-softened", after all.
RIDLEY: It's the dearth of vegetables in the diet that gets me. After a few days of eating mostly bread and pretzels from gas stations, never exercising, and sleeping on floors, one goes into animal mode. Your spine freezes in a semi-upright position suitable only for sitting in a car all day or bending over to lift an amp. The permanent taste of salt in your mouth because you haven't brushed your teeth in 11 days. You want to cry, if only to wash your face for once, but aren't hydrated enough to do so.
JO: Never drop the soap on a Sprïng tour.
BECAUSE YOU NEED TO WASH YOURSELF AND YOU'LL GET KICKED OUT OF THE BAND IF YOU DON'T WASH YOURSELF. WASH YOURSELF.

WASH YOURSELF.

wash,
yourself.

e. e. cummings
Scott Wood: Sprïng singer Elliot Langford has said, "The ultimate Vancouver Valentine's jam, though, has to be 'You're Beautiful' by James Blunt, which is about having the hots for someone on the SkyTrain, but you're super blazed and too confused to do anything about it." People are often surprised when strangers talk to them on Vancouver's skytrain. (For some reason it's rare.) Would you like to use this interview to make a "missed connections" type ad?
KEVIN: It was past midnight and I was on the 99 B-Line going home from a wedding gig and I was really drunk 'cause there was an open bar. You were wearing a nice cardigan and kept smiling at me. We both got off the bus at Main St and I asked you if you wanted to get a coffee (at 1am?) You said you couldn't right then but you gave me your number. I called you a couple days later and you mentioned you were really involved in your church and that weirded me out, so I never called you again. Anyway I'm sure you're a really nice person, and you have great taste in cardigans.
JO: That was me. I'm still involved in my Church, sorry.
Scott Wood: You guys will be touring the record soon. I've read that you just got a tour van. Can you talk a bit about your sweet new ride? What do you have to do in the van before it feels like it's yours?
ELLIOT: Having toured across Canada four times in a cramped minivan as SSRIs, we decided to upgrade to a van. We basically copied our friend Todd from The Rebel Spell who has a big diesel bus that can also run off veggie oil. If you can sleep and stretch your legs during 10 hour drives, you go less insane.
KEVIN: Ridley and I made popcorn on the stove and listened to a killer Oliver Nelson record in there while we were parked outside of Amoeba Records in Berkeley and it ruled. One of those "fuckin' eh!" moments, you know?
JO: The bus is called the "flaming skull."
Scott Wood: Thanks for answering my questions! Can you introduce your favorite Sprïng video? And send me the official link?
KEVIN: Thanks for the great interview questions! We only have the one video so far "Yer Chimurenga," but there are a few more in the works that should be coming out throughout the …Spring.
Find more about Sprïng online.
www.5pring.com
www.facebook.com/springvancouver
twitter - @springvancouver
youtube - Sprïng Vancouver
SoundCloud - https://soundcloud.com/spr-ng
Listen to upcoming episodes of the interview show for an audio chat with Sprïng.
The Interview Show is everywhere.
Follow me on twitter @interview_show
Listen to The Interview Show on SoundCloud soundcloud.com/interviewshow
SoundCloud RSS Feed
www.cjsf.ca (Vancouver, BC, Mondays 4:30-5pm PST and Wednesdays 12:30am PST)
www.ckdu.ca (Halifax, NS, Saturdays 1:30-2:00am AST)
www.radiocfxu.ca (Campus Community Radio, Antigonish, NS, Fridays 11pm-12am AST)
www.cfru.ca (University of Guelph Radio, ON, Tuesdays 3pm EST)
www.umfm.com (Winnipeg's Hit Free Radio, Fridays 6-6:30pm CST)
www.caperradio.com (Cape Breton University Radio, NS, Wednesdays 3-3:30pm AST)
www.localfm.ca (Campus Radio Saint John Inc., NB, Tuesdays 11:30am and Fridays 3:30pm AST)
comments powered by

Disqus