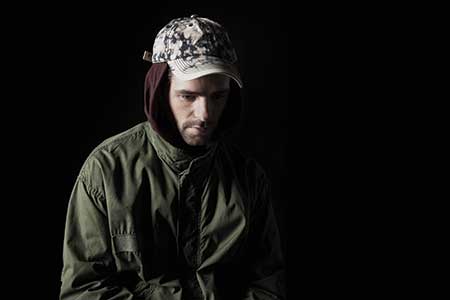 Dralms: Perfecting the Art of the Tease
This band's debut record is done, but you can't hear it until 2015.
Dralms is the latest project fronted by Vancouverite Christopher Smith. Long-time Vancouver music fans might remember Smith from his work as a solo singer-songwriter, but as Dralms, he has added band mates Shaunn Thomas Watt (Siskiyou), Peter Carruthers (Siskiyou) and Will Kendrick (Failing). With Dralms, Smith departs from his minimal and subdued musical constructions of his solo albums The Beckon Call and Earning Keep, to a much more complex band-oriented sound.
The band's debut album is being recorded right now for an early 2015 release. Christopher Smith took some time to answer my questions in between studio sessions. So we get a sneak peek of what is to come. (And yes, I ask about the name.)
Scott Wood: Hello Christopher Smith from Dralms! Dralms is a very unique name. If you say this band name out loud, it sounds like "drums." Whenever I try to tell anyone about you, they think I am hyping a band called Drums (which is a different indie pop band from Brooklyn). What is the origin of the name? Give people an easy way to remember and spell Dralms?
Christopher Smith from Dralms: Coming up with and settling with a band name is really hard—for me at least. There's so much pressure there! You want to represent yourself and the project accurately, maybe pick something that sums you up or a running theme or message you have. But then you're kind of stuck—you run the risk of miss-matching your band name, if you deviate from those themes. Also, I worry about making too much of a statement with a band name. Having to think about it every time you hear the name? Not to mention picking something that isn't already taken, if that's even possible anymore!
Looking back at it, I came up with a lot of really terrible names before we settled on Dralms. I'd just get in way over my head and over think them all. When I'd come up for air and show my bandmates what I'd come up with, they'd be like,

It was like trying to write a grocery list on acid or something.

"That's the worst shit ever!" or "Are you serious?!" It was like trying to write a grocery list on acid or something. That's why I settled on Dralms. It's what I want from a band name—something that sounds like the band sounds. And I think Dralms written out suites the band too somehow. No meaning past that, no message or story behind it.
As for tips to spell and say DRALMs? (Draw)mz? People will just have to figure out how to spell it, I guess.
Scott Wood: People might know the man behind Dralms as Vancouver-based, singer-songwriter Christopher Smith. Chris, you've put out some solo music before this project. What made becoming a member of a team the right move?
Christopher Smith from Dralms: Well, I've been working with a team for a while. In fact the same team for a long time. Shaunn and Will have been making music with me for almost 9 years, Peter's a slightly newer addition, but quickly became an essential piece to the puzzle. The move from solo artist to band was more fluid and natural than anything else—it's yet to be seen, but it FEELS like the right move. Ha ha.
A few things changed… At a certain point, we started veering away from the sounds of my solo album. After a time, there was a pretty apparent disconnect between the solo album and the live show.

We definitely strived for balance between exploration, and the vision we had for the finished product.

The songs were riding more and more on the instrumentation rather than the instrumentation accompanying the songs. At that point, I decided to put my solo work on the back burner and dive into this new sound and new process completely. This means I write songs at home and bring them to the band (as I did before), but now where those songs end up is much different from where they started. We strip things down and take them apart before we make them into something. We talk about the songs at rehearsals a lot too before playing—figuring out what's right and what's true for the song. I suppose that's all quite normal band stuff, but it took me all that time with the guys to give up the reigns a little. Maybe I should have done it sooner. Ha ha!
Scott Wood: You're working with fellow local career music maker Andy Dixon (aka Secret Mommy) on the new material. Dixon is a visual artist who also makes music. You also started out as a visual artist. Can you talk about the difference between making music and painting for you?
Christopher Smith from Dralms: I met Andy a long time ago, and he wasn't painting at all then, I think. If he was, it was nowhere near the extent he is now. He was doing a lot with music, including running a label. But I met him when he was in a band called the Red Light Sting (pre-Secret Mommy). I was in one of my first bands at the time and we'd play shows together around Vancouver and out in the 'burbs. I was painting more than making music at the time, so he and I are opposite in that way—although I've never accomplished anything close what he's done as a working visual artist. Andy is an amazing guy. He gets things done!
It's been so long since I've done any painting. I keep thinking I'm going to break back into it, but it hasn't happened yet. I guess it's not the right time. Honestly it'd be hard for me to make comparisons between painting and music at this point. I'm a much different person now for one thing and I think if I started painting now, it would be very different than before. When I'm feeling compelled to create visual art these days, it's mostly in forms other than painting or drawing.
Scott Wood: You've released a single ("Crushed Pleats"/"Divisions of Labour") to tease the upcoming full length record and are in the middle of recording the rest of the release. Can you talk about the strategy behind releasing a single in September 2014 when the record may not come out until summer 2015?
Christopher Smith from Dralms: We wanted to spark some interest and maybe gain some momentum, I guess. It always feels weird sitting on a finished product like that, but there's a lot to do aside from actually making the record. We'll definitely be giving up a couple singles and other treats before the full record comes out. Personally, I hate waiting too.

We weren't willing to wait to release a record before playing shows, and I think playing through this material at shows before we take them into the studio has been great...

Scott Wood: Since you are still making the music, are you anxious that things could change in the studio and the new material may not match what we've heard on the single? How fluid is recording the full record for you?
Christopher Smith from Dralms: The album is done now. It just needs to be mastered. Keeping things consistent was definitely in mind, but I was never too worried about it. Half of the songs on the upcoming record were written around the same time as "Crushed Pleats" and "Divisions of Labour," and we made a point to record them in a similar way. So, I'd say recording the record was quite fluid yeah. We definitely strived for balance between exploration, and the vision we had for the finished product.
Scott Wood: You've been playing a few festivals this past summer. What's it like performing new songs before they are out? Does performing them live give you a chance to work some kinks out? Can you get specific?
Christopher Smith from Dralms: We don't really have any other option! We weren't willing to wait to release a record before playing shows, and I think playing through this material at shows before we take them into the studio has been great actually. We hear and think about the songs differently in a performance setting than we do in the rehearsal space. Maybe a bit more critically and out of our own heads? Hopefully it gets people excited to hear what the songs sound like recorded too.
Scott Wood: Thanks for answering my questions. Introduce your favorite Dralms video/soundcloud link (the single)!
Christopher Smith from Dralms: Here's a link to our 2 song EP "Crushed Pleats" available on three different limited edition pressings from our labels Full Time Hobby (UK), Fat Possum (US), and Boompa (CAN). Listen and Enjoy.
Find more about DRALMS online.
dralmsmusic.com/
https://www.facebook.com/dralmsmusic
@DRALMSMUSIC
The Interview Show is everywhere.
Follow me on twitter @interview_show
Listen to The Interview Show on SoundCloud soundcloud.com/interviewshow
SoundCloud RSS Feed
www.cjsf.ca (Vancouver, BC, Mondays 4:30-5pm PST and Wednesdays 12:30am PST)
www.ckdu.ca (Halifax, NS, Saturdays 1:30-2:00am AST)
www.radiocfxu.ca (Campus Community Radio, Antigonish, NS, Fridays 11pm-12am AST)
www.cfru.ca (University of Guelph Radio, ON, Tuesdays 3pm EST)
www.umfm.com (Winnipeg's Hit Free Radio, Fridays 6-6:30pm CST)
www.caperradio.com (Cape Breton University Radio, NS, Wednesdays 3-3:30pm AST)
www.localfm.ca (Campus Radio Saint John Inc., NB, Tuesdays 11:30am and Fridays 3:30pm AST)
comments powered by

Disqus