Vancouver's BRASS is so punk, they head-butted this interview
A typical BRASS show is the band getting beaten to a pulp by their friends - and now I completely understand why.

I don't think anyone fully utilised the diaper during the evening, but I know the temptation was almost overwhelming.

I first met BRASS frontman Devon Motz back in March when BRASS played local promoter Art Signified's "Day Drunk with BRASS" show—an ingenious promotion by the way. During the BRASS set, I couldn't believe it when the adoring crowd started whipping beer cans at the band. Even stranger, everyone in BRASS looked like they fucking loved it.
Along with Devon, BRASS is Rory Troughton (drummer), Tristan Milne (guitar) and Zak Garret (bass). The band were planning to put out their first full length, No Soap Radio in June, so I thought we could try to get an interview on Earshot for June or July. Devon sent me and advance stream of the record then I sent off some email interview questions.
Balancing real life things like rent, jobs and girlfriends with writing, recording and performing music can get messy. The band was also preparing for their first X-Canada tour and this made time management even more challenging. This happens a lot with local bands and I completely understand. Sometimes life gets in the way of something small and simple like an interview. While I was waiting for the answers, I would get the occasional Facebook message life updates from Devon. He'd share some of the bizarre moments from his life—like when he was assaulted by some customers at his liquor store job when he wouldn't sell to underage teens or how touring makes it hard to keep a good job.
Once BRASS had survived their first tour (which involved a tour van breakdown and BRASS being marooned somewhere in rural Canada for quite some time), I prodded Devon saying that now that it was July, it might be a great chance to finally get this interview done. I had the interview questions back within a week.
All that was left was some photos. I messaged Devon for press pics. He explained that the band had to ask their photographer for permission to use their press photos and that I should just google the band and use the pics that I could find online. I told Devon that this wasn't the best idea—for a lot of reasons. Devon sent me some links, then gave up and said "Do the work" and that was that.

Solid advice
credit: the internet
After seeing the words "do the work" in Devon's message, I let out a long sigh and questioned why I even bother covering local bands.
Any band or performer—from international superstar Drake to a busker on the sidewalk—that releases a record and expects people to write about needs to have a press package with ready-to-use press photos. Even the most cash poor bands will just use photos that friends, fans or girlfriends have taken at past shows. At this point, I would have been happy with anything. I explained why I wanted the original pictures and why I didn't want to use photos taken randomly from the internet—photos on the internet are cropped and optimized (for quick download times) which makes the web editors job difficult. Also these photos may have rights issues.
Devon didn't want to hear this, so we spent the rest of the day on Facebook messenger: me asking for photos, him having all sorts of crazy reasons for not sending any.
Finally I said bottom line, I'm just a fan who decided to help a local band reach the national campus radio station community and I wasn't sure how this got so far off-track. Devon let me know that now the band didn't want to be involved with this interview anymore and they didn't want me to run it. (You can read the interview below. Why they would decide not doing the interview was preferable to simply giving me press pics, is a question I'm not sure I'll ever be able to answer.)
I was faced with a decision, publish or not to publish? One local music veteran Trevor Risk (from band Sunshine and music editor of ION magazine) said I should expose the band for being snotty—since it's the truth. Also in his experience writing on social media, negative articles tend to get more views than nice ones. Another Vancouver music scene mainstay Dustin Bromley (from Twin River) suggested that I should run the article using googled photos of the phrase "Do the Work." This would have been hilarious since having press pics is really part of the work of being in a band.
I didn't want my work to go wasted, but presumably I'm doing these interviews to help local bands. Before I could make a final decision, I got an email from BRASS bassist Zak Garret asking me to meet him for a coffee. He said he wasn't happy with how things were handled and he'd like to talk about how to mend things. I agreed. It takes courage to admit a mistake, so I met him on Main Street and we talked things out. It takes courage to admit a mistake—and even more try to make things right. I got my pictures and here's my chat with BRASS.
Scott Wood: Hello Devon and the rest of the guys in BRASS. Let's start with a BRASS song. Tell me about a great track to get people started with what you do!
BRASS: "Strutpunchin'" was one of the first songs we had, and the only song on both the EP and the album. It connected with people in a way that completely surprised us from the first performance. That song's become a cathartic experience for people, which makes it one of the most fun songs to play in the live set.
Scott Wood: While doing research for this interview, I stumbled across a picture of the band wearing diapers during a basement show. Were you tempted to forgo a bathroom break while performing in diapers?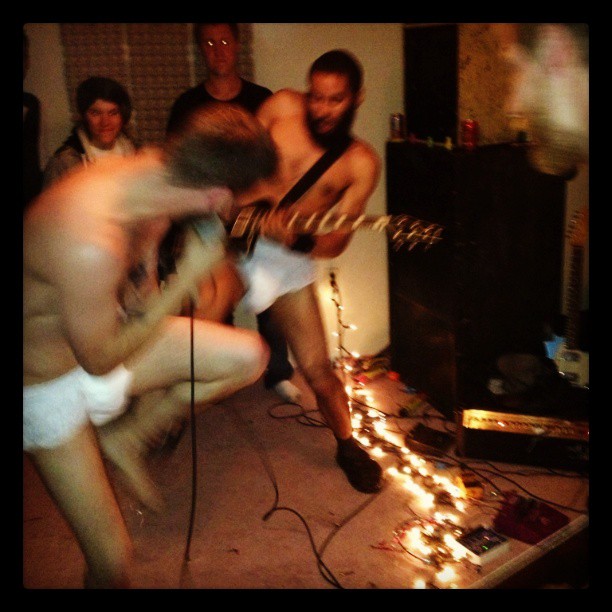 This is BRASS' first gig. For some reason I'm going to
always like to think of BRASS frontman Devon Motz
in diapers.
BRASS: That set was actually our first gig as BRASS. It was at a house party where Tristan and Devon lived with the members of Dead Soft, who also played that night. I don't think anyone fully utilised the diaper during the evening, but I know the temptation was almost overwhelming. I would also add that wearing some form of footwear would have been in my interest as I managed to electrocute myself on a rogue Christmas light.
Scott Wood: While making this record, No Soap Radio, the band's existence was threatened when singer Devon decided to leave Vancouver and live in Australia for a while. Smaller decisions have caused other bands to implode. What made you all double down on your commitment to BRASS?
BRASS: For one, there was an assumption that we would survive it. Things felt pretty strong, none of us felt doomed. We knew the next step was writing and recording a decent record, so that's what we did. The songs were built, everyone had time to shape their input, and we're all proud of the result. How could anyone walk away from that?
Scott Wood: The rest of the band created demo tracks for No Soap Radio and then sent them to Devon and he wrote lyrics while he was in Australia. What was it like to write lyrics while you are physically and emotionally separated from the rest of band?
Devon: It was a little strange, as I usually would like to bounce ideas around with the fellas as the songs take shape. Looking back, I think it was necessary. For me, the best lyrics are ones that you can relate to in some way or another. It's something I have always wanted for mine, though it's impossible to create that relationship if you aren't being honest. While I was in Australia, I managed to almost entirely avoid other people and usual tourist traps. I found myself alone with a lot of space and time. It's much easier to be honest with yourself when you aren't distracted by your daily bullshit. I think it was easier to say what I wanted to because I was surrounded by nothing but dirt.
Scott Wood: I've been to a couple of BRASS shows. It looks like you guys love it when people throw beer cans at you?! Can you give other bands advice on how to take a beer can direct hit and keep going?

...wearing some form of footwear would have been in my interest as I managed to electrocute myself on a rogue Christmas light.

BRASS: First of all, it's all in fun and with the best intentions... but we do not love that shit. We've had empty cans thrown (actually the best), half full cans thrown (they hurt, and we'll drink them out of spite), and even full cans (they cause scars and blood—also, WHY DID YOU WASTE YOUR MONEY ON A FULL BEER? THAT'S DUMB, YOU'RE DUMB, DON'T BE DUMB.). For other bands, if you see a beer flyin', just put your head down and take it. Watch your pickups on guitars, cause that shit will short out and cost you some dollar bills to fix.
Scott Wood: BRASS singer Devon Motz once said in a Discorder interview, "People know we are fun to watch live, but I know lots of people doubted that we'd be able to make a good record." What are you the most proud of on this record? What is BRASS still learning about making records?
BRASS: If you wanna make a good record, talk to Jesse Gander. He will point you in the right direction, whatever that may be, and he won't be wrong. (Jesse Gander is a producer and recording engineer at Rain City Recorder's. He is incredibly skilled and easy to work with. If it sounds huge and it's from Vancouver, there is a good chance Jesse recorded it.)

This photo was (eventually) provided by BRASS, proving they have a
sense of humor about themselves.
Credit: Alisha Weng
Scott Wood: Let's imagine that BRASS ended when Devon took his sabbatical to Australia. After some mourning, you decide to move on. Which local singer would you try to poach to replace him?
BRASS: We would have just hired Renèe (aka Rusty Tones, aka Dusty Bones, aka Musty Scones.) But she's a better singer, so we probably would've had to write better riffs to match.
Scott Wood: I found this really weird interview with BRASS online. This interview claims that lead guitarist Tristan Milne "had just gone through a notorious 3 month phase of Van living, which is to say living in a GMC Safari van, a practice that he claims was used to 'supersede everything else in the pursuit of artistic conditioning.'" The interview goes on to reveal that "BRASS drummer and good natured wild man Rory Troughton brought a fishing boat back from Prince Rupert." How much of this is true? Is there such thing as a notorious phase of Vancouver living (some sort of homelessness) where bands have a hard time getting established?
BRASS: Some of it's true. It wasn't actually "notorious," but yes, Tristan lived in a van in the pursuit of success. Rory grew up in a fishing community, and needed a couple months off to sail his boat down the west coast, but he's not actually "good natured." We're not a boring group of individuals, but the music supersedes life when you do it right. It takes a while to get established as a band, but finding the balance to be satisfied in both music and life ('cause music surely doesn't pay any of our bills yet) is the fun part.

It's much easier to be honest with yourself when you aren't distracted by your daily bullshit.

Scott Wood: One way a new band can get blog heat is to do an unexpected cover. I've read that you guys do a cover of LeTigre's "Deceptacon." What's another weird cover we can expect to see BRASS do?
BRASS: We've got a couple things up our sleeves that can surprise people, but it's not for the purpose of surprising people. We have a hard time agreeing on songs to cover, since all us have to agree that we can approach it from our own view, and commit the time to interpreting it. But a song is chosen because we've all been impacted in our own lives by this little piece of music, so we hope to reflect our appreciation for it, and share that feeling with people.
Scott Wood: Gentleman from BRASS, thanks for taking the time to answer my questions! Let's end things with some more music. Please introduce your favorite BRASS video.
BRASS: This video is for the track "Monolithic" off of our recently released record. We basically just get beat up by a bunch of our friends, so it's a pretty accurate depiction of a BRASS show. It was directed by Peter Warkentin and was a blast to shoot—lots of fake blood, lots of real blood. Good times.
Find more about BRASS online.
BANDCAMP: http://brassvan.bandcamp.com/
FACEBOOK: http://www.facebook.com/brassvancouver
The Interview Show is everywhere.
Follow me on twitter @interview_show
Listen to The Interview Show on SoundCloud soundcloud.com/interviewshow
SoundCloud RSS Feed
www.cjsf.ca (Vancouver, BC, Mondays 4:30-5pm PST and Wednesdays 12:30am PST)
www.ckdu.ca (Halifax, NS, Saturdays 1:30-2:00am AST)
www.radiocfxu.ca (Campus Community Radio, Antigonish, NS, Fridays 11pm-12am AST)
www.cfru.ca (University of Guelph Radio, ON, Tuesdays 3pm EST)
www.umfm.com (Winnipeg's Hit Free Radio, Fridays 6-6:30pm CST)
www.caperradio.com (Cape Breton University Radio, NS, Wednesdays 3-3:30pm AST)
www.localfm.ca (Campus Radio Saint John Inc., NB, Tuesdays 11:30am and Fridays 3:30pm AST)
comments powered by

Disqus