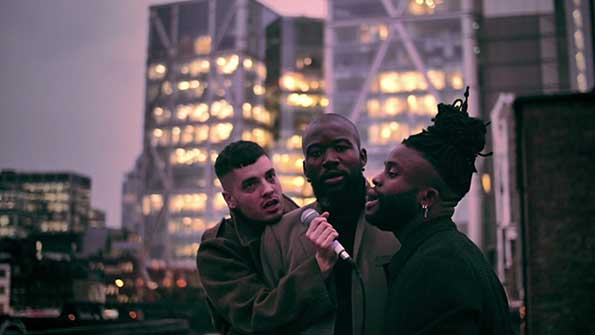 Young Fathers: White Men are Black Men Too
Mercury Prize winning Young Fathers are an innovative, genre-crossing experience.
Young Fathers showed themselves to the world when they scooped up the prestigious UK Mercury Music Award for their release Dead.

The main thing is to draw on your influences... Not idolize these people but learn from them.

To the contrary they have been at it since they first met at the age of 14. Their latest album, White Men are Black Men Too slams together Hip Hop, Rock, Soul and Electronic music in the most electrifying way. Of course the title has garnered some attention as well, so I got that out of the way as soon as we got on the phone.
"In a nutshell, it is just acknowledging difference. I think that most things in the world are not Black and White – but every shade in between you know and that should be celebrated as well, the diversity and you know it has issues of race, obviously, and envy." explains Alloysious Massaquoi of Young Fathers "What is a black man? What is a white man as well, you know? Its those kinds of questions that we want to ask and all the conversations that come with colour."
What Young Fathers are bringing is such an innovative, genre crossing experience. They have captured the hooks, the beats and rhythms so perfectly it is impossible to pigeon hole the album. "RealIy it is just a mix of so many things. It is hard to pinpoint, you know, exactly where this came from. Growing up you listen to your parents records, then you go to school, and you just go along you don't exactly have taste and it keeps going and then you start to develop your style.

What is a black man? What is a white man as well, you know?

The North American tour in 2014 influenced this record." explains Alloysious. "It is hard to say it came from this or that. The main thing is to draw on your influences. What you do on stage. Not idolize these people but learn from them."
Being open minded to all things music, no doubt, contributed to Young Fathers winning the Mercury Prize in 2014 which "...had a positive impact. Brought it all into the realm of reality. Made it more real. You know, the everyday folk, not just music industry. People caught wind of it and it opened a door. It gives us a platform. People are more aware of us. There is still a long way to go, but it gave us the exposure we needed. It got us further up the .ladder. I never really watched them before but it is a prestigious award in the UK. Innovative music. It wasn't necessarily our aim but why shouldn't we. It is definitely a good thing."

Ali says having her band behind her relaxes her. I was really surprised to learn, not only did we have a Scottish connection but Alloysious is digging the oldies. " I am really excited about this book I got from NPR – Legends and Icons. Reading loads about the American icons – trying connect myself to the icons. Buddy Holly, Richie Valens and The Big Bopper. These guys were so young and I just want to revisit these songs."
I am dying to hear how that comes out on their next creations. "We are constantly writing. This album was the perfect time to say a lot of the things I couldn't say before. You know on our old album my rap at the start we want to see lines at the start, that song came about, it is the same for all of us. We have lines and are waiting for them to come it. We write for ourselves. We want the best. The stuff that represents the group. You know I am writing for them they are writing for me, we are writing for each other. Basically our goal is loose, sometimes Tape 1 rumbling – we had part times jobs and stuff the beat was there and we left the mic on it was just like a seance the beat was going on and everyone was just beside it was going off we just captured the vibe. We love to capture the moment."
Young Fathers are back on tour in North American – sorry folks – only two Canadian dates planned so far.
So what are they listening to in the tour van?
"Our tour Mum is usually playing random stuff." Alloysious jokes "It feels like a while but we have only been on the road 5 days now. It is very positive. There have been some sold out shows. But there have been some smaller shows – 40 people making so much noise! It has been really nice. Looking forward to each date."
Check them out at young-fathers.com
comments powered by

Disqus