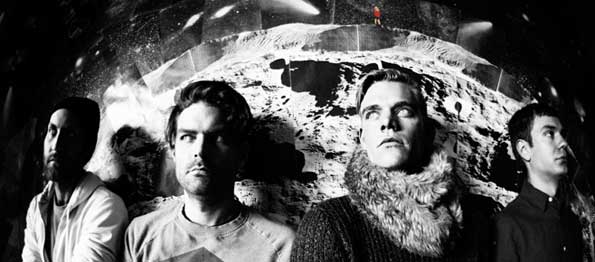 Viet Cong: Band on the Run
It may seem like they came out of nowhere, but Viet Cong have paid their dues.
Just as one of Canada's hottest emerging bands embarks on a tour, I caught up with singer and bassist Matt Flegel,of Viet Cong, by phone one morning. Viet Cong has just released their first and highly anticipated full length, Viet Cong. The album has only seven songs but carries the weight of any epic album. Viet Cong makes dark and noisy music that is pretty darn accessible. Here is our chat about the making of their debut self-titled lp, surviving tour and paying your dues.
I threw Matt for a small loop when I ask him to introduce himself and his role in the band. He ended up saying ..."Not sure what my role is but I play in the band."
But of course he sings and plays bass. "On the album, I mess around on a lot of other junk, mostly bass though, I am letting the guitar players take care of more of the guitar stuff.


No, I don't want to be cool about things. We are having fun, we paid our fuckin' dues.

Scott Monro one of the aforementioned guitarists, Daniel Christiansen another guitarist -yeah he has his shirt off, he's happy he doesn't have to do any of the phone stuff right now. And Mike Wallace on drums." Matt elaborates.
Viet Cong was released in late January and was almost immediately topping the charts. Rolling Stone, Pitchfork and Spin have given them love. "The fact that anyone says anything at all about our band kinda blows my mind and the fact that it has been good is totally unprecedented. We are happy about it... We are on the road so I think it makes, well if you are on the road and things are getting reviewed, I think it makes people come out to the show more. You rely on music journalists basically they are ruling our lives."
Viet Cong is the bands first full length album. It is a rich sonic adventure. It is post-punk, dark, passionate and throbbing. It is beautiful and sad and BIG. "We recorded this album in early December of LAST year – 2013. So it has been in the can for a while. We had a really nice studio, we were working with friends. I think the idea was to make it as big sounding as possible." Mission accomplished!

Ali says having her band behind her relaxes her.
As the album is both dark and beautiful, so does Viet Cong's success reflect polarizing ideas. Embracing a post-punk aesthetic and garnering mainstream attention. But Matt is over it.
"We have been playing music since we were 16 years old. We are as happy as can be, on a stage, having a show to play and the fact that people are there well, it blows our mind. No, I don't want to be cool about things. We are having fun, we paid our fuckin' dues. If people come out to the shows that is awesome. It makes things better."
The opening track on Viet Cong, elicits a physical response in me. The drums on Newspaper Spoons seem to resonate in a way that actually strikes me, in a good way. The song is lyrically sparse and travels to a much prettier place by the end. "We did some weird things on the recording of that one. I am glad your asking," he says with a laugh. "We put mics on all the drums and then we ran those mics into amplifiers in another room then we put microphones on those amplifiers and then we ran all that into a two channel stereo cassette deck and some effects. That was the convoluted process to get that sound. That is the only one we didn't record in the studio in the barn with all the rest of the songs on the album. It was done in Monty's basement, and I think the idea was to make it super violent and have it turn into something really pretty."

That is my favourite thing - going in [the studio and] messing around and finding new sounds. But I love playing live too.

Prior to releasing Viet Cong, the band had released a cassette ep. We didn't talk too much about it though, with the first mention of it Matt let me know in no uncertain terms "I am not super proud of the cassette ep, it is just something we sort of shat out. It is there you know and it is a document of what we wanted to sound like but Danny and Mike are really on that very much."
The album, Viet Cong was produced by Graham Walsh of Holy Fuck. Before I could even ask about the experience Matt was calling out their nick names for him. "Grammers. Bad Grammar. He was at the very top of a very short list. I think we had just come off of a pretty long tour, I think we did 60 dates or something. We figured it was time to record and less then two weeks later we are in Ontario recording with Graham. A very speedy process. I think we were only there for 6 days in the barn... and on the seventh day he rested," he ends with a laugh.
Touring or writing?
"...we've done the long tours with absolutely no money. At this point it is still absolutely no money. You know we just did an interview with Noisey and their schtick was to take us record shopping and talk about why we'd buy this record or that. The truth is none of us can afford to go record shopping these days. I mean Danny just quit his job as an architectural technologist – ," then he lowers his voice and confides, "Danny hasn't told his mom yet - and sold all his records to stay alive. Shit is paying for itself, no one is going in to the hole for this but, you know, we are not high rolling or anything...I enjoy the writing process the most out of it all. We have a really nice studio space in Calgary and set up all of our equipment there and are ready to go. That is my favourite thing – going in messing around and finding new sounds. But I love playing live too. This year is already pretty much booked up – at least the first six months. And I think as long as we take our time and go out of our way to eat the regional cuisine and things like that, pay the extra 20 bucks and stay in a half decent hotel every once in a while, you know go for a swim, and just take half decent care of ourselves. It can be crazy – even now we are three days into tour and only about to pay our first show – our flight was cancelled in Toronto and so we rented a car to get to New York... There are always challenges. We are used to it though, we have been at it for a while now."
And with that we said our goodbyes and the band headed out for their morning coffees. You can check them out on band camp http://vietcong.bandcamp.com.
comments powered by

Disqus