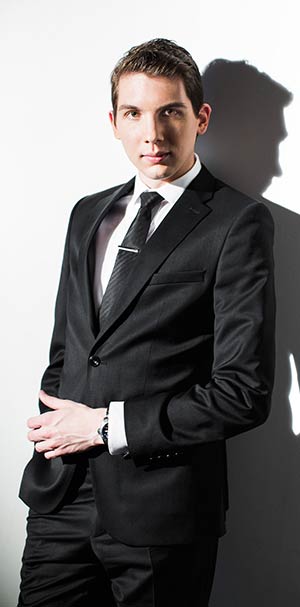 Break On Through To The Other Side with Eli Bennett
Sometimes a debut album is more than a debut - it's a breakthrough..
Variety is the spice of life, music and imagination for Eli Bennett, an award winning twenty-five year old Vancouver sax player and film composer. His debut album Breakthrough is the result of putting it all together.
Eli's vision included all the musical experiences he's had to date. Those experiences have included jazz, blues, pop, funk and film music all of which are represented under the umbrella of jazz. "I wanted it to be a journey to this one moment," says Eli.
Eli's musical journey began early. Bennett grew up to a backdrop of film score and jazz. "My dad's a musician, a drummer and a film composer and he's always worked from home," says Eli. "When I was brought home from the hospital my room was in his studio. Pretty much from day one I was listening to film score. All the way through school and high school I listened to my dad work on his music. He would pull out his jazz records and introduce me to different artists."
The introduction to jazz and composition perhaps wasn't typical, but it served as fertile ground to incubate a budding interest. When the saxophone came into Eli's hands at age eleven, he already had a taste of musical variety. Having been home schooled, Eli says he could focus on music and practice six to eight hours a day and do the school work around that.

At the end of the day, we make art for art's sake

"Pretty much in the first year of me playing the saxophone my dad bought me the Charlie Parker Omnibook. I look back on that now and think, 'how crazy was that'? He would take the book and program different tempos into the computer. So we'd start off playing Charlie Parker's Coco at 40 pbm then work it up to 50 and 60 and finally 300 bpm. It's amazing to have a dad who would do that and lead me along the way."
Though the creative idea and dream for a debut album came in his late teens, Eli had a lot of living and learning to do. A clear vision had yet to come forth. In the meantime he had a busy playing and touring schedule, which was interrupted to attend Humber College where he immediately jumped into another busy schedule that included logging many hours in the school's multi-million dollar recording studio.
Graduation came and went, and Bennett's debut album Breakthrough became a reality.
Music has a relationship with discovery, from the listener's point of view and from the musician's point of view. While creating this album, Eli's discovery led to his own personal breakthrough. "I think in the writing process it really made me notice different aspects of my personality as it translated to music. I had always been aware of this through playing different styles, different genres and the experiences over the years, but this was a cohesive experience. It brought out the awareness in a different way. It took me to that next level of realizing who I am as a musician, a player and a composer and even as a person."
Bennett has garnered industry and fan attention for Breakthrough. He's this year's recipient of the Julian Award For Emerging Canadian Artists. In fact, Eli Bennett has received numerous awards and accolades all through his career. He's also performed at the Grammy's and has shared the stage with some great artists like Oscar Peterson, Hank Jones, Terence Blanchard and Dave Holland.
Early success can create heady emotions for any musician, and Elikeeps things in perspective. "At the end of the day we make art for art's sake. All the awards are amazing and it's always incredible to be recognized for your work, but I definitely think I like to focus on the work above all the awards and accolades."
Today, in addition to being a playing and touring musician he has joined his father in the business of composing for film. "I grew up surrounded by that music," says Eli. "What I love about film composing is the variety. It causes you to know about every single genre because a movie may need you to do salsa music and a chase scene in the same movie. I love that."
Each piece of music that Eli composes, every experience, is forged into an evolving identity that is fast becoming distinctly unique. These may very well be the building blocks for Eli Bennett's next breakthrough.
Eli Bennett plays regularly in and around Vancouver. Check his website for dates, locations and times. http://elibennett.com
Eli Bennett with the Noah Franche-Nolan Trio at Pat's Pub in Vancouver, April 30, 2015
comments powered by

Disqus