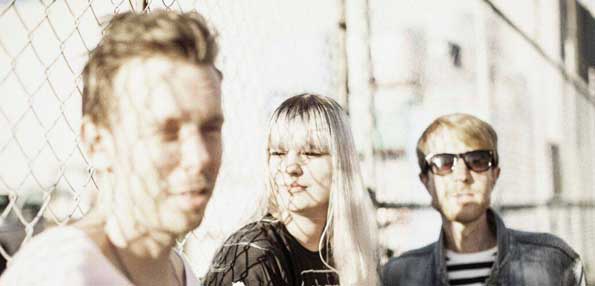 Gang Signs Don't Write Love Songs
But They Love You (as much as their cold black hearts will allow)

I've always liked the girl/guy sharing vocals thing, like The Jesus and Mary Chain track "Sometime Always"...

Gangs Signs started a few years ago as the side project of Peter Ricq—who is better known as one half of the Vancouver electronic music success story called Humans. Along the way, Gang Signs has become a band and they will re-emerge in October with a new full length record Geist. The new music makes me think I've stumbled onto a nightclub patio in a strange city where the cool people smoke outback, read books you can't find at big chain bookstores and talk about the minutia of 80's classic movies.
Gangs Signs is Peter, Matea and Adam. Here is my chat with the band.
Scott Wood: Hello Gang Signs! I'd love you to introduce a song to get people into what you do.
Peter: This is our first single in two years. I find it captured the mood of our new album Geist in a whole, kinda dancy, but not. It's hard to explain. Best way is for you to listen for yourself. Perhaps you'll tap your fingers on your knee or clap your hands near your chest or maybe even better, you'll go around town and dance where ever you feel like. Or... none of the above.
Scott Wood: Gang Signs gets a lot of mileage from the male-female vocals. Before Matea joined Gang Signs, she was a DJ-blogger Wobangs—who was known for DJ-ing dressed in costumes. (If you google it, you can find pictures of her dressed as Sailor Moon.) What made you think Matea was right for Gang Signs? Matea, how did Peter convince you to join?
Peter: When I planned on making Gang Signs, I knew that I wanted a female vocalist so I could go back and forth and also sing together at the same time. I like it when bands have that duo. It doesn't happen enough. I knew Matea a little bit, but had no idea she was a singer until one night, I went to the Biltmore on a weekday karaoke event. I chatted with her and then she went on stage and sang this beautiful song and just killed it. I think I emailed her the next day. "Hey, I'm starting another band and want to share vocals with you. You down?"

I'd rather hear what people think [the song] means to them. The mystery is often more exciting.

Matea: I actually never DJ in anime costumes, that was one time and it was Halloween. When Peter asked me to join the band I was already looking to start a band and liked his music with Humans so it was easy for me to say yes.
Scott Wood: A friend of mine calls Gang Sings Vancouver's answer to UK indie supergroup The XX. How would you say Gang Signs is different from The XX? Do you need to be?
Matea: I think there are similarities for sure and some of our songs definitely have an XX vibe, but then we have other tracks that sound nothing like them. I think what makes Gang Sings special is that we each bring something different creating a new sound.
Peter: I like the XX, but the band was never set out to be like that. When I first started, I wanted it to be an electronic garage indie band, like Thee Oh Sees or Ty Segall meets LCD Soundsystem, Crystal Castles and Thieves Like Us. I think our first songs were closer to that idea, but my limitations just ended up giving us the sound that we have today.
I've always liked the girl/guy sharing vocals thing, like The Jesus and Marry Chain "Sometime Always" track from 1994. Bands like Blonde Redhead, Phedre, Sonic Youth, and Bumblebeez 81, all have that guy-girl duo. There are a ton of examples, but I think The XX is the one band right now that jumps out when you think of that dynamic.
Peter: Gang Signs' chill vocals are another reason I think we get the XX comparison, but it's something a lot of people do. I also enjoy normal singing on upbeat dancing tracks like what Paul Simon does so well.
Adam: Technically the similarities do run deep. Gang Signs is three people, two guys, one girl. The two vocalists trade off vocals. It's pretty moody, but danceable music. Although I often say that Gang Signs is very much more high energy than the XX. We also don't really write love songs—although we do love, as much as our cold, black hearts allow.
Scott Wood: I think most people would imagine that writing for one band is difficult. Peter Ricq, you've written for three: Gang Signs, Humans (with Sabota's Robbie Slade) and the recently deceased Ladyfrnd. I'd love for you to describe how you write. You're in the shower and inspiration strikes. How does a song idea become a Gang Signs song vs a Humans track?
Peter: In Humans, we usually write together, Robbie and I present a track to one another and get each other's thoughts. That takes time, so when I started the other bands, I knew I could do it, if I wrote everything on my own. It's just that much faster. With Gang Signs, I usually write all the tracks with the guitar first, then do the accompaniment with the sampler and write lyrics. I usually do this within 4 hours. Ladyfrnd has the same approach, although I swapped the guitar with the ukulele. Humans is whatever you do, if it works, keep it.

We also don't really write love songs - although we do love, as much as our cold, black hearts allow.

Matea: Me and Peter have only really collaborated on "Heist" and "Tonight." He sends us tracks and I let him know what I like and what I don't. We all have really busy lives, so it's hard to collaborate all the time.
Scott Wood: Peter, we talked a bit over email before this interview. I was asking you what the title of your single "SW" meant. Was it a person? Then who? You told me you couldn't remember! I can't fathom writing a song and performing it over and over again--yet not remembering what it was about!!! WTF Peter? Heh heh heh. So when you're a band interviewer like me, what should I do in a situation like this, trying to get bands to talk about their own music?
Peter: I know what the lyrics are about, but I totally did forget what "SW" stood for. I do remember it now, but still I wish not to answer. I'd rather hear what people think it means to them. The mystery is often more exciting. That's why people are drawn to Unsolved Mysteries.
As an interviewer, I'd suggest you just role with it. "Why do you think you don't remember?" "Do you just not remember the meaning of the letters or the whole track?" "Was it an acronym?" "This is what I thought it meant. Does it help you remember? Am I close?" "You know what Peter, FUCK YOU!" You know, that kind of thing.
Scott Wood: I've read Matea was once in a teen pop band called Mystique. (True or false, it's a hilarious story.) She also claims she owns the only VHS copy of the band's single "Mystique Knows how to Party." Have you showed it to the band? Will the world ever get to see this? I think being in a teen pop band would be awesome.
Matea: I was in a pop band called Mystique. I think I was 13 and I auditioned for it at a church. It was me and 6 other girls. We made a music video at a private school and performed at The Vogue Theatre. I'm impressed you know about this. I have not shown the video to Adam and Peter, I'm actually not sure where it is anymore.
Peter: Matea showed us the press photo of Mystique. It's pretty fucking amazing.
Adam: Being in a teen pop band would be awesome as long as it actually means something to you. You can't really pick your audience, but if a teen audience falls in love with your songs, that is a pretty special thing. Also, one of these days I'm going to play drums for a show with Haim. So there's that... Also Mystique do know how to party. I've seen it up close and it's amazing.
Scott Wood: None of the members of Gang Signs are from Vancouver. Peter is from Montreal; Matea is from Croatia and I've read Adam is from Yellowknife. What's one Vancouver cliché you have adopted and why?
Peter: Could you tell me which clichés I can choose from? Not sure what clichés Vancouver has.
Adam: I'm from all over the place. Lived in Whitehorse for a bit, but have never been to Yellowknife. Although I can imagine the two places are very similar. Vancouver clichés? I did yoga for a day, it didn't take. I like coffee, but have never done the Grouse Grind. The weather is nicer here than the Yukon. If that's a cliché, then please fully sign me up as an adopter of that one.

You can't really pick your audience, but if a teen audience falls in love with your songs, that is a pretty special thing.

Scott Wood: A music critic said your new record Geist is perfect music for after an all-night party. What would you guys turn to come down to?
Peter: I actually never listen to music after a night of partying. I always watch a classic 80's movie like When Harry Met Sally, Robocop, Predator, Goonies, Aliens, Wallstreet, Platoon, Labyrinth, Die Hard, Twins, Breakfast Club, Planes, Trains and Automobiles, Full Metal Jacket, etc.
Matea: I agree with Peter. I would definitely watch a movie after a night of partying. Probably Sleepless in Seattle or Romi and Michelle's High School Reunion.
Adam: I usually fall asleep weeping to Bruce Springsteen's "Atlantic City." Although the new Jamie XX record, ironically enough, is really doing it for me these days.
Scott Wood: for answering my questions, Gang Signs! Please introduce your favorite Gang Signs video.
Peter: The idea for this video is inspired off of one of my aunts. She always wanted to go dancing with her husband, but he refused every time, saying he was tired, wanted to play cards and drink Ricards. She eventually left him and married a man 20 years younger than her, they've been together for 12 years now and they go out dancing every week.
Also this is the first real collaboration between Matea and me. She wrote her part and it made the track stand out and different from the rest of the album. We all like the way it turned out.
Find more about Gang Signs online.
BANDCAMP: https://gangxsigns.bandcamp.com/
FACEBOOK: https://www.facebook.com/gangxsigns
TWITTER: @gang_signs
The Interview Show is everywhere.
Follow me on twitter @interview_show
Listen to The Interview Show on SoundCloud soundcloud.com/interviewshow
SoundCloud RSS Feed
www.cjsf.ca (Vancouver, BC, Mondays 4:30-5pm PST and Wednesdays 12:30am PST)
www.ckdu.ca (Halifax, NS, Saturdays 1:30-2:00am AST)
www.radiocfxu.ca (Campus Community Radio, Antigonish, NS, Fridays 11pm-12am AST)
www.cfru.ca (University of Guelph Radio, ON, Tuesdays 3pm EST)
www.umfm.com (Winnipeg's Hit Free Radio, Fridays 6-6:30pm CST)
www.caperradio.com (Cape Breton University Radio, NS, Wednesdays 3-3:30pm AST)
www.localfm.ca (Campus Radio Saint John Inc., NB, Tuesdays 11:30am and Fridays 3:30pm AST)
comments powered by

Disqus