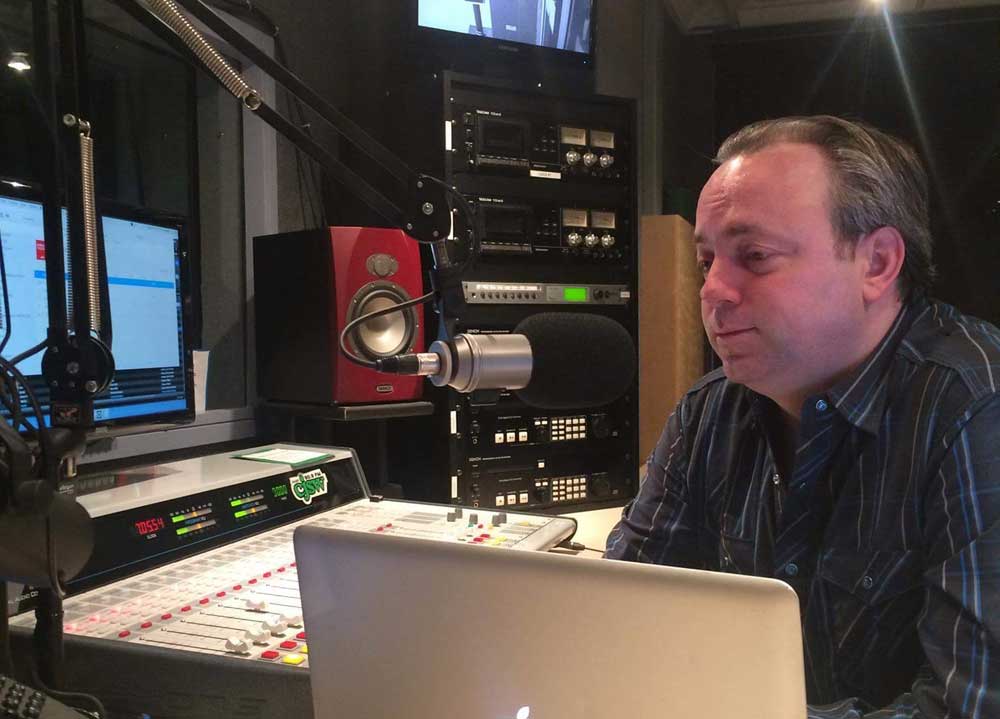 Jazz from the Soul of Cattle Country: The Scott Morin Interview
It's been said that jazz is good for your soul and an insider in Calgary gets up before the sun to prove that point.
Do you ever wonder about the people that host your community radio shows? Generally, they are a group of volunteers from a wide variety of backgrounds. They have a passion for music or a given subject and want to share it with you. But what is their background?
I am a jazz host at a campus/community radio station in Kamloops and through Facebook I became aware of a man, in Calgary, who was doing the same thing as I do. On Wednesdays, I leave my day job and drive less than five minutes to the studios of CFBX-FM in Kamloops and prepare to do my show. When I finish, I go out for dinner and then home to relax. My counterpart in Calgary doesn't have it that cushy. It's after 5 AM on Wednesday and he walks into CJSW-FM, a community radio station in Calgary. He's about to bring his brand of music to his faithful listeners. Who are they? People getting ready for work. Commuters in their cars, probably as sleepy as he is? Insomniacs? All night partyers? Probably all of this and more.
On a recent show, he mentioned that due to the Internet people in LA could be listening while they were still in full party mode or those back east could be listening as they begin their day, along with his Calgary area listeners, of course. Wherever they are, they resume what they have been doing while the man plays his soulful tunes and talks about the artists. When Scott is finished, he then puts in a full day of work as a manager at an oil and gas company in Calgary. CJSW describes the show as follows, "This weekly radio program hosted by Juno-award winning jazz producer Scott Morin dispels the myth that jazz is an overly complicated or intimidating art form. The focus of this program will be on soulful, beautiful music presenting jazz as a sexy and captivating art form that is melodic and takes listeners on a journey. Expect to hear both modern and classic, soulful jazz with a focus on trailblazers, new voices and Canadian legends." As an example, on a recent edition of Jazz Fo Yo Soul, he featured Canadian Brandy Disterheft, Pat Metheny with David Bowie and a cover of an acknowledged favourite of his, Prince. This time covered soulfully by the sax of Joshua Redman.
He has a casual manner on air. He doesn't sound like he is reading their bios off the Internet. He sounds like he knows what he is talking about; and he does. He has been a big, but often hidden part of the Canadian music scene for years and has worked with many of the artists that are played on his show. He has played his sax with some of them, too! I knew he would have plenty of stories to tell and I was not disappointed. I caught up with the busy Scott Morin on a beautiful fall Sunday.
JD: Today I'm speaking with Scott Morin in Calgary. To say Scott is veteran of the Canadian music business is an understatement. He is a professional sax player (and from all accounts a damn good one). He has been a marketing and an A&R rep for Universal Music and A440 Entertainment. He has won two Junos and has been nominated for three others and is also involved with the Junos in a variety of ways. He sits on the boards of various music education committees, festivals and works on helping artists with booking, grant applications, advertising, touring etc. Oh, and in his spare time has a radio show in Calgary. Let's let Scott flesh out the details of this amazing life in music.
JD: Tell us about your radio show at CJSW in Calgary called Jazz Fo Your Soul and what do you personally take away from doing a radio show.
SM: A lot of lack of sleep (laughs). The show is from 5:30 in the morning until 7:00 [Wednesday], which is when they do their jazz slots. I think, CJSW is the largest college radio station in Canada, right now. So we are a large group, in a small industry of community radio. Not small, in that there are hundreds of radio stations, but there are, I think 150 volunteers throughout the station, who program music that comes from their life. They play music that they love and music that fits in genres that the station wants to support. The station is very diverse—a lot of punk rock and a lot of independent rock and folk, so there is singer/songwriter music and, also informative talk. They are a very deep station. And they have been very dedicated to jazz. They always had a morning jazz show every day of the week. They told me that they dedicate more hours to jazz and blues programming than any other community radio program in the country. I'm just glad to be a part of it. I'm probably going to start pre-taping because it is too hard, to get up at 4:30 in the morning (laughs). I really like it. It's killing me at times, but it is worth it. It's fun, you know.
JD: So jazz is a big genre, what kind of music are we going to hear on that show?
SM: I play soulful jazz music. That's why I call it Jazz Fo Yo Soul! I stick to station policy. I play nearly fifty per cent Canadian content and I'm only legislated to play twenty-five per cent. I double that, just because I get so many new releases from Canadian artists that I love and want to support a lot. I get lots from Cory's (Weeds) Cellar Live and a lot of local stuff and of course from out in Ontario and I play it as much as I can. I try to pick the soulful music. That can mean a lot of things, obviously. Bebop is soulful too me and so is straight ahead swing music. But, I don't play avant-garde or more "out" stuff. I love Ornette Coleman and all but I don't go much farther than that—not because I don't like it, but I want to focus things a little bit—not because I don't love all kinds of jazz music. But yes, it's soulful music. That's the key behind it.
JD: Scott, you have worn many hats in life. As a musician you have appeared on Letterman, Canadian Idol, Canada AM etc. You spent two years in the great Paul Anka's band. Tell us about that.
SM: It was a real, good memory; a crazy couple of years with him (laughs). I was working with Paul as a result of my work at Universal Music. I was a marketing person there and was also in A&R. My responsibilities were to help bring new projects to the company and once they were brought to the company to take care of all the marketing for them. Paul Anka was introduced to me through our president, who at the time was Randy Lennox. We started talking and Mr. Anka invited me to Donald Trump's house in Florida. It was the Mar-a-Lago, a huge building, a fortress, which Donald Trump owns and hosts a lot of parties at. So, I was down there with Anka and he was performing that night for Trump, his friends, colleagues and corporate fundraisers of his. They put me at a table with Donald Trump and his wife and Regis Philbin. It was really odd; bizarre, and a very random strange memory, but it was a start of a relationship with Paul Anka that lasted a couple of years. So, I started playing in his band. Wow! I think that was one of the greatest memories of my performance life. I ended up playing with him all over the world.
JD: Did you end up playing in Vegas?
SM: We played once in Vegas, only. I played the Hilton, which is where Elvis had his longest run. Played on the same stage and I could really feel the ghosts of Elvis of that era in the room, because the room hasn't changed all that much since the sixties, so it was kind of bizarre. So, yes we played that room. We actually played that room because Barry Manilow had the contract there and he was taking a month off. We went in there for one show and Manilow's management had a much different artist sub-in for the month. That was fun for sure.
JD: With other musicians you played with you seem to be able to flick the switch and change styles as you have played with great jazz players like Roy Hargrove, Jeff "Tain" Watts and Seamus Blake.
SM: You know, all of those things happened as a result of a concert series I promoted at my home. I did from late 2012 through 2014. We promoted a monthly jazz series and I called it Jazz Sexy. I wanted to bring jazz to the less cerebral and not "the be quiet and listen" kind of environment and have a fun and kind of a party kind of atmosphere at my home. I had a piano and a stage at a big loft in Toronto, that we could easily pub a hundred people into. I lucked out and got a really great spot. It was a home as well. We only did it once a month so we wouldn't get in trouble with the neighbours. It was right downtown at King and Bathurst. I used to get artists that came into town like Seamus, Roy and Jeff Watts. They'd all sit in and play. They would have other gigs that night in Toronto and I had a chance to play with them through those experiences. It really was a great two and a half-year era, where we presented loft parties in Toronto playing jazz music. I sure would love to see more of that because it is a fun way to hear the music.
JD: I am so jealous. It must have been fun.
SM: It was great. We had an audience of all ages. We had young people come out, like music students and we had people in their eighties. It wasn't a hard core party scene. It really was just a fun open-minded scene of people just there to hear great music. Everybody from Don Thompson, Robbie Botos and Mike Murley -- the list goes on. I presented well over a hundred musicians, there. It would be just a month on a Friday night and during the jazz festivals and when other concerts were happening, we would really benefit from having those artists come in and sit in afterwards.
JD: So Scott bear with me. I'm going to do my Google thing here. So basically for those that aren't aware, A&R stands for Artists and Repertoire. The is the division of a record label that is responsible for talent scouting and the artistic and commercial development of the recording artist. It also acts as a liaison between the artist and the record label. You worked for Universal Music's Classics and Jazz Divisions and A440 Entertainment.
SM: A440 is like when you tune an instrument; a piano. Many people would use the designation of A440 as what you use as your tuning litmus. That was the metaphor of keeping things perfectly in tune. It was Richard Yanofsky, who is business person and a musician, himself, in Montreal who started it. His daughter Nikki, is a famous singer and was the voice to the Olympics in Vancouver in 2011 and sang the song "I Believe." She's made a number of soulful and jazz records as well. Richard is a piano player and that's where he came up with that name. That label, I was the consultant to, and co-manager for Nikki and did all the day to day stuff and marketing for her, for about eight years. That was after I left Universal. We did a deal with Universal where A440 was distributed by Universal. So it was all just kind of one family. Universal has the largest amount of jazz labels of any company in Canada.
JD: So what was it like working with someone as young and talented as Nikki Yanofsky?
SM: It was great. She was a real protégé. I hate to say the word. It gets thrown around so often. But, she really came up from a very, very young age with an incredibly unique talent, a fantastic ear and the ability to pick up many great influences and the ability to reinterpret them as her own; really a sponge. She could memorize solos from Ella Fitzgerald and Miles Davis and interpret them in her own way and incorporate them into her own language. But, she was young and growing up listening to pop music and classic rock such as Zeppelin, The Beatles; she was a really huge fan of Jimi Hendrix. She had a very wide array of influences and things that she loved. Partly from her parents, as they have great taste in music, but also when you are young in the 1990s and early 2000s kids were listening to their i-Pods and hearing all kinds of music in one sitting, whereas when we grew up it would be kind of genre specific. Now you can create a mix in your music player with a wide spectrum of genres. That makes a difference in young artists and the diversity of their influences.
JD: I see a lot of you artists that start out with a bit of jazz, like Nikki. Do you think she is going to drop jazz from her repertoire eventually?
SM: Well I think she kind of has on her records. Her next record is produced by Wyclef Jean, who's biggest success was with The Fugees and Lauryn Hill and as a solo artist as well. I'm sure Wyclef Jean loves jazz music, but it doesn't come out in his music. He's more influenced by soul and hip-hop and R&B and reggae music from the islands, so this album is really a pop and soul album she has coming out. Now, her live concerts always incorporate jazz because her audience comes from a tradition where she came up singing towards jazz audiences. She's not going to take away from the audiences that have been supporting her since she was twelve years old.
JD: That's good to hear.
SM: But on records you want to try different things. And that's the key. Where am I going as a recording artist? And how does that change from how I perform live and bring that to people all over the world? Recording-wise I thing she is always going to try different things. I could see the following album being a jazz record, maybe. It is up to her. She really has a strong opinion of what works and what she is as an artist. At a young age that is a really rare thing to have. We really let her take the lead on where she wants to take her music and she can really sing the phone book, you know.
JD: Could you tell us about the hugely successful campaign for Diana Krall and her Look of Love release. I think you could be in the Guinness Book of World Records for the sales of this item?
SM: Thanks. That was one hell of a record. I don't know. It was the right record at the right time. The timing of it was so good for her to come into the scene. It was her fourth record, so it was not like she came out of nowhere, but the record before When I Look into Your Eyes was nominated for a Grammy for Album of the Year. It was the first jazz album that received the Album of the Year nomination in around 30 years, I think since Ella In Berlin. So there was a lot of attention around her for that. We call them coffee table records. They are albums that everybody wants to own at a certain age. Probably a thirty or thirty-five plus audience at the time. It wasn't a very young audience that we were reaching. We were reaching adults who were starting their lives and their families—first homes and dinner parties. This became that record that everybody talked about and put on. It became a record that you could hear everywhere from shopping malls to on the street and in people's homes all over the country. It spread like wildfire. It wasn't an album that had a radio single or anything. There was no real radio support, except perhaps for the college stations. The song "The Look of Love" barely charted and we barely pushed it. It wasn't about that.
JD. I love it. I love it. I love it (laughs).
SM: Ya, even that video—when I watch that video I think whoa--it's not a great video compared to what was charting at the time. It was really the timing of it—the touring. She worked her butt off. The media really got behind it in a big way, so we had some great opportunities and we did some big events. Back then you could actually get money to do these things. There were budgets in place because albums were selling. So our marketing budget for Diana was huge and we spent millions. Now I have a great memory and a plaque on the wall saying we sold a million records.
JD: It was quite a wonderful achievement and you should be congratulated for that.
SM: Thanks.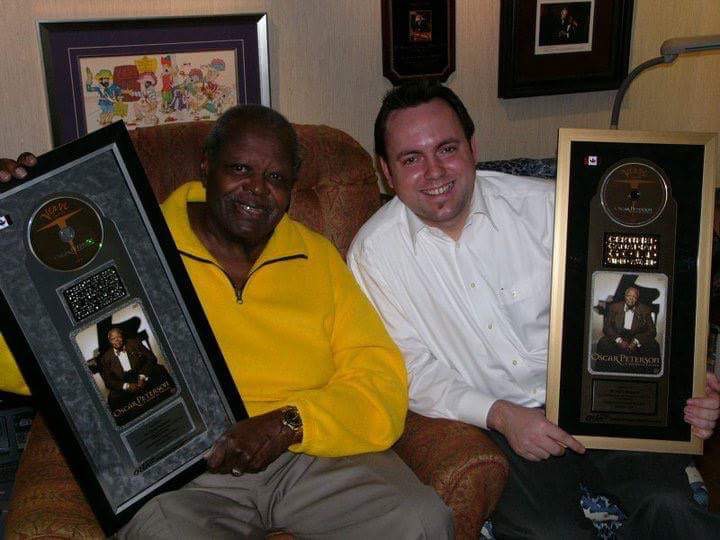 Radio host Scott Morin with Oscar Peterson
JD: You should be the President of the Oscar Peterson fan club. I'm sure of that. Tell us what Oscar Peterson means to Canadian jazz and to you.
SM: He means everything to Canadian jazz. He is the great patriarch of instrumental jazz at the piano—world-wide! The great thing about Oscar is that he loved his country and he was unabashedly supported of Canada and Canadians his whole life. He never left the country. He never moved elsewhere or lived elsewhere. There would have been touring and sabbaticals, but he always kept his home in Canada, and for the most part in Mississauga. He was the greatest. You know he was one of the most recorded piano players in history. He was incredibly loyal as well. Ninety per cent of his recordings were with Norman Granz. Whether that was with the Verve label or when Norman started his own labels Norgran and Pablo—all those labels. If you look through the discography of Oscar he stayed with Norman until Norman's passing. After that he recorded with Telarc for a few records, but for the most part he stayed with Norman. Literally there are over a hundred records, so the recording history is so clear. Of course his musical influence on piano players and jazz musicians worldwide is pretty unparalleled—perhaps in the top five musicians to ever live. I really do put him on the same level as John Coltrane, Charlie Parker, Stan Getz, Bud Powell or Art Tatum. That's the level that Oscar belongs in. How lucky are we that he was a Canadian, and stayed in Canada his whole career.
JD: Yes, I agree with you. We are lucky he lived as long as he did. That's wonderful.
SM: He was also a real gentleman and an incredibly verbose speaker. He was incredibly eloquent and a lot of jazz musicians were not. Perhaps as a result of trying to speak a certain jive talk they spoke in a way that would try to bring music to the street. Oscar was way above that. He spoke incredibly, eloquently. You felt like you were talking to a head of state when you were talking to him. And at the time when racial inequality was so high, not that its changed that much, unfortunately, in many countries, but he was able to show people that there was such a thing as an incredibly educated black man, who is not just a musical genius, but can speak eloquently. It surprised a lot of people when they heard how eloquent he was. It shouldn't have surprised people, because of course, everybody is educated in their own way. But I really think it made a big difference in perception.

Scott with Elvic Costello, Diana Krall, and the Petersons
JD: That's good. You made me realize that I have to play more Oscar Peterson on my show and that is a promise to you.
JD: Scott, I also found it fascinating that you were involved in the CD component of the Ken Burns Jazz series. How did that all come about?
SM: That was great. It all started in 2001, when I started at Universal Music. I moved from New York. I was going to college in New York and was studying music business at NYU. I was working as an intern at the Verve Record Label and was inside the Universal Record Building at 57th Ave. It was a great environment and great people. I saw, then, that they were starting the Ken Burns series (Jazz). Now I didn't know of Ken Burns as a documentarian. I guess I was too young. I was 23 or 24 and wasn't a big PBS watcher. It was new to me, but you could tell it was a big deal to other people. I think Baseball has already come out, so he had a lot of recognition. Then I got the job of running Verve Canada and I was brought up from New York. There were two projects. One was an Oscar Peterson project called Trail of Dreams with Michel Legrand. The other one was this catalogue campaign (for Ken Burns Jazz) and it was really cool because for the first time in history, that I know of, two competing record labels, worked together to launch a series. So Sony, who has the great Columbia archives—Columbia Jazz and Okeh and some of these fantastic labels from the 50s and earlier, including Brunswick and all the Louis Armstrong recordings and Billy Holiday recordings, Benny Goodman—so much stuff is on Sony and the rest is on Verve. So Verve and Sony got together, so it was Universal and Sony, the two biggest competitors at the time, and we worked together to market the series and split the profits. How it worked was in the U.S. it was launched by Sony and internationally it was launched by Verve and I got to take the lead on the project. Again we had lots of support for media. We had events at Chapters and Indigo all over the country. We had Ken Burns in Toronto doing media. The tv series itself really took off. A lot of people were arguing about the content that was or wasn't included in it, but that itself build publicity and build awareness for it (Ken Burns Jazz). People wanted to find out for themselves. It went gold on a box set. Which is crazy. A four CD box set went gold in Canada! As far as music of artists from the past, catalogue campaigns, this was one of the most progressive initiatives that has ever been launched by any jazz label. It was fun to be a part of it.
JD: So now you took a ninety degree turn. You are the manager of an oil and gas equipment company.
SM: It's a full on new career. It's a decision I made with my wife when we moved back here (to Calgary). We got married and decided to try to have a little bit of stability in a very unstable industry—the music business. Of course the oil and gas business is not stable, either, right now. The career I've chosen has a true stability about it. There are a lot of things in common. It's sales, so a lot of what I'm doing is similar to what I was doing when I was trying to promote music. So I'm just promoting a different brand. I'm enjoying it quite a lot. It has a different sort of stigma to it, being in that business. Your personality changes a bit in your day job, because the music loving "cat" that speaks differently doesn't really fit in that world. I've been cognitive of that. So far so good. It's been two years in January and a day job. It's a true career. At night I dabble in all these wonderful jazz opportunities that I hope will ever change.
JD: I hope so, too. Were you involved in a recent jazz festival in Calgary?
SM: Ya, I'm on the board of Jazz YYC and I take care of the marketing and communications and I help with the programming. We do three festivals during the year. A November festival that is dedicated to Canadian jazz artists, only. That's a four-day festival. We have a summer festival, that's like, a week. It's a full on international jazz festival with an outdoor jazz block for kids and free programming and paid programming and it takes place in six or seven different venues over a week. Throughout the year we do the Illumin8 series. What it is, is eight concerts over the year. Illumin8 as a double-entendre meaning illuminating music and of course eight concerts. That goes from September until May. We promote one concert per month. We had Metalwood last week to launch the series. So, there's a lot going on. As far as the festival goes, we do a lot more in programming than a lot of bigger cities. We're programming throughout the year, which is a lot different than many bigger cities. So it's not just a one week a year festival. It's an ongoing programming, so of course that it a lot of work. It's fun.
JD: You know Scott, you are obviously so busy and I'd like to thank you for taking the time out of a beautiful day to speak with me. Thanks for doing that and good luck with your many endeavors and that great show!
SM: Thanks Jim, I loved talking with you. I love Kamloops and hope everyone is having a good fall.
You can check out past editions of Jazz Fo Yo Soul at http://cjsw.com/program/jazz-fo-yo-soul/
You can follow Scott on twitter at @soopsjazz.
Rehearsal run through of "Trouble" and "My Day" from winter 2016
comments powered by

Disqus