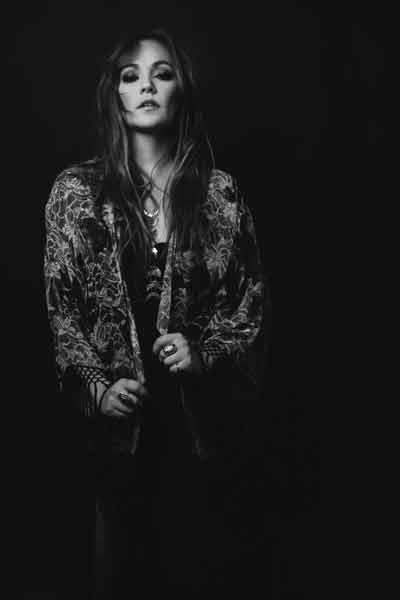 Savvie: Unleashing Her Inner Rock Goddess
Honey-voiced singer never misses an excuse to wear short shorts and fringe

"Dreams of Surrender" ...it's about how terrifying it can be letting yourself get vulnerable with someone.

Savannah Leigh Wellman has been in several music projects over the years. On top of that, she's very active in the local music community. When a friend of a friend told me about her new project Savvie, I thought I would take this opportunity to finally chat. It's always great seeing a creative person become what she's always wanted to be.
Here's my chat with Savvie.
Scott Wood: Hello Savannah aka Savvie! Thanks for chatting with me. Let's start with a song. Let's start with your favorite Savvie track from your debut record Night Eyes!
Savvie: One of the most personal tracks on the album is called "Dreams of Surrender." It's about how terrifying it can be letting yourself get vulnerable with someone. It always seems to be a crowd stopper at shows so we did a live video for it at Vancouver's Juniper Room!
Scott Wood: Savvie is a new project. In Vancouver, people might know you from your previous project Redbird, which was a folk-y, singer-songwriter-y project. Savvie is completely different, more blusey rock stuff. With the Savvie stuff, you sound more like a vampy, hardboiled character in the songs. Is Savvie more fun to "play" on stage than Savannah in Redbird?
Savvie: It is definitely fun to let loose on stage these days – I love putting down the guitar, grabbing the mic and letting out my inner rock goddess. It's not so much a role as a natural progression of me personally – becoming more and more confident in my music, my style, my sexuality – being on stage is a forum for that to all come out. Plus it's a valid excuse to wear short shorts and fringe, so I mean…
Scott Wood: Some of the tracks on your debut Savvie record Night Eyes were co-written by Matthew Rogers of the Juno-nominated duo The Harpoonist and the Axe Murderer. Matthew also produced the album. First for people who don't know, could you describe HAM? How did having a cowriter help you while you were trying to figure out a new sound for yourself?
Savvie: HAM is a modern take on classic blues rock – similar to the Black Keys or Jack White. Matt's gritty guitar sounds were the perfect match for the vibe I had in mind. I wanted to make a record that had a cohesive feeling from beginning to end, and working on all the songs with him helped ensure that consistency. I wanted to make people feel confident, playful, sexy – and I think we did a pretty good job!
Scott Wood: Night Eyes is the first release for your own label Tiny Kingdom. What made you decide to be an artist and an entrepreneur? What's the best part (and the worst part) of releasing the record yourself?
Savvie: I have enough experience working in the industry now that I figured I should give myself some credit for it! Any artist that releases an album on their own is essentially their own label, and I wanted to lay the groundwork to potentially work with other bands in the future as well. Helping other artists get heard is something I'm very passionate about!
Scott Wood: "Whiskey-driven" is used a lot to describe Savvie's music. What is your Friday night go-to beverage these days? What's another drink all badass singers should be drinking?
Savvie: Haha! Sometimes I wonder why whiskey became associated with our music, then I realized, "Oh yah. It's cause I drink that shit ALL the time." My latest alternative though has been Hey Ya'lls – they're made locally here in BC. They're ice tea and vodka and they are ridiculously easy to drink. Like, dangerously good.
Scott Wood: I've read that when you told people about moving in a blusey-er more rock direction, you initially faced criticism over that your honeyed voice wouldn't suit grittier rock and roll. How did you get over that when you started writing? And what do these naysayers think after hearing Night Eyes?

Sometimes I wonder why whiskey became associated with our music, then I realized, - Oh yah. It's cause I drink that shit ALL the time.

Savvie: I worked on my vocal tone a lot, really trying to make sure that I was serving the songs in the best way possible, Even now in live shows I'll always perform with a vocal pedal so I have control over how my voice sounds in the mix. But I've accepted it is what it is, and I've probably been my own worst enemy when it comes to laying out restrictions on what I can and can't do.
Scott Wood: I read that once as a kid you got to meet one time Vancouver-based Canadian classic radio rock God Bryan Adams. He's known for many, many hits including "Summer of '69." Who is another classic rock god or goddess you'd like to meet and what would you ask him or her?
Savvie: My immediate answer for that one is Stevie Nicks, although I'm not sure I'd be able to ask her anything, I'd probably just stand there in awe like a fool mumbling something about gold dust. I'd love to talk to Debby Harry about how Blondie started when she was in her 30's, or discuss poetry with Patti Smith. Really I'd love to speak with iconic women about how they stayed strong for so many years in this industry!
Scott Wood: Nearly every article about Savvie talks about you moving from folksy music to a rock sound. This year, you also released a Savvie remix. Local electronic act Humans made your "Break You In" track dance-able. What made you decide to try a remix?
Savvie: I LOVE Humans' music, so when they suggested a remix it was a no-brainer. Any opportunity for your music to be heard by different people, or listened to in a new way, is something to embrace. I'd love to do even more!
Scott Wood: If you could do a blusey duet with anyone from the Vancouver music scene. Who would you pick and why?
Savvie: Hmm… There are so many amazing singers in this town, many whom I've had the chance to sing with in one way or another – but right now I think I'd have to say Tobias Jesso Jr – He just co-wrote a song with Adele, and yet many Vancouver locals don't know who he is yet. Sometimes we can be a bit slow in recognizing what's right in front of us!
Scott Wood: Thanks for answering my questions, Savannah! Please introduce another favorite Savvie song.
Savvie: So when I announced the release of Night Eyes on vinyl (yip yip!), I also released a video for every song that offers up some trippy visuals to accompany the listening experience. Here's one of my favourites, the first song off side B, "Beautiful Pain." PS: You can also order vinyl online at http://savviemusic.com/store!
Find more about Savvie online.
WEBSITE: www.savviemusic.com
FACEBOOK: https://www.facebook.com/SAVVIEmusic/
TWITTER: @savviemusic
SOUNDCLOUD: https://soundcloud.com/savviemusic
The Interview Show is everywhere.
Follow me on twitter @interview_show
Listen to The Interview Show on SoundCloud soundcloud.com/interviewshow
SoundCloud RSS Feed
www.cjsf.ca (Vancouver, BC, Mondays 4:30-5pm PST and Wednesdays 12:30am PST)
www.ckdu.ca (Halifax, NS, Saturdays 1:30-2:00am AST)
www.radiocfxu.ca (Campus Community Radio, Antigonish, NS, Fridays 11pm-12am AST)
www.cfru.ca (University of Guelph Radio, ON, Tuesdays 3pm EST)
www.umfm.com (Winnipeg's Hit Free Radio, Fridays 6-6:30pm CST)
www.caperradio.com (Cape Breton University Radio, NS, Wednesdays 3-3:30pm AST)
www.localfm.ca (Campus Radio Saint John Inc., NB, Tuesdays 11:30am and Fridays 3:30pm AST)
comments powered by

Disqus