Discovering the darkest secrets of the universe with Redrick Sultan

The first Redrick Sultan LP had a super carefree sense of discovery, because we didn't really give a fuck about much else other than playing music...

Redrick Sultan don't really give a f**k about much else other than playing music (and more smokables)
I met the nice lads from a Vancouver band called Redrick Sultan at a show. We had some tequila shots and I later discovered that Redrick Sultan came in third in the Georgia Straight's Best of Vancouver 2015, Best local band (unsigned) category. The Georgia Straight is Vancouver's only big independent local paper and that category is a write in category—so I was impressed.
Here's my chat with Redrick Sultan.
Scott Wood: Hello Redrick Sultan! Let's start with a song. The title of your track "Batman Jesus" instantly makes me want to click PLAY—mostly because I'm a comic book nerd. What made you want to juxtapose these two iconic cultural figures?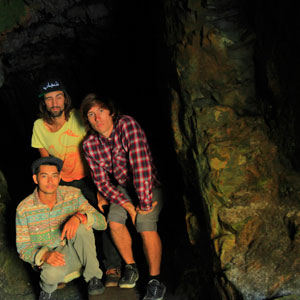 Noah: He came into the song uninvited, but like the weird random party guest, everyone was happy that he was there. He is also the hero that everyone asks for to solve all their human problems that they don't want to solve on their own.
Scott Wood: Typically I post a YouTube video or SoundCloud full song link so readers can click and hear the track, but I understand you guys aren't quite ready to unveil this video.
Spencer: This is the trailer for the video. We'll be releasing the full adventures of "Batman Jesus" sometime in April or May. There are going to be a few gags we pull in anticipation of his release, so watch out!
Noah: Filming the video was a lot of fun. When we filmed the canoe part, the cameraman's boat started getting waterlogged and they almost sank.
Spencer: Luckily, "Batman Jesus" himself was on the oars, so he used his super powers to enhance the shot and save the boat. My fave part was the guy with the watermelon. He was a random who happened to be sitting there. He really pulled that shot together. I'd like to get him a beer, or another watermelon.
Sean: I didn't sleep the night before shooting the canoe scene at 5am because I lost my keys at a 7-11 in Poco.
Scott Wood: I read this really cool quote about Redrick Sultan in The Province newspaper: "One of the appeals of the first Redrick Sultan LP was the sense of discovery—the group's as much as ours. Here was a group with an original format and sound that wasn't sure what it could do." Your new record Fly as a Kite will be your third. How do you feel about how far you've come as an artist/musician/performer?
Noah: The first Redrick Sultan LP had a super carefree sense of discovery, because we didn't really give a fuck about much else other than playing music at the time. This record was more like trying to discover the darkest secrets of the universe and "Feeling the Bern" because of it.
Spencer: As far as growth as an artist, the concept we've been working on with tuning has been on the go since early 2012 and in that time my world's been flipped upside down and sideways so many times, by so many things and people. It's sort of hard to even scratch the surface in words. I guess that's a lot of what music is for, for me at this point at least. But I'm happy with how everything has gone, up, down and all other directions.
Scott Wood: Redrick Sultan, your band is actually named after a real guy! Does he know that you named this band after him? Do you feel obliged to give him updates?
Noah: Yes he does, and we do.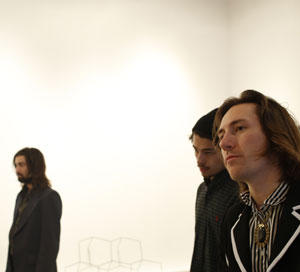 .
Spencer: He went to high school with us. You know those people who you think are more likely to be an alien than most (if there even are aliens among us)? He was like that, in a really sick way. We asked him over and over to sing in our band, but he always refused so eventually we just decided to name ourselves after him.
Scott Wood: Noah and Spencer have known each other since grade school and have been playing together almost since then. Sean, you came to the band a few years ago on beats. Do you have any advice for anyone new joining a band where the other members have known each for a LONG time?
Sean: Definitely! I think at first I really tried to get a sense of the dynamic between Noah and Spencer, understanding what they each brought to the table musically and where I could fit in. I also paid attention to the types of music both of them tended to gravitate towards and/or were influenced by. Besides that, I feel rule of thumb is to really try to support the song as best as you can and above all remain yourself while doing it.
Scott Wood: I understand that you've been working on another video from your upcoming record Fly as a Kite for the track "Panda." I'd love you to introduce the track.
Spencer: That song and video were a lot of fun to make. I started writing that jam on our way through California, so it was a highlight of the tour for me. Lying on the van bench, half passed out, strumming away… We played a really fun gig in San Diego where some fans gave us a whole bunch of beer and Jameson (our fave) and so we hit the beach afterwards.

We asked [Redrick] over and over to sing in our band, but he always refused so eventually we just decided to name ourselves after him.

Sean: We met a guy named Panda on the beach who kept saying, "Door's open man."
Noah: His friend's name was Vomit.
Sean: No it wasn't.
Spencer: …Anyways, he also said a whole bunch of stuff about the devil and desire or something. He seemed kinda whacked out, but what he said made some sense at the time, and he helped us in our mission of finding smokables. A day or so later, we were looking for a chorus for this jam and we put his words in it. We felt it only fitting to film the video on the beach.
Noah: Me and the videographer passed out on the beach just after sunset and Spencer sorta crashed his car twice on the way home. We'll be releasing the video sometime this year.
Scott Wood: Spenser, you now live in a Vancouver indie music scene landmark, Thor's Palace. Can you tell everyone what is Thor's Palace and one benefit from living there?
Spencer: Thor's Palace is a musician's house that's been around for years and years. Something like 40 music people have lived here one time or another. It's incredibly fun, house shows and kitchen parties on the regular, but it's also super chill. My roommate Rage's band, TV Ugly is one of my all-time faves, as well as all T-Vugs offshoot bands, Supermoon, Thee Ahs and Dumb. Upstairs lives ex-SSRIs/Spring dudes Jo Passed and Elliot, also major faves. After living in the burbs with my parents well into my 20s, it's indescribable to now be surrounded by pals and inspiration at the place I live. I also have to publicly thank my wallmate Ridley for making oatmeal nearly every morning and being rad. The only bummer is Sean and Noah are super allergic to cats so they very rarely come over.
Scott Wood: Noah, you once told me a great story about you, Jesus and some strippers. Can you tell me this story here? How come this story hasn't become a Redrick Sultan song?
Noah: "Batman Jesus" loves strippers. He did from the start. It's in all the stories. Don't we all just want to be naked anyways? But it's cold in Canada. I mean, Jesus at a strip club gets a lot of attention, it's like when you get home after a long, well deserved vacation. All of our songs are really about Jesus and strippers. Isn't loving and being naked all there really is in the end?
Scott Wood: Redrick Sultan is a potpourri of genres, resulting in a sort of psyche rock. Let's avoid a genre question tho'. Since Spenser and Noah sometimes work in a food truck that specializes in grilled cheese sandwiches. If you had to make a special signature sandwich that tastes exactly like Redrick Sultan, what would you make? And Sean don't feel left out. I'm sure you've made a killer grilled cheese or two in your life.
Noah: It would probably have 2 eggs on it, avocados, jalapenos, and bacon. Maybe maple syrup on the side. Definitely with coffee (with baileys) and an optional joint and cigarette for after.
Spencer: It would probably be weirder than that, at least if I had my hands on it… the other day me and some friends made nachos with cinnamon cranberry goat cheese (excellent decision), mozzarella, and in one corner canned pruned plums and canned diced beets in Harvard sauce. Outside of the plums and beets we thought it was great, though another friend seemed to think I'd lost it for putting goat cheese on there.
Scott Wood: Your previous albums have included a rap collaboration, but the main group has two male singers, Noah and Spenser. I'd love you guys to talk about balance when it comes to your voices and writing. Do you guys write for each other?
Noah: Recording with PANAX and Chad Makela was a hoot. Playing with two vocalists is great, Sean also sings a bunch and sings the lead on "Panda," we don't always plan what we write and often everything changes all the time.

"Batman Jesus" loves strippers. ...Isn't loving and being naked all there really is in the end?

Spencer: That's an interesting idea, writing for each other. On this bunch of songs, we would usually come in with the framework for a song and jam it until we had something. Often just Noah and I first, then Sean afterwards. In the case of the track "Jest Us," Noah and I jammed pretty much that whole tune blazed in a park in Berlin way back. The next day, we put some arranging to it and put some words I'd written. The form got adjusted a fair bit by Sean's input. Our track "Tides," for instance, was a complete song Noah wrote, but me, him and Zak [Zak Garret, Redrick Sultan friend and ex-member of BRASS and No Sinner] reworked the lyrics one night and on tour Sean eventually came up with the bass line. The form for that one was really hodgepodge… We had been trying a lot of takes and not really hitting when we came back from a smoke break and just started jamming on it. That was the take we used, but we pasted the intro onto it afterwards.
Scott Wood: Thanks for answering my questions, Redrick Sultan! I was looking online for a video you made for an old RS song called "Morningwood"—which had a rapper on it—but couldn't find it.
Noah: We had a music video for "Morningwood" once upon a time, but we didn't finish filming, and then some footage got lost. It's my biggest regret of our career. It makes me feel like a schlep rock when I think about how gone "Morningwood" is, and that no one will be able to see it. But, my favourite Redick Sultan track is "Angus' Head Wound." It's in many ways the opposite of "Morningwood." Angus McKeehad our former saxophonist had weird dreams on tour and woke up playing the sax part. He later fell off his bike and busted open his head a few hours before a gig, where we were to premiere this song. I took him to the hospital after the gig to fix his head. He said they had to re-open the wound to stitch it back together, and laughed.
Spencer: Yeah, that really sucked. Us and the video editor for "Morningwood" had "business meetings" every night around the production of that video, but our meetings were really just walking around for hours in Poco blazed out of our heads, coming up with video ideas that we could never execute because we were too busy talking about it. Noah later wrote a song about the joys of recurring mimosas that I feel is somewhat appropriate in describing this botched attempt.
Sean: Come on, spark it up! I like our track "Inky!" "Inky" records 4 lyfe!
Find more about Redrick Sultan online.
WEBSITE: www.redricksultan.com
FACEBOOK: www.facebook.com/redricksultan
TWITTER: www.twitter.com/redricksultan
INSTAGRAM: www.instagram.com/redricksultan
SOUNDCLOUD: https://soundcloud.com/redrick-sultan
The Interview Show is everywhere.
Follow me on twitter @interview_show
Listen to The Interview Show on SoundCloud soundcloud.com/interviewshow
SoundCloud RSS Feed
www.cjsf.ca (Vancouver, BC, Mondays 4:30-5pm PST and Wednesdays 12:30am PST)
www.ckdu.ca (Halifax, NS, Saturdays 1:30-2:00am AST)
www.radiocfxu.ca (Campus Community Radio, Antigonish, NS, Fridays 11pm-12am AST)
www.cfru.ca (University of Guelph Radio, ON, Tuesdays 3pm EST)
www.umfm.com (Winnipeg's Hit Free Radio, Fridays 6-6:30pm CST)
www.caperradio.com (Cape Breton University Radio, NS, Wednesdays 3-3:30pm AST)
www.localfm.ca (Campus Radio Saint John Inc., NB, Tuesdays 11:30am and Fridays 3:30pm AST)
comments powered by

Disqus