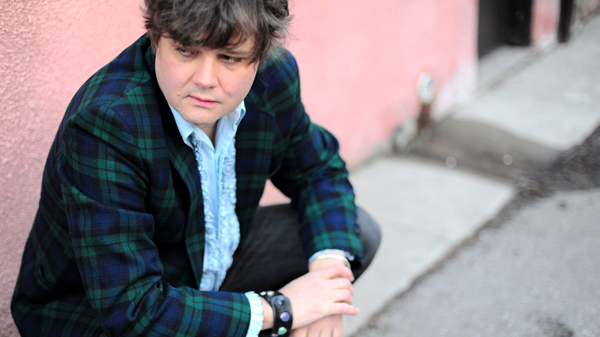 Ron Sexsmith Rides On
Ron Sexsmith talks about change, becoming a novelist, writing songs and hitting the road again with The Last Rider, his 13th studio album.
Ron Sexsmith is one of Canada's songwriting gems. He counts among his fans no less than Elvis Costello, Elton John and Paul McCartney and has amassed eight Juno Award nominations as Songwriter of the Year. His just released album, The Last Rider, is his thirteenth studio album and is the first to e recorded with his touring band. Thirteen records, 20 years and a world of expereince is a lot to think about.
Ron reflecte on how he has changed (or not), his songwriting process, touring and being in the studio when I chatted with Ron just before his Vancouver show in May.
SW: Who would you say you are in 2017 as compared to earlier in your career?
RS: "Well that's a tough one you know because I don't feel that I've really changed all that much as a ..., or I don't feel anything anyway ya know. But obviously I've got a lot of albums under my belt, and I have a little more experience at writing and recording. So maybe I'm a slightly more experienced person…, and also before I had my first album I'd never been anywhere you know. So now I've travelled, not everywhere in the world, but quite a few places. All over Europe and Australia, Japan so um… I'm a father and my kids are grown now so that's probably changed me in some ways. But for the most part I feel like the guy who made the first album".
SW: Do you remember what your first memory of music was?
RS: "Well it was actually a song called "It Doesn't Matter Anymore" that was recorded by Buddy Holly which was written by Paul Anka. My mom had this box of 45's that I think I found under the stereo you know and I was really fascinated by these things. I wanted to hear every song, the A-Side or the B-Side so she let me play them. It was pretty much always interesting,…and I became interested in music".
"So I got to know all those songs, but that song in particular though really kind of spooked me, because I knew that Buddy Holly was dead. I can't remember how I knew that, but I knew that he had died in a plane crash, so when you're a kid that's kind of scary, and then you're hearing his voice; and so I don't know…it made a big impression on me. Um, so that's my earliest memory of music".
SW: When did you know that you can write? Whether it be lyrically or composing with instrumentation?
RS: "I didn't know until I was 21. I was trying to write songs as a teenager, but they just weren't very good. I had a few different bands and they were sort of kind of 'riff-rock' you know, 'cause I liked The Who and I was trying to write that kind of music. But when my son was born I was 21 and I was living in Quebec and I just sort of started just writing songs, like the way I'd always heard songwriters operated".
"Where I had all these ideas in my head and I felt very inspired, and I think in this three month period I think I might have written around 17 songs; and that had never happened before. Because I guess I'd had a lot of changes going on in my life, and it sort of,…that's how it sort of manifested. And ever since then it's been pretty much the same. But before that I knew I liked to sing, but when I knew that I could write, that changed everything because then all of sudden I kind of felt like I had a purpose. So we moved to the big city and struggled for a decade or so to 'make it'".
Scott White: So where do you live now? I know you were raised in the Niagara Falls area.
Ron Sessmith: "I grew up in St. Catherines, but before I had a family I lived in Victoria for a little bit, I lived in Halifax for a little bit, and then when my son was born I lived in Quebec. But after that, I moved to Toronto and was in Toronto for like 30 years until most recently, actually just a few months ago my wife and I moved to Stratford, Ontario. That's probably where I'll end up in the final phase or whatever".
SW: Do you feel living there adds to your creativity at all with the whole Shakespearean vibe?
RS: "Well it's definitely an artsy kind of town, so I'm curious to see what might come out of it. I didn't move there for that reason, but we just couldn't afford anything reasonable in Toronto. So we found this really nice place about an hour and a half away. Again, I'm 53 now and it seems like a more sort of forgiving place to grow old in".
"I've written a novel that's coming out in September and who knows, maybe I'll write another one there. It just seems very…, it's just a very peaceful kind of town. But I don't really need to be in any specific kind of town to write though, because I've written in dressing rooms and on airplanes and I just kind of write. What's going on around me doesn't really affect it too much".
SW: Globally has any place surprised you in terms of record sales or radio play?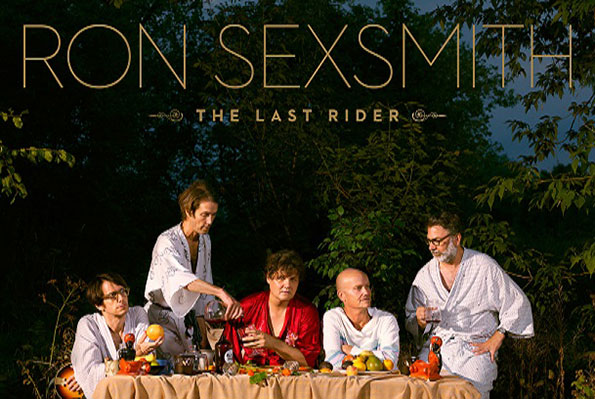 The Last Rider is Ron Sexsmith's new album.
RS: "Well, the UK and Ireland were the first places that noticed me. When my first album came out, it had been out in North America for about a year and it had not done well at all, no radio and no sales. Then all of a sudden the end of '95 it was on the cover of Mojo Magazine, Elvis Costello was holding it up and saying it was his favourite album. That sort of changed everything for me, 'cause all of a sudden there was this interest from the UK and Europe and Australia and other places. And so the label had to sort of re-release the album, kind of against their will almost; but I found my audience there.
But just a few years ago, I had an album called Long Player Late Bloomer that did really well and I even got a sales award and we headlined Royal Albert Hall and ah, it did well here too, but over there in particular it just kind of, everything kind of moved up a few notches".
SW: Where are you particularly well received?
RS: "I have a cult following pretty much everywhere. So, I don't play big places in general, but wherever I go, it's a very kind of loyal fan base. If I'm in Australia, it will be a packed house of people who will have my records; same thing in Japan or same thing if I'm in Germany. Some places seemed to come on a bit later, like Germany and Spain I do quite well there now, but I didn't do well at all there for years".
"And then I made an album called Retriever that for some reason, connected. Canada's gotten pretty good, but America is probably the hardest place. There's about 5 or 6 cities that I do quite well in, but I don't even think we're going there on this record".
SW: Approximately how many gigs do you do a year?
RS: "Well, it's somewhere when I have an album out. If I don't have an album out, I play hardly at all. 2015 was the last time we toured. We started in April and went until February of the next year. So there was probably about 150 shows, which isn't as much as some people do. We took off August and took off December then. It's still quite a bit. Some people will tour around 300 a year and I couldn't really see myself doing that. But that year I think it was around 150. So far this year it's not as much. I don't think we are going to as many places as we have in the past".
SW: So tell me about playing live and the live experience.
RS: "Well I've been doing it a long time. I started playing bars when I was 17, and just doing cover songs. So I feel pretty comfortable onstage. I prefer playing with my band, like tonight, it's just more fun. Now that I have so many albums out we get to sort of pick and choose from different records and come up with a set. There's a lot of second guessing involved, but you try and come up with a set you think people are going to be happy with. There's always some stuff that people want to hear and you can't get to everything but um. Obviously at the level I tour at, the shows are pretty humble. We have two people on the crew, we don't have a lightshow and all that kind of stuff. So we're just up there playing and hopefully that's enough for people".
SW: Tell me about being in the studio.
RS: "Well, I like the recording process. This album I did with my band and it's also the first album that I've ever produced. So, this one, it felt a little like I had more on the line or something, or more responsibility. We got to do it at The Tragically Hip's studio, near Kingston; the Bathouse. It was cool though because we could stay there, like you're recording, and then upstairs are all the bedrooms. So you're sleeping there, eating, partying there, and recording. I'd never made an album like that before".
"Most of my albums have been done in LA or England or something. Where you work from maybe 12 until 8 with a little lunch break and then everyone goes off by themselves to their hotels. But this we were just this really tight bunch of friends. Because I'd never made an album with my touring band, so that kind of made it kind of extra freeing for me, there wasn't this sort of awkward bit of getting to know the musicians and stuff like that. So it just felt kind of more fun the way we did it this time".
SW: When you're creating does it come to you in dreams or inspired through touring or backstage?
RS: "Not really through dreams, but just getting ideas, by seeing something out the window or something on your mind. Sometimes I just get a tune in my head and I'll wonder if it's my tune or somebody else's. Then you realize there's this sort of thing that happens where it's potential for a song".
"It's usually really small whatever it is, you get this little idea and then it goes away, and it's up to you to take that idea and flesh it out and make it into a song. I'm usually working on about 10 or 15 ideas at the same time over a period of about a year. They all start to become finished after taking shape. Some take longer than others and some don't give you very much trouble. It's just this process, this thing, that I've been doing it for so long now that I just kind of recognize it. At the moment I've got about 5 new songs on the go, none of them are finished but I know they will be. So whenever I have a minute I'll try to pick up where I left off with it. Or just play what I have if I only have one verse or something, then you play it over and over and it points you in the direction of the second verse. It has kind of become second nature now".
SW: What genres speak to you? Has it changed over time?
RS: "Not really, I've always liked music that was melodic. I'm 53 so I grew up in a time when music was very melodic; that's what always appealed to me. Music is less so these days, at least on pop radio. A lot of the stuff that's popular now doesn't really move me in any way. So I still kind of find myself going back to older things. Sometimes I'll find old things that are new to me, stuff I'd never heard before. So I guess it's just pop music, and that's a very broad heading. Just pop music…I like Bill Withers, I like Badfinger, I like Frank Sinatra, it doesn't really feel popular or eclectic or feel that way. But I guess the common denominator to what it is about all this stuff, I like good songs and I like good singers basically".
SW: Where are you going now? Where's the journey with this new record?
RS: "I think it's hard for me to say because I'm still kind of close to it. Every album for me has a different character to it. Not in a radical way but more in a subtle way. Some people think I've been making the same album over and over. Which isn't really true but it isn't really worth my time to explain to somebody how my albums are different; other people get it you know. But I think for me, you're always in a different place when you set out to make a record. You're a little older; you've been through whatever can happen in a year. There's a lot of changes, even in the course of a day, you're going through different moods and that. So just by that alone, every album is going to be different".
"Also with the different producers I've worked with, the different musicians, the different countries I've recorded in…they all add to that, giving each album their own character. So this one too, working at The Tragically Hip studio and doing it with my band, these songs lyrically are very different than the songs on my last album Carousel One which was more lighthearted . This record is I think a little more nostalgic and more wistful and all that stuff you can't even plan. It's just where you are in your life and you don't even realize it until after the album comes out. When you're in the middle of it you can't even really tell what you're doing; you have to sort of get outside it".
comments powered by

Disqus