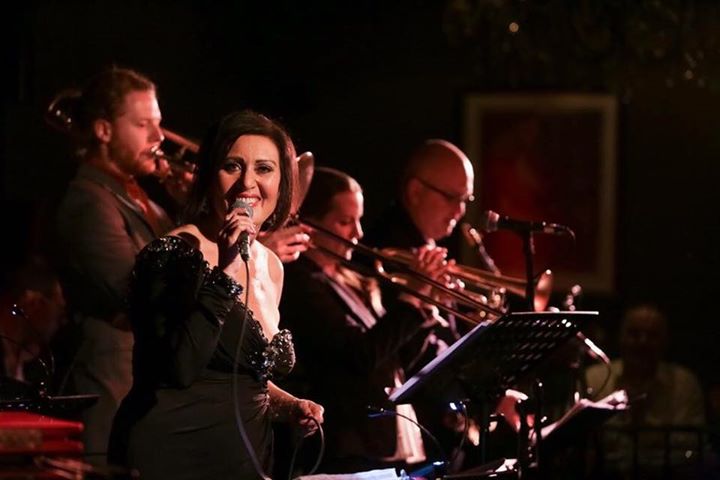 Small World, Big Screen: The Monica Chapman Interview
Jazz vocalist Monica Chapman breathes new jazzy life into the vintage movie tunes, then throws in some classic standards to make it that much better.
Toronto vocalist Monica Chapman has always loved the movies. It was the musicals that stole her heart. For her third album, she has gathered a number of tunes from motion pictures and put her own spin on them. They cover nearly five decades and go as far back as the nineteen thirties. For variety, she has added a couple of jazz classics and her favourite seasonal song. Add the magic of producer/arranger/pianist Bill King and some of the best jazz players on the scene and you have her new CD Small World. I recently had a conversation with Monica Chapman about her new CD.
JD: Your new album Small World is a collection of songs from movie classics. That is an idea I love. You have also included a few jazz classics from the likes of (Duke) Ellington and (Billie) Holiday. Let's talk about the movie songs first. Were movies important to you when you were growing up?
MC: Absolutely. When I immigrated to Canada from Romania I was nine and a-half. We didn't have a TV in Romania and when we came to Canada we got a tv and I started watching these Hollywood movies, with Fred Astaire and Ginger Rogers, you know, Bandwagon. I also went to the movies Sound of Music and Mary Poppins, which isn't on this album, by the way. But I was mesmerized by the Hollywood musical, like Bandwagon and Goldfinger. I would be transported into the movies and get lost in it.
JD: I think that happens to a lot of people. You still watch movies quite a bite. Is it a life-long passion?
MC: I do.
JD: I see you have a range of movies used in this album from about 1932 with "A Shine on your Shoes," up to 1964 with the classic Shirley Bassey's "Goldfinger." I just love that song. Considering how many movies are out there, how did you decide which songs you were going to use for your new album Small World?
MC: I've done research. I've listened and listened all the time to records and online. Those were some of the songs on the top of my list over the years. I just brought them up, with the third album and just put them together and chose them from the list of songs that I had and chose the songs that really spoke to me and made me fell something, in hopes that you, the audience, would feel exactly what I felt in my interpretation of those classics.
JD: Ya, I think you succeeded, there.
MC: Thank you.
JD: Nice choices over different eras. You didn't use just one era. You've gone to a number of eras and I think that is a really good idea. So, I've noticed you added a Billie Holiday song "Don't Explain," and a Duke Ellington classic "Caravan." Any reason for using these ones, other than that they are awesome songs?
MC: Yes, because they are awesome songs (laughs)! And, there are so many awesome songs to choose from. The way I came across "Caravan" was on another radio interview last year. The host was playing "Caravan" by Ella Fitzgerald with the Duke Ellington Orchestra. I just fell off my chair. I had never heard it before. You know I come from a classic musical theatre background and I just got educated in jazz and became a jazz singer over the last six years. Really, that's when I went at it strong and seriously. I knew I had to record "Caravan" as one of the songs, because it really blew me away. And I love Billie Holiday. She has so many wonderful songs out there that really speak to me. So the one I chose "Don't Explain" was one of them.
JD: I notice you have included a seasonal song on Small World. It's a seasonal song and just happens to be one of my favourites. I play it every year during the Christmas season. I'm talking about "Baby It's Cold Outside." The big surprise here is you got a drummer to sing with you. How did you do that?
MC: Mark Kelso is one of my favourite drummers and a hugely, talented individual because he also sings. He recorded that song with two other singers. "Baby It's Cold Outside" is one of my all-time favourite seasonal songs. You know it comes from a big musical. I wanted to record it with Mark because he has such a great voice and I suspected our voices would blend beautifully and I think I was right.
JD: Yes, I think so, too. I have a note here that said it was written by Frank or Frederich Loesser.
MC: Frank Loesser. That's right.
JD: Louis Armstrong does a version that was on television back in the fifties. It is almost a comedy thing, and it works, even at that level. It is a great song.
MC: Oh, I just remembered! The movie that featured "Baby It's Cold Outside" is Neptune's Daughter. I stored it up in my brain and it came up. Just like a computer (laughs). So, it's Neptune's Daughter with Esther Williams and Ricardo Montalban. That's where I discovered that song when I was nine and a-half. That's where I first heard it in that big Hollywood musical Neptune's Daughter. I love it!
JD: The many musicians on Small World are wonderful. Could you just speak to the contributions of Reg Schwager, Kevin Turcotte.
MC: Oh, they are amazing. I feel truly blessed. They are highly featured on this recording. Mike Murley on alto saxophone, Reg Schwager on guitar, and Kevin Turcotte on the trumpet. It was a pleasure to work with them. They are renowned Canadian musicians, as are the rest of the band members.
JD: That certainly is true. Like you said, I like the fact that you gave them plenty of room to play. You don't have two-three minute songs with vocals and a bit of playing, you really let them show how good they are. That is a really, wise decision. It's nice when you have people that good and you let them play. I do appreciate you doing that.
MC: Why, thank you. The credit goes to Bill King for producing the album. I chose all the songs, but he is responsible for the arrangements. He made gorgeous arrangements for each song and he gave the musicians the freedom to solo and play where it made sense to do that. It enhanced and lifted the songs.
JD: (laughs) Monica, you must read my mind. That was my next question (both laugh). We've been talking too long together I guess.
MC: (laughs) Oh, no we only spoke once—for my second album P.S. I Love You, right?
JD: Yes. So, was it easier making this album with Bill King, because you have worked together before?
MC: I have worked with Bill for the last six years. He was the one that helped me find my jazz voice, so I am very grateful for that. He produced all my albums. This is the third one.
JD: His arrangements are just incredible. You just sit back and listen and marvel and then you look at the info and you see that it is Bill King and you think "should have known it was him."
MC: Of course, and he, also plays piano really well.
JD: Yes, indeed! Monica, I hear you have an album release party coming up, soon. When is that going to be?
MC: I'm so excited about that. That will be June 4th, at the acclaimed Jazz Bistro—a beautiful place, where I played a year and a-half ago with a band. I'm really excited about that and this CD will be released on Monday May 1st on iTunes. You can also get them at my shows and at Gregorian, a well known record store in Yorkville. They sold my other albums as well, and I appreciate that. Other than that people can order online through Amazon, CD Baby, Spotify—all those download services. Most people prefer the digital, but some still like holding them in their hands. I went all out, as you can see Jim, with a cover that has a picture of me performing live at the Jazz Bistro. I made that my CD cover and I think it looks pretty cool. You know, you open it like a book and there is the bio and credits and everything. I still prefer holding the CD in my hand. Don't you, Jim?
JD: Yes, I do. As I program a show, I appreciate when you put good bio info and credits, so I can have something to talk about when I introduce your songs.
JD: Great. Do you have any other gigs planned for the summer?
MC: I have done gigs all year, so the summer is my time with the family. Canadian winters are too long. When we have summer, I like to savour it with my family. We go away. I might do a show or two, you know, but nothing booked for the summer beyond the CD release party. I have some booked for the fall and winter.
JD: Sounds good. Monica, thank you for coming on Jazz Notes and I wish you all the best with the new album "Small World."
MC: Thank you so much, it was a pleasure.
Monica Chapman's new CD Small World is available on iTunes, CD Baby and Amazon
Twitter: @jazzyvoice
Facebook: www.facebook.com/monicachapmansings
comments powered by

Disqus