Coping Strategies for the Modern Age with Chad VanGaalen
Chad VanGaalen has some issues with the world today.
At first Chad is coy, maybe even a bit incredulous. He responds with a laugh and an admission, "I have almost no coping skills. I think that's part of the problem." And perhaps it's a tired trap to assume a talented artist who has just released a stellar sixth album that effortlessly balances pop hooks, sci-fi interludes, and bizarre instrumentation might have advice for the state we find the world in these days.
It's had a huge and horrible impact on me... I try to stay away.
Certainly, I can be excused for thinking a person who continues to pump out fascinating and thoughtful pop music from his homemade studio overlooking the Bow River in Calgary might have some tricks when it comes to daily living. And he did. It just took a little prodding.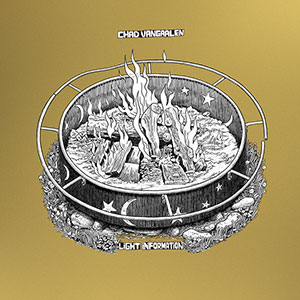 Light Information
First, swimming. Chad admits, "The thing that is saving me is walking to the river and swimming in the river every day. That's been saving my life." While the glacial waters are taking the edge off of modern living for him, the daily practice has been stressful for his dog, who runs along the shore calling out something that sounds like a dog combination of panic and warning. But this isn't an advice column for dogs and so we will leave this animal companion with his demons to outwit. And move onto the second piece of advice VanGaalen had to give.
"Motherfucking gardening." Here he gives me a spectacular audio tour of his garden which includes rows and rows of kale, brussel sprouts that remind him of "little armpits," and cucumbers that are so sweet they taste like melons. He waxes poetic about second plantings (the Calgary summer has seen record-breaking heat) and how broccoli just keeps coming back no matter how much you pick it. It is clear that the enthusiasm that keeps this garden growing is the same thing that keeps VanGaalen's music interesting. He imagines himself as an old grandma, puts on his old grandma voice, and in a sing song voice says, "Take some carrots. There are just so many carrots in the garden this year."
It's this playful imagination that produces albums that sound like worlds unto themselves. It's what makes VanGaalen's music unique. Every album creates a world with sonic paths to follow and get lost in – spun around and spit out in some multi-coloured psychedelic dimension. And with this inner world to escape to, you may wonder what VanGaalen might have to be stressed about.
I bet there is delicious magic waiting for you inside of it.
But, it's the same thing the rest of us are stressed out about - the goddamned internet. "It's had a huge and horrible impact on me... I try to stay away," VanGaalen explains, "I listen to Quirks and Quarks. Me and Bob MacDonald, that's it. That's all I fuck with." He hesitates and broaches the subject of binge watching, "When I was a kid it wasn't an option to binge watch anything. Half hour of cartoons and channel four is on and you're watching the weather report or some shit. Now you can binge watch yourself to sleep." All of these ideas show up in various forms on the new album, Light Information. Anxiety and imagination overlap to create a kinetic sound that invites repeat listening and contemplation.
Ekshaw Mountain: the home of VanGaalen's sci-fi fantasy for Calgary
We end our conversation – new advice in pocket – with a discussion about VanGaalen's sci-fi fantasy for Calgary. He describes the Ekshaw mountain, a mountain he's watched being sliced away at for resource development since he was a child. Now, nearly gone he wonders, "why the fuck would they spend all that time to slice a mountain apart when you could just drill into the mountain and light it up?" Immediately, in my mind I see a glowing mountain looking down across the plains and VanGaalen continues, "I bet there is delicious magic waiting for you inside of it."
But then…" the key changes, darkness descends, "…everybody's got tumors and shit growing out of them! The crystals are too powerful! VanGaalen was wrong..!" Well, VanGaalen might be a bit bizarre but I don't get the sense he's wrong.
comments powered by

Disqus