Not Long for A Sentimental Mood: The Joani Taylor Interview
Undaunted by adversity, Jazz vocalist Joani Taylor is back with a new album, In A Sentimental Mood, on Cellar Live
Vancouver's Joani Taylor has survived blows that a lesser person might not. A great new album and a sold-out show at the Vancouver International Jazz Festival have her back on track.
While living in Vancouver in the 1980s I would often go with friends to a restaurant near Broadway and Burrard called Carnegies to eat fried oysters and hear pianist Bob Murphy play. Before long I was a big fan. Eventually I moved away and joined the campus community radio station CFBX in Kamloops, BC, where I began my show Jazz Notes. Over time we received more music from Bob Murphy and I managed to run into him at concerts and festivals over the years. On most of his later CDs, he was paired with this wonderful vocalist, Joani Taylor. They certainly seemed to feed off each other's talents and I always looked forward to their next outing. Taylor, also sent us some solo CDs, which included the wonderful Ross Taggart and others. They got plenty of airplay. Sadly, the last few years have not been kind to Ms. Taylor. Ross Taggart passed away in January of 2013 and Bob Murphy passed away on Oct. 22, 2015. If that wasn't enough, she was diagnosed with Acute Myeloid Leukemia and has had to endure many chemotherapy treatments. Undaunted by all this, Joani Taylor, with the help of her brother, connected with saxophone great PJ Perry and a new project was hatched. This led to a new album on Cellar Live called In a Sentimental Mood, and a concert at Frankie's Jazz Club in Vancouver, as part of the Vancouver International Jazz Festival. Taylor reminisced with me and had stories about Thelonious Monk, Cannonball Adderly, and the Juno Awards. She is a noted educator and, also explained some of her teaching methods and the joy she received from her students. After exchanging pleasantries, we had an engaging conversation about her life.
JD: I was looking through your bio and I noticed something that I thought was really cool. Your father took you to see Thelonious Monk, when you were fairly young. What are your recollections of that night?
JT: I was overwhelmed, I think. I had always heard records, a little bit of jazz, a little bit of everything. My dad was a collector of a lot of kinds of music, and he sang. So, I basically heard a lot of vocalists. I never heard melodies like Thelonious Monk. It lit a fire inside of me. I never forgot that moment. And, I never forgot going into that place. That little jazz club; dark; people playing chess; most people smoking (laughs) and just listening to music. Not talking, not loud and rambunctious and not all the other things that I had heard and seen before, as a kid, or at a concert even. It was a whole other world. From that moment on I knew that this was the kind of music—not that I would sing this kind of music—but that's what was deep inside of me.
JD: That's interesting. I'm so jealous. I was into rock back then and probably didn't know he existed. Well, it's been said that you are from the "school of hard knocks." Joani, please tell our listeners what that meant in your case?
JT: In my case, it meant a lot of things, because I'd been singing since I was two and-a- half. My earliest recollections, not just singing in competitions where I would win because I was cute and two or three years old, my mom and dad, brother and I would go out to eat. My dad would place me on the table and I would sing, and they would get their meal free. (Laughs) So I've been literally singing for my supper all my life.
JD: (Laughs) Totally!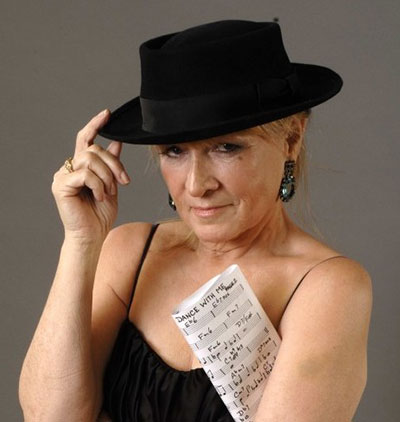 JT: But the "school of hard knocks" thing—I've never really had lessons. My dad taught me. He would sit in another room and say, "I can't hear you. Use your big voice,' or "I don't feel anything." (Laughs) That was the most important thing to him, that I put across some kind of feeling, in whatever I did. Most of my musical education came from live on a bandstand, standing on the edge of a diving board, so to speak and going for it and missing notes and overshooting notes and thinking that my big voice was something special and not being able to control it. But, learning throughout the years, because I was extremely lucky to be working with some of the best musicians in this country. Even my very first gigs were with Don Thompson and Terry Clarke and Wilf Wylie from The Cave. Stu Barnett and all those guys, who would coach me; encourage me. I worked at my first club gig. I was fifteen almost sixteen and the club was El Mocambo. I was singing at Isy's Supper Club when I was seventeen. I met Bob Murphy when I was sixteen. He was my first boyfriend. I married him. So, he was my accompanist and still remained so, long after our divorce. I think we were meant to play together and we were extremely close, that way. I opened for so many people including Jimmy Smith, Little Richard, Stevie Wonder and though I didn't open for her I sat with Sarah Vaughan. What a school! These were just a few over the years I had the privilege to open for. Also, I am extremely dyslexic. I could say I failed the school system, but it failed me as well. They didn't know about dyslexia. I was termed in grade three by one of my teachers, to my mother, after getting my report card, that I could be borderline "retarded." That's how they viewed my skills (laughs). There was one saving grace and that was when I was that young and the grade school principal knew I sang and loved my singing. In grade six, he was pretty, proud of my singing and knew I would be a singer, and he kind of said that academics wasn't for everybody and academics isn't everything, so he had me sing at the last day that the parents and students come together in grade six. Unfortunately, I sang 'You Made Me Love You." That was a song that old people sang. My next-door neighbor, whom I grew up with was sitting in the front row and started booing me. I burst into tears, ran off the stage and didn't sing for about three or four years, after that. It really, really affected me. And now, as a teacher I know that when people say to me, "I can't sing – I don't sing well—I can't do this …," it has to come, in most cases, from someone raising an eyebrow, or giggling, or laughing when the have sung, because singing is so difficult. You create the note. You have to hear the note. You know, it's everything. It comes from you. It's not like a sax player who plays a cranky note and takes out his reed and plays on as if it is the reed's fault (laughs). We can't take a mirror and look in our throat and say, "Oh ya, that's the problem. (laughs) That tooth over there is too big for my mouth." So, that's the school of hard knocks for me.
JD: It's sad that another child made you loose three years, but happy to say, you did come back from all this and that's the most important thing. Now, you mentioned that you are a teacher. In fact, you are a noted educator and you have taught and mentored many young vocalists. I ran into the vocalist Emily Chambers and her family at your show. She said she has taken lessons with you for around ten years.
JT: Yes, and I just saw her performance at Frankie's last week and I'm so proud of her. And know, it's not just teaching someone to sing, but more helping them find their own way and finding their individuality and not being afraid and let's say not criticizing themselves and doing what other people want them to do. Sometimes the very thing they think is their handicap, is their gift. So, just opening that door for them and showing them all that they can do. I really emphasize with young people, to write and play an instrument.
JD: That's good. You've taught a lot over the years. Have you learned anything from your students?
JT: Tons, ya tons. I can't even begin to tell you what I've learned. You know, the bravery of the young. If you can get them really young, they can be difficult, but in other ways they are so brave. They will do anything you say. Emily (Chambers) is a good example of that. When she was about eight years old, I had her sing a song that I recorded. It might have been "Alright, Okay, You Win," regardless of that, there was a great sax solo, with Jack Stafford playing. She went away for the week and came back. She sang the tune and it was pretty good. I thought I would play with it, so I said, "You didn't sing the sax solo, Emily." She said, "What?" I repeated, "You didn't sing the sax solo." She said, "There's no words." I said, "That doesn't matter. Just sing the notes." And, she came back next week and had it nailed (laughs).
JD: Seriously?
JT: Seriously. She didn't have it in her head that it was hard. She just did it. I have a little machine, that can slow the tracks down. Slowing it down gave her a chance to hear all the notes and not worry about them flashing by her. I also found that the boys are really great. They are more interested in rock music and jumping up on one of my chairs, while they sing, and jumping back down and being able to carry the tune. I could get them to do anything, really. The older people were the hardest. I had to play tricks on them and get them to walk backwards and distract them from their own fear of little passages that they would stumble over. Bob Murphy told me, a long time ago, that he heard an interview somewhere, with a world renowned classical pianist who never made a mistake. He was really well known for that. The interviewer asked him who he did that, because everybody makes mistakes. He said that when he learned a tune he would play it extremely slow, so that his brain knew every single note, everything. So, I started teaching tunes that way and the difference was incredible.
JD: Your album Absolutely from 1990 is a good example of the orchestration of the day. It includes the song "You Made Me Love You" which features you singing at the age of four years-old. Who recorded that and how is it still around?
JT: That was recorded on my mother's card table from the radio. I don't know what they used. It was a competition I had won the year before, so they had me come back to sing. It's funny, because, several people, misguidedly, thought it was Billie Holiday. Just because of the era and how the recording sounds. It didn't dawn on them that that was a four-year old.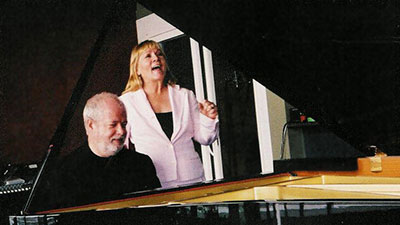 Joani and Bob
JD: Well, if I hadn't read the liner notes off the cassette I wouldn't have known either. I didn't think it was Bilie Holiday, but I knew it was something different. It really did work.
JT: (Laughs) I thought they were way off with the Billie Holiday thing. I don't know how well they were into that type of music.
JD: You had a wonderful relationship with the great Bob Murphy. Here's a quote about an album you did with him called The Art of the Jazz Ballad, that you and Bob put out in 2001. "When I first listened to 'The Art of the Jazz Ballad,' the first impression that I had was, what an amazing fluidity between voice and piano." What was it about you and Bob Murphy that fit so well musically?
JT: We weren't afraid to go extremely deep emotionally. We had faith in the songs. We treated the space, the emptiness between phrases in as just a high regard as the notes and the lyrics of the song. Do you know what I mean?
JD: Yes, I think I do. If fact, Campbell Ryga once said something to the effect, that it's not what Bob plays, it's what he doesn't play.
JT: That's right, and we both went through years of that. Of course, and I think the key to playing like that is not necessarily rehearsal, like going over one tune over and over while learning a show, it's playing constantly together. Playing, and the key to everything is listening. And, it's a conversation.
JT: I think that's what it is definitely (The Art of the Jazz Ballad), a conversation between musicians and it came out so nice. That quote came from a customer on Amazon that was just glowing about that CD.
JD: After that you did The Wall Street Sessions with the Bob Murphy Trio. It was nominated for a Juno Award in 2003. I imagine you were pleased by this, but were you surprised?
JT: I was surprised, and I went to Ottawa. I knew I wasn't going to win—next to Diana Krall—I knew she would win. You can't compare a $20,000 endeavor to a $2,000,000 endeavor. It was well deserved. Her album was great. But I was there, and she wasn't. I was kind of disappointed that she wasn't, because jazz is so small in the world of music and commercial music. If the biggest artists don't show up, then that part of the show doesn't get televised. You kind of lose the fact that there could be advertising for the whole community, if these people show up. So, they held the jazz portion of the Junos on a different night. They had a fake camera panning the audience and pretending it was doing something (laughs) and they announced the four of us that were nominated. And, when they announced Diana Krall, and I knew nobody knew who I was, and she wasn't coming up to the stage, so I stood up and said, 'I'll take it.'
JD: (Laughs) Nice try!
JT: Actually, it's really a touching story for me. On the banquet night, we were randomly seated. We were seated with a hip hop group from Montreal and this lovely older couple. I went out into the lobby and held Terry McBride's Juno and had my picture taken with it. I came back to the table and sat down and looked at the lady and said, "You know I never really cared about the award itself, but it's kind of cool to be nominated and be recognized by people. This is a huge country and people don't know who you are when you are in Vancouver, as we do. We know who people are in Toronto, but they don't know us." So, I was telling her that now I was kind of jealous, because this is a very, beautifully made award. It was blown glass in the shape of a person and this stave was wrapped around it. She smiled and said, 'I'm the glassblower that did that."
JD: Seriously?
JT: Ya, wow, that was just amazing. So I said, "Let me give you my album," in respect for her work. I ran into her three times that weekend and she kept saying, "You should have won. You should have won." I thought it was so sweet and then, she said, "I make the glass part and it goes somewhere else and they put the staves around it and I can make a "Joani" (laughs) or you could call it a "Junette." I didn't believe here because people say things all the time. But three months later, that statue came to my door, all boxed-up, and on the bottom was written "You should have won," and her name and the date.
JD: That's just an incredible story. I just love that.
JT: I love it, too.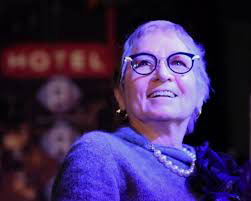 Joani Taypr Today
JD: That may be one of my favorite recordings of yours.
JT: Mine too, and the Jazz Ballads, as well. If I could do another album like either of those, I could die happy.
JD: I may play it too often on my show, because they kind of keep track of what you are playing, but "Town Without Pity" off The Wall Street Sessions is the one. It was a pop hit for Gene Pitney and not even a jazz song, although after hearing Ross Taggart's sax solo and your vocal interpretation, you could call me a liar, because that's a jazz song—so why was that one chosen?
JT: Oh, yeah! My brother has great taste in music. He always knows what I can do. He runs things by me. Sometimes, I have to do other stuff, because a lot of times as an independent artist you are trying to make deals, so, you do some original tunes—write them with other people, so they can have some responsibility or some artistry of their own on the album that includes them. Then, you may be able to cut a deal on their recording. There are several deals you might have to make to put out an album. It's so costly. But my brother, he always makes little lists of songs and a lot of times I listen to him, because, he's got some real, cool ideas.
JD: Tell Jimm (her brother), that Jim approves (both laugh). I love that song.
JT: I will!
JD: Joani, A State of Grace, that you put out in 2003, had you jumping up as a composer. Why did you decide to compose tunes, after all this time? That's just not an easy job to do.
JT: Well I think, I found two great people, who wrote beautiful melodies that "sang" to me—that felt like they could have a lyric—and take their original plan somewhere, that they didn't want it to go. So, Ross Taggart wrote some amazing melodies and he had the patience to work with me on them. The other writer, was his wife at that time, Sharon Minemoto, and she is a beautiful writer and arranger as well. Let's see, we did "Answer My Question," which I loved and Jimm helped with the lyric on that. It's not easy writing with other people, but I was telling my students to write, so I had to cough it up (both laugh).
JD: Put your money where your mouth is.
JT: I did. I did. I did a special evening. Sharon (Minemoto) and I had done a special evening at The Cellar that Cory (Weeds) owned, of original tunes. In the audience was Guy MacPherson, Fraser's (MacPherson) son. He approached me at some point and said that he had these tunes of his dad's and I really think that some of them could lend themselves well to a lyric. He said "Would you be interested?" He sent me twelve tunes and I wrote lyrics for every tune he sent me. We did perform it, the next year at the jazz festival (Vancouver), but nothing ever came of it. I was hoping CBC would want to record it, being that it was Fraser's work. I don't know if their budget was low, but I was turned down. I'm never good at selling things or ideas. But, that was a really tough endeavor to take on. I think I sat on a bed and when there was a huge pile of crumpled paper beside the bed, I knew I had one song down (laughs).
JD: Joani, now I'm going to take you up to the present. You have a new album out called In a Sentimental Mood on the Cellar Live label with you, Joani Taylor on vocals, with the wonderful PJ Perry on sax, Neil Swainson on bass, and Miles Black on piano and arranging. I had the pleasure of being at the CD release party, which was part of the Vancouver International Jazz Festival and was held at Frankie's Jazz Club in Vancouver. To say the show was a triumph, is an understatement. The place was packed, people were on their feet, and the atmosphere was just incredible. What did you take away from that evening?
JT: I wish I could remember it (both laugh). I worked so hard to prepare for that night and the album because there was no rehearsal. For the album there were no second takes. We had five hours to do twelve tunes. There was no listening to any takes. It was really a nail-biter for me. But, to try and project a deep feeling you know—I think jazz musicians are used to this. Your job, a lot of times, is to have very, little rehearsal if any, walk on a stage and you have to sound like you've been together for years. And, everybody worked hard at that in that moment. Knowing what I know now, I don't think I was ready for that, coming out of chemo(therapy) and leukemia. I really struggled with my health and anxiety that the chemo had "gifted" me. I worked on my brain for a while, because I really wanted this project to be as good as it could ever be. I can say that I can find fault with it, but I can also say that I did the very best I could, so, and I worked for four months, about three or four hours a day.
JD: If someone not knowing you or anything about you heard that performance or hears the CD, they are not going to know that. No, this is an excellent project. You gave it all, and the band gave it all. Everyone is wonderful on it!
JT: Thank you. You aren't part of my family and that's so nice.
JD: (Laughs) I'm a fan and that's all there is to it. I think I told Emily Chambers that I almost cried, as it was so beautiful. "Huh," she said, "I cried three times already!" and that was half way through the show (laughs)! You really can show emotion, but what everybody likes and loves about you is that if it's getting too emotional you'll throw a joke in. You always know how to break the ice and keep things happening (laughs).
JT: That's right. That's because, one of my biggest mentors was Cannonball Adderley. Bob (Murphy) and I opened for him three or four times and we became very close. I just admired him and respected him so much and how he and his brother (Nat Adderley) would joke around on stage and yet teach as well, about their music. None of that interfered with the high, high level of musicianship that was up there. My personal thing is I think there is not enough of that: communication with the audience, joking around and just being who you are. I don't think you have to do a show, but just be who you are. Like you are at a great party.
JD: That's what it was. It was a great party. It was the best party that I had been to in a long time. I didn't know anybody and even I had a great time (both laugh).
JT: I'm so happy you did.
JD: So, In a Sentimental Mood, your new CD has 12 tracks on it. They are, more or less, chosen from the Great American Songbook. Joani, would you mind picking two or three tracks, and telling us why you chose them, if you can, please?
JT: PJ (Perry) picked half of the tunes and I picked …. "Alfie"! There are two reasons why I picked "Alfie." It's always been a very, favorite song of mine and it was Burt Bacharach's favorite song that he wrote. I just felt I had to record it again, because I recorded it on my very first album that I did with the Dave Robbins Big Band. That was when I was twenty-one, and now of course I'm (makes a muffling sound to not reveal the first digit)-one. (Both laugh). So, I thought it was a "marker." Let's see, "More Than You Know," is not just to my husband, but it is to all these young people, who I call friends; who are both my sons' friends and young people I taught over the years, who I care very deeply about. I see them going through life and just want them to know someone loves them more than they'll ever know. And, "(In a) Sentimental Mood" is for my son. I didn't make it to his wedding. I did sing the song from Ross's album (A State of Grace) "Seeing For the Very First Time." I did that with the help of Kahlil Joseph. With my son, who is a director of cinematography, they did a visual video for Beyonce's "Lemonade." If it weren't for Kahlil, I wouldn't have been at that wedding at all. But due to him, he contacted me with an iPad and connected me through Facetime and I actually sang with the track that they had at the site, from my family room.
JD: You gotta love technology. Ya, I understand that you couldn't go.
JT: The wedding was in San Diego. That was his favorite song, other than "In a Sentimental Mood," so I wanted to record it for him.
JD: Oh, that sure is nice. So Joani, how do we get your new CD In A Sentimental Mood?
JT: Jim, you can get it through the Cellar Live website and it should be available digitally on iTunes and I saw that it was available on Amazon.
JD: So, from the usual outlets and of course, Cellar Live, the record company. That's easy enough. Joani, I had a good time in Vancouver and really enjoyed your show. I've enjoyed speaking you and I hope you enjoy the rest of your summer.
JT: Thanks Jim, and thank you so much for playing me, over the years.