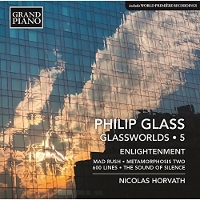 Four years ago, Monaco-born pianist Nicolas Horvath began to record Glassworks, his project to make all of U.S. composer Philip Glass' solo piano works available. This is the fifth and final volume in the Glassworks project, all released on the Naxos Grand Piano label.
Glassworks 5 is made up of two major works, the iconic and frequently performed "Mad Rush" and the rarely performed or recorded "600 Lines", bookended by two shorter works, a solo piano version of the unpublished "Metamorphoses Two" and a unique, Glassian arrangement of Paul Simon's "Sounds of Silence" (Glass' version is called "Sound of Silence".)
"Mad Rush" was written in 1979 as a commissioned organ piece, adapted in 1980 by choreographer Lucinda Childs for a dance performance, readapted the following year into an open form to accompany the 14th Dalai Lama's ceremonial entrance into the Cathedral of St John the Divine in New York, and recorded many times since. It is considered is one of Glass' keystone works, and Horvath describes it in the CD liner notes as "carrying within it the seeds of (Glass') future achievements."
Glass considered "600 lines" which was composed in 1967 and originally scored for winds and synthesizer "a practice piece" developed while he was working with sitarist and composer Ravi Shankar and studying under tablaist Alla Rakha. This 40 minute piece has rarely been recorded, and never before for solo piano. It is built on just five pitches, which are played with varying rhythmic patterns that constantly shift the emphasis on principal notes in those patterns. Horvath writes in the liner notes that he considers it Glass' "most radical and fascinating piece" which "totally reinvents monody."
Nicolas Horvath began his music studies at Monaco's Académie de Musique Prince Rainier III. In addition to his interest in the piano works of Philip Glass, he is recognised as a leading interpreter of the music of Franz Liszt.
By Catherine Fisher
May 1, 2017
[
reviews home
] [
list reviews
]
comments powered by

Disqus
More Reviews By Catherine Fisher