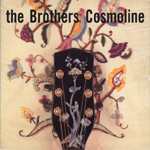 The Brothers Cosmoline
(
)
Songs of Work and Freedom
Bobby Dazzler
(
)
Dan Kershaw and Dave Pedliham grew up with the sights and sounds of Detroit TV and radio - not the sort of influence you might expect would produce a 5-piece Toronto roots ensemble. This unlikely evolution takes cues from Merle Travis and Hank Williams and offers a fusion of western swing and urban country, if there is such a thing.
The Brothers Cosmoline are at their best in tracks like "Oh Caroline" and "It's Alright" when they combine catchy hooks with self-pitying rhymes. "Oh Caroline" evolved from a Merle Travis guitar lick and laments "Me, I have these feet that won't/Cross the room to meet you," while "It's Alright" complains "My love for you is like a small hard stone/ Down in my boot heel when I'm walking home." Kershaw supplies appropriately plaintive, yet manly vocals as well as acoustic guitar and most of the songwriting credits. The get-me-outta-here lyrics of "Bramalea" are nothing new, but Howie Beck's eerie drums add a sinister undertone that makes the song stand out.
Things get a bit more conventional in "Kenny," "Please, Please" and "When Your Baby Leaves." "We Didn't Feel a Thing" and "I Know I'm in Love" will grow on happy couples more than the bitter and single. Luckily, "More Than Fine" and "Spinning" are anthems for the single and limber looking for a good time. Kershaw's luminous "alcohol astronaut" in "Motel 6" is an angel trapped in a world of one-night stands. The Brothers seem sweetest when they depart from their escapist fare and slam headlong into reality.
RECOMMENDED TRACKS: "Oh Caroline", "It's Alright", "Motel 6"
- Dale Shekooley, CJSR Radio, Edmonton, AB
By Dale Shekooley
May 16, 2002
[
reviews home
] [
list reviews
]
comments powered by

Disqus
More Reviews For Bobby Dazzler artists