Bedroom Bliss
By Anne Sulikowski
5. Tell me about your new cd "Passage". How does it differ from previous recordings? What is the story behind the album?
Scott - Both "Between Realities" and "Passage" are music from ambient installations but while "Between Realities" was a one hour exerpt from a theoretically infinite piece called "waveforms", "Passage" contains eight distinct pieces. Each track on "Passage" was created for an individual space within a historic "gaol" in Goderich, Ontario. A multi-media installation was mounted in the gaol with paintings, black & white photography, the soundscapes on various stereo systems and (on handheld personal speaker units) poems by Lynn Harrigan from her book "Moon Sea Crossing" which inspired the entire installation. "Moon Sea Crossing" tells the (true) story of Aina, an Irish immigrant and early pioneer in Huron County, who had a mental breakdown and was incarcerated in that very gaol, as there were no psychiatric hospitals there in that time. The soundscapes paint sonic pictures of Aina's internal and external journey through mental illness to a return to her home and family.
6. Describe the ambient music that you do. What images come into your head when you are creating the music? What is the most favorite track you have done? What colours come into mind when you hear your recordings?
Jamie - I guess we tend to explore the soundscapey side of ambient music which evolves and modulates slowly over time as individual sound sources (synth patches, samples, effects and field recordings) interact and intertwine with one another. Ambient can mean so many things nowadays and I guess some would also categorize our beat oriented work as ambient too, but for me, ambient is beatless soundscapes.
Scott - Our scapes are based on a sense of space, slow time and shifting tone colour. Sometimes we create to fit certain imagery and other times our work is entirely abstract and wide open to interpretation. We usually play some pulse and some beat sections in concert to vary the sets but our CD releases so far are generally deep ambient works.
Jamie - Evoked colours and imagery depends on the piece and of course the context that it is being played and heard in. Often the real world samples will colour the piece, for example "waveforms" will always be predominantly blue to me as it has so many water and wave samples, whereas "Passage" is more shades of brown, grey and black due to it being mounted as an installation in a historic jail. Images that I get from the music of "Passage" are of course very closely related to the content of Lynn's poetry which inspired the music. "Between Realties" always reminds me of the beach in Toronto where we hung with friends, did the field recordings and mounted the installation. When I abstract myself from the personal memories which inspired the pieces, I guess I see surreal alien landscapes.
Scott - As for favourite pieces, I'm still fond of "waveforms" because, as an infinite piece, whenever we set up the system and let it go, it's a new mix again. Last summer, after we performed a live internet concert for Atmoworks, we played "waveforms" live from the system for over 14 hours. It was cool to go to sleep with it oozing out of my studio and into the world through the internet connection and waking up to hear it still happily sloshing and sliding about.
Jamie - I rarely listen to our completed work once its done and my favorite piece is always the one I am working on at any given time. Once the piece is done, I've usually lived with it long enough and am ready to move onto the next one.
7. THE AMBiENT PiNG has turned out to be a very successfull music series. Tell me about it's beginnings and how difficult/easy it was to get it started.
Jamie - Scott was more involved in the early days, but for me the PiNG started when Scott and I met PiNG founder Arnold Sprogis while Scott was performing at a Planet of the Loops show. Scott had done his loop and joined me in the audience after passing the loop baton to Steven Sauvé when I commented that Steven's loop was very reminiscent of Terry Riley's "Rainbow In Curved Air" piece from the 60's. Arnold overheard and commented that he hadn't heard that LP in years and then began telling us about his plans for an ambient weekly. Within a few months, Arnold had started the PiNG and dreamSTATE played the third PiNG.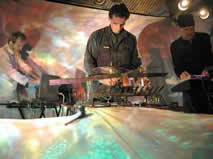 Scott - Arnold and soundscape artist Chris Hutton were planning a new weekly ambient performance event. I suggested that this new weekly should have it's own name. I was expecting something more obvious, like "Soundscapes", but Arnold came up with "THE AMBiENT PiNG", which I thought was terrific! It was a small and growing event but after half a year, Arnold had to step out to look after his mother, who had fallen very ill, and I ended up stepping in to keep it going. I began to book the artists farther in advance and initiated the flyers and schedules so people could see who was coming up and know that it would be a stable welcoming environment. The door charge was always minimal so the poorer artists and students could attend the shows too. An artistic community was growing and while at first it was hard to find many appropriate ambient/chillout artists, after a year it was hard to find dates to book all the artists who wanted to perform at the PiNG. Once Jamie started documenting all the shows with his digital camera, the PiNG website at www.theambientping.com began to blossom and it's become quite an archive of live ambient performance photos. The website and weekly postings to the main ambient newsgroups have made the PiNG a popular destination for many great interprovincial and international artists as well, which appreciate our open minded, appreciative audience. There's now been several hundred shows with too many highlights to mention - without making this interview even loooonger.
8. THE AMBiENT PiNG is presently attempting to go non-profit. Is this process difficult?
Jamie - Actually its just paperwork, register as a corporation and declare ourselves to be not for profit and then it's just a matter of not making any profits and playing by the rules.
Basically the PiNG has been a labour of love for Scott and myself and for it grow further we need some assistance. The PiNG has grown to be a community of like minded artists and for it to best represent the community it needs input from the community which is why we have been meeting with members of the community so that we all can have input into the shape of the PiNG's future. Its an evolutionary process and we are currently exploring many paths and options as we want the PiNG to continue to grow and to be a vital component to help us all expose our ambient adventures.
---
Part 1
Part 2
Part 3