Bedroom Bliss
By Anne Sulikowski
3 of 3 <Back
9. Does Pay WHat You Can work for music series like the PiNG?
Jamie - So far the PWYC policy has been very successful and our audience has been very generous in supporting the bands and the PiNG. Most nights, the performers are getting more than what they used to get from our old arrangement with C'est What/Club Nia when attendance was free and C'est What paid the bands a fixed amount plus a share of the bar. The biggest change for us is that we always have to have someone at the door now, but it has also allowed some bands to do a promo where they give away CD if you pay a minimum amount to get in. This works really well as the performer makes more and gets their art into more hands as a result.
10. What's your favorite tool for making ambient music?
Jamie - Right now, my fave is still Absynth. For the last few years, I've been working exclusively in the virtual soft studio as it has proven to be the most flexible sound making process I have ever experienced and there really is a revolution happening as a result of the soft experience. In years past, I was always limited by money and the architecture imposed by the synth manufacturers whereas now there are so many free and inexpensive alternatives it is mind boggling. Need a modular environment like an old Moog Modular, then build it in Reactor, if you can't afford Reactor then build it in shareware like SynthEdit or in beta software like Plogue Bidule. There really are no limits and as a result anyone with the inclination and a computer can make music.
Scott - Someday I'll be a laptop fiend like Jamie, but I still love my hardware synths - except when I'm hauling them to gigs and still wiring things up when Jamie's all set to go. I cook up my "signature" ambient sounds on the Roland JV series synths - particularly the JD-990 and XP-60.
11. You mention software, but what about your old music hardware, have you kept it?
Jamie - For the most part, once I'm attached to an instrument or piece of studio gear, I'll keep it as I have time and sounds invested in it. Every instrument is unique and its hard to part with old friends, so yeah I'm keeping my old synths and studio gear.
Scott - I've kept mine. After I put a little bit or a lot of my soul into programming sounds for an instrument, I want those sounds available to me when the time is right for them. The even older non-programmable beasts are the kind I've built a different sort of relationship with - I think about changing a sound and my hand just goes there. No menus, no pages - my hand just goes there.
12. So when was the last time you used those older tools to make music?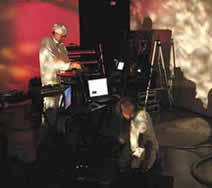 Jamie - At least a year, but its nice to know that they are still there although some are getting old and are in need of some tender loving care from a service technician. Again this is one of the reasons why I have retired so many of them to the studio and moved to the virtual world. I can always get a new computer and transfer my data, but getting parts for an old Roland or Korg is getting to be harder as time passes. Sadly some of those hardware synths will eventually die and getting parts will be impossible. To be totally fair though I am attached to some soft synths which have been orphaned and will never be updated to future operating systems, so this isn't just a concern confined to hardware. On the positive side though, there are soft emulations of older synths being created today which have the capability to load your sounds created on the hardware version, so fortunately the life of the sounds you have created on those machines has been extended as a result.

Scott - This week. Last week. The weeks before that... My oldest synths I use less for live shows due to the transportation problem but they give you their special characters when you warm them up and get your hands on them.

13. What other synths are currently part of your sound making palette?

Scott - My Nord Modular and Novation Nova come out for most of our shows and some older beasts like a Korg MonoPoly or Moog Modular make an appearance from time to time. Gear heads should see us now before I become a Laptop Borg too... My resistance is futile...

Jamie - Like I said Absynth is my go to synth most of the time although the soft emulation of the PPG Wave has been my fad when working with arpegiators. The drum machine in Reason (Redrum) is like an old friend as it is modeled on those early drum machines of the 80's. SynthEdit is a modular environment that allows me to tinker up and build just about any audio or midi toy I need. I'm also quite fond of the additive resynthisis approach of the Cameleon 5000 and the spectral capabilities of Plogue Bidule which have been fun, but baffling to experiment with. Ten years ago, I lusted after these synth capabilities, but could only afford to explore some of them, but now I can explore just about any approach to synthesis I want thanks to the soft revolution.

14. Do you have any dreamSTATE sound files available online?

Scott - Our website at www.dreamstate.to has mp3s for streaming or download plus live photos and such.

3 of 3 <Back
---
Part 1
Part 2
Part 3