!earshot picks for 2007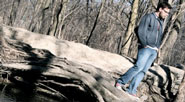 Scott Thomson
Music Director
2008 in Review
As the new year comes in, it time to look back at the musical year that was...
The '2008 Best of...' Playlists
The year-end playlist for friends and family is an annual tradition for many music lovers. !earshot takes a look at what a few of our friends and family from the music obsessed world of c/c radio are cooking up this year.
Weirdoes & Movie Stars: Bazooka Goes Bonkers In the O-EIGHT
By Bruno Mazzotta
Fader in the Key of Simultaneity
By Andrea-Jane Cornell
Meat's Sweet Treats
By Luke Meat
Picks and Pans 2008
Looking back at some of the best, the over-rated, local surprises and more...
New Shit
Jazz Notes with Jim
The Church of Noise
Jazz on the Rocks
I Am Collecting Beautiful Things
Nasty Jag Sound Crew
Canada Post-Rock
The Kitchen Sink
My Top 5 records of the year
Nothington - Roads, Bridges & Ruins - (BYO Records)
Their debut record, All In shows a band who was in love with Social Distortion. For better or worse, it was a disc that sounded somewhat familiar. With their new release, the band's sound has evolved into one of the most dynamic sounds in punk rock today. Primary vocalist Jay Northington's glass swallowing voice sounds amazing and the songs are some of the strongest I have heard all year. You can listen to the entire album here: http://www.punknews.org/bands/nothington
Chuck Ragan - Gold Country - (Sideonedummy)
Hot Water Music's Chuck Ragan has given us another stellar record of whiskey soaked songs. Much like his last record, Feast or Famine, his latest is filled with passion and sincerity. Songs like "Glory" or "Ole Diesel" are some of the years finest. Ragan proves again that "country" is not a dirty word. http://www.myspace.com/chuckragan
Frank Turner - Poetry of the Deed - (Epitaph Records)
While his followup to Love, Ire & Song may not be as strong, or complete, it is not without its charms. Turner sings with an honesty that few do. His songs will make you cry, laugh and rage; Often, all at once. Upon listening to "Dan's Song" for the first time, I almost had to pull over. Never before had a song so clearly spoken to me. If you are in your late 20's, directionless and somewhat angry at the world, this record is for you. http://www.myspace.com/frankturner
Dinosaur Jr. - Farm - (Jagjaguwar)
Releasing a new record after nearly 20 years of inactivity was hard enough for the recently reformed original line-up of Dinosaur Jr. 2007's Beyond was an unbelievable record. The band had not missed a step. Their followup, Farm is another huge success. It would seem everything this band does, in their comeback, works well. I can't possibly recommend this record more. http://www.dinosaurjr.com
American Steel - Dear Friends And Gentle Hearts - (Fat Wreck Chords)
Between this and Teenage Bottlerocket's latest, it has been a good year from Fat Mike and the rest of the crew at Fat Wreck. American Steel have created a record of much influence. Fusing sounds from the punk world, as well as from their more indie-friendly side, in their other band Communique, they have 12 of the most fun songs you will hear all year. The song "Emergency House Party" will have you singing along and spilling your drink within seconds. It features my line of the year: "With Pabst Tall Boys and all of my friends everything will be alright, if only for tonight."
Most under-rated record of the yearChris Wollard And The Ship Thieves - S/T - (No Idea Records)
The other half of Hot Water Music's vocal duo appear because Wollard has made a record that I did not expect to love this much. It is full of songs you feel like you grew up with. It is the most peaceful punk rock record I have ever heard. It is perfect for a dreary fall day, or a summer time hike in the woods. It is the record I have listened to the most in 2009 and it was released with little acclaim, outside of his HWM loyalists. In a perfect world, it would have been charting on stations across the country. http://www.myspace.com/shipthieves
Most over-rated record of the yearThe Hidden Cameras – Origin:Orphan - (Arts & Crafts) I have loved everything this band has ever released and leading up to listening to the new record, all I heard was about how great it was. After hitting play, I immediately wished I didn't. What followed in the next 45 or so minutes was not enjoyable in the least. The more I listened to it, the more I found myself disconnected to it. I admire a band who goes to bat with some new material, and adjusts their swing, but this was a huge strikeout in my eyes.
Best personal campus/community radio moment or experience of the year.Being the music coordinator at 100.3 Sound FM has been a great experience, but nothing is more enjoyable then being on air. Every Friday night, from 7:00 to 8:30, I would shake off the frustrations of the work week and play music as loud as the studio could take it. There were countless times where I would find myself singing and dancing around the empty studio.
Record you are most anticipating for 2009I am looking forward to the new Spoon record, Transference, which hits stores in mid-January. Outside of that, I am really looking forward to the new Gaslight Anthem disc next summer, Off With Their Heads' newest collection of songs The 69' Sound, and what ever the Arcade Fire have in store.