Reviews for Do Right! artists
Ivana Santilli
TO.NY
Dubbed as one of Canada's finest imports Ivana Santilli has had success with previous albums and her first ever group effort, Bass is Base. After all these years people still haven't... read more...
By Marc 'Oxide' LaCasse
Aug 10, 2008
Elizabeth Shepherd
Heavy Falls The Night
Elizabeth Shepherd has a number of Juno nominations for her keyboard work in the jazz field. Classically trained in Canada and France, she has headlined her own tours and has played keyboards for the Latin...
read more...
By Jim Dupuis
Mar 22, 2010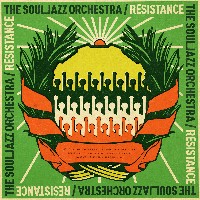 The Souljazz Orchestra
Resistance
Canadian Afro-beat and funk band Souljazz Orchestra have been at it for more than a decade and show no sign of slowing down. In fact, their latest album Resistance, seems to have invigorated the band...
read more...
By Steve Marlow
Nov 8, 2015