!earshot picks for 2007
Luke Meat
Music Coordinator, CiTR 101.9 FM, Vancouver, BC
Host, ANoiZE, Wednesdays, 11:30-13:00 PST www.citr.ca
I like to think of myself as a pleasant person.
Other Picks: The Alberta Report
Jazz Notes
Tell the Band to Go Home
Wednesday Evening Jazz
Meow Records
New Shit
ANoiZE
I Am Collecting Beautiful Things
Home Game
Charts & Graphs
Scene-ik Drive
Right On Time
The End of Silence
Rocketship Radio
Pirates of the Caribbean

TOP 3-ish RECORDS OF 2007
Hoo boy… I kinda became a re-issue curmudgeon this year. I'm going to include some of 'em, and some new ones as well. Re-issues first.
Algernas Tradgard – Framtiden är ett Svävande Skepp, Förankrat i Forntiden – (Silence)
Parson Sound – S/T –(Subliminal)
Trad Gras Och Stenar – S/T – (Silence)
International Harvester – Sov Gott Rose Marie – (Silence)
Harvester – S/T – (Silence)

This year saw a huge upsurge in interest in the Swedish psych-prog scene from the late 60's/early 70's … by me, I guess … mostly thanks to the book The Encyclopedia of Swedish Progressive Music 1967 - 1979: From Psychedelic Experiments to Political Propaganda by Tobias Petterson, released this year. The members of all of the aforementioned bands have worked with each other in some form and are primarily influenced by Terry Riley and Pink Floyd. Take a guess at how amazing they are. All albums have been re-released and are available in finer rekkid shops, but be warned: they ain't cheap.
The Velvet Underground – The Norman Dolph Acetate – (No Label)
Yeah, yeah …Vancouver ex-pat goes to New York, scores the rarest album of all time for 75 cents … sells it for 25 grand: we all know the story by now. However, the proper re-release of this unearthed gem reveals an even rawer sound than the already abrasive classic. The different lyrics on "Heroin" expose an almost needy side of Lou (and I'm not talking about his smack addiction), and the take of "Black Angels Death Song" should have wound up on the final print.
Alejandro Jodorowsky/Ron Frangipane/Don Cherry – The Holy Mountain Soundtrack – (Abkco)
Not only had the film not seen the light of day for 34 years, but there was no tangible version of the soundtrack to this wonderfully twisted, nightmarish film. Finally, they have restored both the film and the score (with a whole ton of other stuff) in a 6-disc box set that is very easy on the wallet.
Ed Askew – Little Eyes – (De Stijl)
Contemporaries with like-minded acid-folk guru Tom Rapp, Askew was known for his beautiful melodies composed on the "tipple," which he described as a "10-stringed instrument shaped like a baritone ukulele." "Little Eyes," recorded in 1970, sadly was never released due to the record label running out of money. It's out now, thanks the kind folks at De Stijl. Just buy it.
Now to the so-called "new"…
Pterodactyl – S/T – (Brah)
I hope this album is what caused Polvo to re-unite, not the undisclosed amount of money they're getting from ATP.
Explosions in the Sky – All of a Sudden, I Miss Everyone –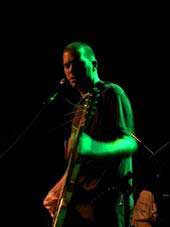 Rob Crow (Temporary Residence)
Godspeed, without the emperors.
Thurston Moore – Trees Outside of the Academy – (DGC)
The messiah of hip delivers a mellow, almost sensitive album that reminds us: between the feedback and cool of Sonic Youth, there lies some damn hooky pop songs.
Rob Crow – Living Well – (Temporary Residence)
Like Moore's album, this is another stand-out solo endeavour from a great band. The lead man of Pinback gives you an idea what Lou Barlow would sound like if he was in a Slint cover band.
Les Savy Fav – Lets Stay Friends –(French Kiss)
The world's funniest (and smartest) band schools us on what the "scene" has sounded like for the last 15 years, with their tongues planted firmly in your mouth.
Spoon – Ga ga ga ga ga – (Merge)
If Britt Daniel keeps topping album after terrific album, he might be justified in being such a dick.
MOST UNDER-RATED RECORDS OF 2007
Nurse and Soldier – Marginalia – (Brah)
Rhodes keyboard with distortion. Boppy beats. Lilting monotone vocals. Short songs. Lyrics about jilted lesbian love affairs. More hooks than a tackle box. Music you can do chores to and forget you're doing chores. The best release of the year.
MOST OVER-RATED RECORD OF 2007
Throbbing Gristle – Part Two: The Endless Not – (Mute)
I don't know if "over-rated" is the correct phrase. I think "Luke Meat's all-time favourite band delivers a pointless slab of unlistenable tripe" is a little more appropriate. Also the new Akron/Family sucks and blows at the same time. Oh yeah, and The Go! Team's new one is nowhere near as good as their first album. How could it be?
BEST LOCAL RELEASE OF 2007
Fond of Tigers – Release The Saviours – (Drip Audio)
Not only the best band in Vancouver, but damn nice guys as well. Funny, articulate, and they managed to blow Tortoise

Hoo boy... I kinda became a re-issue curmudgeon this year

off the stage with many numbers off of this release.
BEST PERSONAL C/C RADIO MOMENT OF 2007.
Curating the Dig Your Roots Creative Jazz CD and hosting the on-air performance. Mel K. rules.
Also, seeing the Meat Puppets reunion @ SXSW with Jay Hannley and the entire CJSR crew. It was the second day of the five-day fest, two o'clock in the afternoon, on the second floor in a steamy pub with giant picture windows that turned the bar into a giant greenhouse. The Kirkwood brothers proved to not only be long-forgotten heroes of the Austin music scene, but one of the best live acts ever.
Oh yeah, CiTR did some kinda conference thing in June. I don't remember anything other than not sleeping, getting yelled at, and yelling back a lot.
MOST ANTICIPATED RECORD FOR 2008
Black Mountain – In the Future – (Jagjaguwar)
I gotta call myself an asshole for this, because I've already heard it. If this record does not propel you into a state of Magma/Mountain/Mammoth bliss, I'm gonna come lookin' for ya. The future is now.