!earshot picks for 2007
TOP 10 RECORDS OF 2007
1. Panda Bear – Person Pitch –(Paw Tracks)
2. M.I.A. – Kala – (XL)
3. The Besnard Lakes - The Besnard Lakes Are The Dark Horse – (Outside/Jagjaguwar)
4. Of Montreal - Hissing Fauna, Are You The Destroyer? – (Polyvinyl)
5. Animal Collective - Strawberry Jam – (Paw Tracks/Domino)
6. Caribou – Andorra – (Merge)
7. Menomena - Friend and Foe – (Barsuk)
8. Battles – Mirrored – (Warp)
9. Robert Wyatt – Comicopera – (Domino)
10. Band of Horses - Cease To Begin – (Sub-Pop)
MOST UNDER-RATED RECORDS OF 2007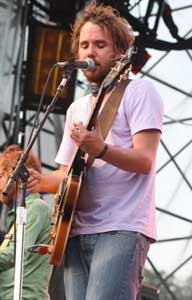 Kevin DrewKevin Drew - Spirit if…­ - (Arts & Crafts)
I was hesitant to give this album a chance at first, but it turned out to be a very solid effort that deserves some recognition.
Lee Bob Watson – Aficionado! – (Grass Roots Record Co.)
Fantastic record that covers so many styles and tastes. A record that went essentially unnoticed.
MOST OVER-RATED RECORD OF 2007
Patrick Watson – Close To Paradise – (Secret City) (no offence to Secret City)
Can anyone sing one of his songs to me?
Spoon – Ga Ga Ga Ga Ga – (Merge)
*See Patrick Watson
BEST LOCAL RELEASE OF 2007
Maybe Smith – Animals and Architects (Sir Handsome Records)
Colin Skrapek's

Can anyone sing one of his songs to me?

fifth release is a wonderful display of his catchy/thought provoking electro/pop prowess. Humble yet confident, upbeat yet emotional, Colin has earned his place as one of the best pop songwriters in Canada and deserves the world's ears.
BEST PERSONAL C/C RADIO MOMENT OF 2007.
My personal best community radio experience of the year has got to be CFCR's relocation to their new headquarters at the top floor of a beautiful heritage building in downtown Saskatoon.
MOST ANTICIPATED RECORD FOR 2008
One word: DOOM