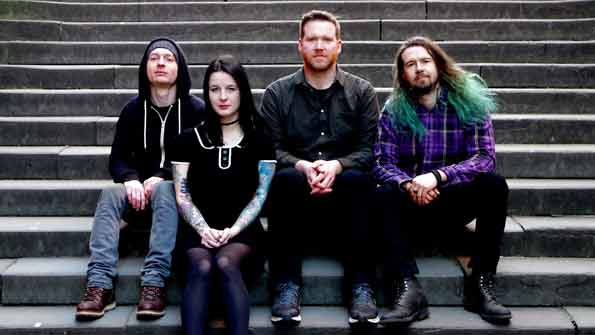 Svalbard
Best of 2018: Myles Gregory
Share your choices in the comments...
My name is Myles Gregory, I host Broken Glass every Sunday night at 9pm. It's live on CFBX, 92.5FM in Kamloops, B.C. or thex.ca
It is an hour of punk, hardcore & associated genres
Twitter may be the best online way to reach out; @theycallmemylo
My Top 10 records of the year
Svalbard – It's Hard to Have Hope – (Holy Roar)
This has been a staple for the year. Everything about this is exactly what I love about music. Powerful & melodic, great vocals, lyrics. It set the pace for 2018.
https://svalbard.bandcamp.com/
Petrol Girls – The Future is Dark – (Hassle)
The first of two Eps on my list. It takes a lot for an EP to make it a step above full albums. Petrol Girls have three fierce songs forming a solid 14 minutes. The depth of the lyrics is top for the year.
https://www.facebook.com/Petrolgirls/
Towanda – Freak of Nurture – (Girlsville)
The fourth release from Montreal's Towanda does not disappoint. After seeing them live in 2017, I was looking forward to the new EP. They were even kind enough for another large tour in 2018.
https://www.facebook.com/towandaband/
Territories – Territories – (Pirates Press)
This release had me seriously debating a trip to Calgary. It would have been a very long drive, but a ridiculous album release show. I'm not saying who they are, you should just check this out. Straight up amazing Canadian Punk.
https://territoriescalgary.bandcamp.com/
War on Women – Capture the Flag – (Bridge Nine)
Along with a great album, they also released an acoustic EP later in the year. The acoustic renditions of some new tracks highlighted the beauty of the music.
https://www.facebook.com/WarOnWomen
No Problem – Let God Sort 'Em Out – (Deranged)
Another outstanding release from Canada. No Problem is out of Edmonton, and this LP is their 7th release. Great energy for the album and live performance.
https://noproblempunk.bandcamp.com/
No Statik – Mysterious To Ourselves – (Iron Lung)
It didn't strike me as one of my heavier favourites until I was reviewing this month. Highly recommended. They also released an EP earlier in the year.
https://www.facebook.com/nostatik/
Lié – Hounds – (Mint)
To my surprise, my only Top 10 release out of Vancouver, B.C. Another excellent LP from start to finish from a band that works hard on releases on touring.
https://lievancouver.bandcamp.com/
Gouge Away – Burnt Sugar – (Deathwish Inc.)
Simple & enjoyable. Another album that is supported from start to finish.
https://gougeawayfl.bandcamp.com/
Murder By Death – The Other Shore – (Bloodshot)
This doesn't flow with the others on the list. But Murder By Death have released another music masterpiece that needs to get some attention.
https://murderbydeath.com/
Best local release
Bootlicker – Who Do You Serve? – (Slow Death)
There are some amazing musicians in Kamloops. And this year, my favourite release goes to Bootlicker. Their second EP, Who Do You Serve?, came out in July. Along with great songs, they are also a hard working band with numerous local shows and quite a bit of touring this year.
Best live shows you saw this year
No Problem, Bootlicker, Policy of Truth, Zack's Coffee (Kamloops, B.C.), August 17th
All three bands released solid albums in 2018, and it was great to have No Problem tour through Kamloops again. Just a night of great bands, music & people.
Dead Soft, Pooched, Outpatient, Zack's Coffee (Kamloops, B.C.), April 26th
Pooched released an amazing EP in 2018, and Outpatient is easily my favourite band out of Kamloops right now.
Record(s) you are most anticipating for 2019
The Black Halos, Petrol Girls, Torso, In Flames, and whatever Slow Death Records has lined up…hopefully more from Outpatient. And I'm serious about The Black Halos, Billy has been teasing online for a while.
Any other thoughts, opinions, rants,
It honestly was a great year for new albums, and I don't say that every year. It is going to bother me if I don't mention the new EP from The Fallout – Raise Your Flag – (Rebel Time Records). This is another crucial new Canadian punk release.
comments powered by

Disqus