SXSW 2006 Keynote - Neil Young
Neil Young didn't come to play but instead to talk about his new film with Jonathon Demme and work of creating music
By Kate Pasieka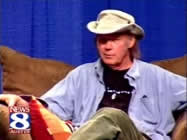 Neil Young gives the keynote at SXSWNeil Young came to talk about music and writing and creating. Perhaps that's why so many festival attendees woke at the crack of 9:30 a.m. on Thursday and packed the Austin Convention Centre to hear Young and Jonathon Demme interviewed by Harp magazine's Jaan Uhelszki. It was hard not to feel the audience's adoration for Young. He spoke at length with his mildly grumpy humility about his success and how he's mastered the creative process over the course of his 40-year career.
"More than anything I am a reflection of what I see. I don't know how to talk about my relation with writing music, I just can't seem to stop," said Young. "Now and then there are breaks and then it's like a dam bursts, whereas before I wrote all the time. I don't know where it comes from…some stream of consciousness. I just know that I can't analyze it, I can't think about it too much."
When asked if he gets any physical signs that lead him to writing, Young noted, "You can trick the songs into

If you try too hard you're gonna lose - you can't correct yourself.

coming by making a nice place for them." But he claims his stroke and near-death experience had little effect on stimulating his creative process. "For me it's like a caged animal, so I try not to scare it away. If I get too close, it's going to run away…you can't hunt for it. You've gotta let your creativity flow without being judgmental. If you try too hard you're gonna lose – you can't correct yourself. When it's done it's done…when you're in the studio just keep the tapes going, don't try to edit [anything] when it's in its pure form."
Interestingly, Young said he relates to what Bob Dylan said about writing 'Times Are a Changin' with this quote – "You can't be who you were – be now – sometimes it's confusing."
When Young first mounted the live musical theatre production Greendale in West Palm Beach, Florida, he revelled in dealing with the public's mixed reactions. "People thought it was unprofessional and that's what I was going for. The whole thing was so new. It felt good because the crowd actually stood up and cheered for 10 minutes at the end of the show. I was so validated, I could come back out and do stuff like Cortez the Killer," said Young. "When you're terrified doing something new – it's great, it's good to be scared. I read USA Today saying people felt ripped off when they saw the Greendale because I didn't do particular songs – and I knew then I was on the right track! I knew I was doing the right thing. We're all barometers for each other."
In

When you're terrified doing something new - it's great, it's good to be scared

discussing the roots of Prairie Wind and his influences, Young explained how Canada is a very big country where many people are raised on country music. And he sees country music as one of the ways that connects Canadians across such a great expanse. "We watched all those country shows up in Canada, like the Grand Old Opry," said Young. "So the roots of my songs are definitely there."
Meeting Crazy Horse was a pivotal moment and one that Young credits for his change in musical direction at the time. "I didn't really get the rock 'n roll thing until I heard Jimi Hendrix and Jimmy Reid. Then I met the guys in Crazy Horse and something happened."
Always resolute in his convictions, he confirmed his struggles with commitment – of all kinds. "With writing, you can't have commitments. Commitments are one of the worst things for making music," said Young. "You cannot let yourself get distracted – no matter – you're responsible to your muse. Forget what you're doing. Isolate yourself."
---
SXSW - Neil Young talks
SXSW - Day One Pt1
SXSW - Day One Pt2
SXSW Day Two
SXSW Day Three
SXSW Day Four
SXSW - Beastie Boys get silly