SXSW - South by Southwest 2006
Four Days, 1400 Bands, All Access: Kate Pasieka follows the action at SXSW
By Kate Pasieka
Great Lake Swimmers
Mendoza Line
Dr Dog
Centro-matic
Rosanne Cash
Lyle Lovett
Bosque Brown
SXSW 2006 - Day Four - March 18, 2006
Back at the Red Eyed Fly on Red River Street , it didn't matter how haggard and wrinkled one appeared, you could always count on an ID check. This was somewhat of a novelty at first, but a bit tedious by Saturday. Nonetheless, it was worth the hassle given the chance to hear Toronto's Great Lake Swimmers

The moment was so genuinely heartfelt and sweet even the guys around me were somewhat dewy-eyed by the end of the song

as part of the Misra Records showcase. Their folk rock was the perfect afternoon anecdote for this traveller's tired feet. They were followed by Brooklyn's Mendoza Line who were also showing signs of SXSW wear and tear. Thankfully a few bloody Caesars helped them rise to the ocassion of their politically thoughtful strands of rootsy rock. The fiddle gave their sound some distinction along with Shannon McArdle's fresh vocals on 'Water Surrounds' and 'Golden Boy' off 2005's Full of Light, Full of Fire. Timothy Bracy's vocals were generally less unique given the well-trodden Bob Dylan sound he cultivates in songs like 'Rat's Alley' and 'Catch a Collapsing Star.'
Sitting throught Philadelphia's grateful dreadful Dr Dog was the price one had to pay to secure a good position to hear the final spot that afternoon with popular Texans, Centro-Matic. Thankfully, they didn't disappoint even if they have been mining Son Volt territory for the last decade. There were some great harmonies on 'Calling Thermatico,' one of many great songs off Fort Recovery, their latest release on Misra Records. 'Covered Up Mines' and 'I See Through You' were equally rich in feedback and yearning Americana. Ending an unusually long set compared to the rest of the week, lead vocalist and guitarist Will Johnson invited a female fan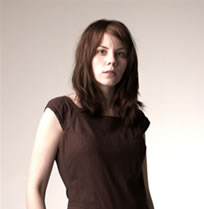 Bosque Brownonstage to sing one last song. Up she came with beau in hand and before long another marriage proposal unfolded on bent knee before a well-packed house. The moment was so genuinely heartfelt and sweet even the guys around me were somewhat dewy-eyed by the end of the song.
Later that evening outside at Stubb's, Roseanne Cash brought the country home to Austin with songs like 'Seven Year Ache' and was even joined by Lyle Lovett on a couple of numbers. A definite treat in spite of sometimes poor mic levels.
Bosque Brown's Mara Lee Miller from Fort Worth, Texas alt-country delivered some of the most mournful tunes a la Chan Marshal on acoustic guitar. Accompanied by her sister Gina on keys and some mostly wonderful backups, when the ill-conceived booking of a much louder act next door wasn't taking its toll on the sweet harmonies offered. Poor Mara Lee looked as sad as her songs at times, considerably pissed off by the end of the set. Still there were many poignant moments with the drums, bass and the occasional slide guitar. The band was not particularly tight or polished at times but this singer-songwriter is worth keeping your ears out for.
---
SXSW - Neil Young talks
SXSW - Day One Pt1
SXSW - Day One Pt2
SXSW Day Two
SXSW Day Three
SXSW Day Four
SXSW - Beastie Boys get silly