SXSW - South by Southwest 2006
Four Days, 1400 Bands, All Access: Kate Pasieka follows the action at SXSW
By Kate Pasieka
Castanets
Magneta Lane
Charles Bissel of Wrens
The Ponys
SXSW 2006 - Day One afternoon - March 15, 2006
March 15, 2006, and it's outside at Austin's Red Eyed Fly bar for the wistful experimental Americana of San Diego's Castanets. With only lead vocalist Raymond Raposa on guitar and one other band member on stage, we were treated to only a sampling of last year's First Light's Freeze on Asthmatic

How could this happen at one of America's premiere music showcases -- no wake-up call at the sad boys' motel?

Kitty Records. How could this happen at one of America's premiere music showcases -- no wake-up call at the sad boys' motel? At least they gave us a brief sample of some of Raposa's mournful balladry, at times mastering an interesting blend of banjo, sampled effects and electric guitar feedback.
Over at Emo's Annex, Curra's Grill served up some excellent Mexican food while Toronto's Magneta Lane nervously blasted through their set including popular tunes 'Broken Plates' and 'Artistic Condition' off their 2005 release Dancing with Daggers. Perhaps it was the too-early-in-the-day sobriety, but Lexi Valentine seemed intent on ending the set after only four songs. Eventually, her vocals got their due in the mix and out came her punk rock swagger on 'The Constant Lover,' while Nadia did a fine job asserting her drumming prowess on '22.' Unfortunately, French's bass amp crapped out slowing down their sonic assault of an ending.
Inside Emo's was another nervously played set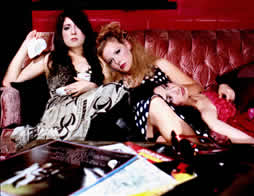 Magneta Lanefeaturing Charles Bissell of the Wrens. Struggling perhaps with too many pedals Bissell still pulled off the full effects of his alternating hushed vocals and full-out hard rock sound on 'Lions,' 'James I Wanna' and 'Exhausted.' Blending less heard solo material with classic Wrens tracks including 'Everyone Choose Sides' and 'I Guess We're Done,' Bissell gave the audience a good demonstration of his incredibly catchy guitar hooks. Too bad the rest of the Wrens weren't along for the ride.
Packing in the audience at Emo's Main was Chicago's post-punk Cure revivalists The Ponys. Thankfully, the live setting showcased a more energetic and interesting mix of their chunky power chords and pulsating feedback on 'Glass Conversation,' 'I'm With You' and 'Shadow Box' compared to their sound on the 2005 release Celebration Castle. Even so, 'We Shot the World' still sounded like an absolute rip-off of Joy Division's 'Love Will Keep Us Apart.' Noteworthy was Jered Gummere's inventive organ playing using various body parts including his bum.
---
SXSW - Neil Young talks
SXSW - Day One Pt1
SXSW - Day One Pt2
SXSW Day Two
SXSW Day Three
SXSW Day Four
SXSW - Beastie Boys get silly