SXSW - South by Southwest 2006
Four Days, 1400 Bands, All Access: Kate Pasieka follows the action at SXSW
By Kate Pasieka
Illinois
Silversun Pickups
The Grates
Phosphorescent
Hawk and Handsaw
Arctic Monkeys
We Are Scientists
Tapes n Tapes
SXSW 2006 - Day Three - March 17, 2006
Filter Magazine's Fridayday party on Creek Street had a good start with newcomers Illinois, cleverly mining Jeff Tweedy vocal territory.
Angst ridden indie rockers Silversun Pickups from Los Angeles were quick to follow with songs "Kissing Families" and "Comeback Kid" off debut release Pikul. This four piece delivered a great bass heavy sound with enthralling melodies and guitar hooks that kept the audience wanting more. Brian Aubert, who sounds almost like Courtney Love back in the days of Hole, whipped the audience up with some well-positioned tempo changes and full out thrash – something to behold in a live set at 2 in the afternoon. Definitely want to hear more of this band, so here's hoping they'll be touring up in Canada.
The Grates from Australia did a fine job of keeping the fun times rolling at Filter Mag's party while showcasing their spirited punk pop. Lead vocalist Patience charmed the audience with her aerobic stage antics on favourite songs "Trampoline" and "Sukkafish" off last year's The Ouch. The Touch debut EP.
Over at Yard Dog's Bloodshot Records day party was the always-entertaining Meat Purveyors

Why don't you take a shit on the stage and see how they lap that up...

who played some of the finest foot stomping contemporary bluegrass at the fest. Near the end of their set, stand-up bassist Cherilyn DiMond exclaimed that her boyfriend had just proposed marriage to her. After much kissing and audience cheering they wound up the set with lead vocalist Jo Walston looking for her next hubby to come along too. Oddly, this was not the only onstage proposal this week – but more on that later – see Centro-Matic's review.
In the evening, many folks headed to Maggie May's to see Phosphorescent from Athens Georgia, headed up by singer-songwriter Mathew Hough, a lo-fi Bob Dylan of sorts. Joining Hough were 10, sometimes more, musician friends including three or four horns, two drummers, bass guitar, and a few percussionists. Sadly, it was all a bit too wayward and weary – with Hough's incredibly whiny voice and at least one off-key horn spoiling the intended effect. Hopefully, some touring and a paring down of instruments will solidify their sound by the time they make it our way.
At the theatre space Blender Bar at the Balcony, was Albuquerque, New Mexico's Hawk and Handsaw led by Jeremy Barnes of Neutral Milk Hotel. Not only did Jeremy mash out some fantastically unique Euro gypsy tunes on his accordion accompanied by an amazingly talented female violinist, his hat was adorned in bells and a drum stick that he adeptly used to hit the high hat cymbal. With yet another drum stick taped to his thigh, he managed to hit another cymbal all the while drumming on snare, bass and drum heads with his foot pedals. Definitely one of the more amazing acts this week. Anyone who enjoyed DeVotchka or Gogol Bordello, will most likely enjoy the fantastic instrumental offerings on the 2005 release Darkness at Noon.
Then it was over to the packed La Zona Rosa for the chartbusting Internet music phenoms, the UK's Arctic Monkeys .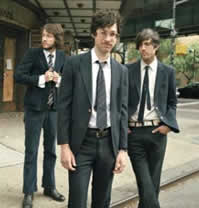 We Are ScientistsCould all the hype for this four piece punk dance rockers really be warranted? Their meteoric rise has fostered a cynicism they find hard to hide. "Why don't you take a shit on the stage and see how they lap that up…" sneered the drummer at one point. Even though most of the disdain coming from impish lead man Alex Turner was directed at the photo hungry press and plethora of music industry types in the audience, he was brimming with snide appreciation for anyone who actually did help get them where they are today. As varied as some of their hook laden material may be – from "You Look Good on the Dance Floor" to "The View From the Afternoon" it will be interesting to see if their anticipated five-song EP coming out in April furthers their intense popularity. When all was said and done, they served up all the audience requests including "Perhaps Vampires Is a Bit Strong," and added one noteworthy unreleased song for any skeptical US label reps. We Are Scientists lead singer Keith Murray also joined them on guitar for a rousing version of "Fake Tales of San Francisco."
A rather quick exit took us over to Latitude to hear most of Minneapolis' Tapes n Tapes doing their Pixies/Pavement thing, featuring songs off their debut cd The Loon. Looking like a humble bunch of farm boys, they somehow pushed and pulled the audience through a blistering set drawn from their latest release in spite of snare drum problems – how can a life-time guarantee from Guitar World have gone so very wrong? In the end, no one got hurt. The band persevered - showing everyone just how tight their set could be, even in the face of technical difficulties.
---
SXSW - Neil Young talks
SXSW - Day One Pt1
SXSW - Day One Pt2
SXSW Day Two
SXSW Day Three
SXSW Day Four
SXSW - Beastie Boys get silly