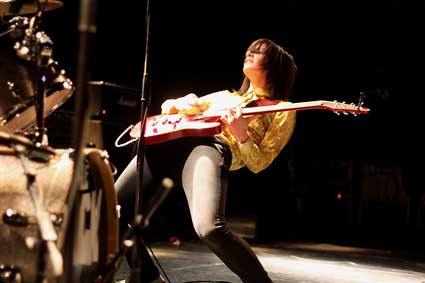 Becky Black of The Pack A.D.
The Best Live Shows of 2014
There were some wicked live shows this year...
Some shows really do stand out. The Pack A.D., BadBadNotGood and Shooting Guns came up more than once in our totally unscientific survey of the best live shows of 2014.
We want to hear from you. Add your best live show of 2014 in the comments.
Jim Dupuis CFBX , Kamloops, BC
Jazz Notes – Wednesdays 5-7pm
Tough to pick one, but it's between Nick Cave at the Orpheum and Arturo Sandoval at the Vogue Theatre
Glen Ess - CIVL- FM Abbotsford BC
Rhythm & Rhyme - Tuesdays 11am to 12 noon
May 25th saw Mogwai close out their Rave Tapes tour at the Vogue, in Vancouver. The band put on an absolutely fantastic show, it was incredibly intense and loud, oh so very loud. A fantastic show narrowly beaten out by Interpol's show at the Commodore on September 15th. The band, now a trio instead of the quartet they'd been for years, put on a magnificent show, full of charisma and verve; they did a great job playing songs from Antics and Turn on The Bright Lights, the two albums that brought them to prominence over a decade ago while also blending in tracks from their 2014 release, El Pintor with ease, delighting fans both old and new. It was even more memorable a performance because it was the first time that "My Blue Supreme" was played live. Oh, and Paul Banks smiles on stage now. Which is nice.
Brian Cleveland - !earshot 20, The Mixed Tape
!earshot 20 - various stations across the country
BadBadNotGood at Halifax Pop Explosion
Magnus Thyvold - !earshot editor, CJSF Vancouver
Pop_O-Pie Planet, Thursdays (alternationg) 6-8pm
The Pack A.D. at the Rickshaw Theatre. I have seen The Pack A.D. a few times now an the never fail to put on a raucus, kick ass show. Their stage banter is funny and more than anything they seem to be having a great time.
Max Szyc
Agalloch, Mavericks, July 3, Ottawa
While long-running folk metallers Agalloch playing their first ever Ottawa show this year was amazing enough, it was even better seeing just how on-point the Portland-based band was. Whether it was playing thundering black metal or gloomy mid-paced folk, Agalloch just sounded better than any band I saw in 2014. Plus their added incense notably made it the best smelling one.
Website: https://www.facebook.com/AgallochOfficial
Twitter: https://twitter.com/agallochband
Matt Simmons - Interrobang CICK - Smitthers, BC
Interrobang - Tuesdays 9:30-12 PST
Interrobang After Dark - Wednesdays 9-11pm
The Pack A.D. at Midsummer Festival, in Smithers. Despite playing to a crowd who really didn't know how to rock out, those two ladies killed it.
Mitch Jascson - CKCU - Ottawa, Ontario
National Hum - Tuesdays 2-3pm
Viet Cong at Raw Sugar Café in Ottawa. This was a week in which Ottawa Bluesfest occupied the city and anyone who wanted to go see music at the festival were mostly thrown off by the corporatism and loudmouthed drunk frat bros. This show came as a nice relief from that volatile atmosphere, cramming a bunch of locals and the Mac DeMarco band into this packed café to witness a band that many consider to be the best in Canada. Good vibes only.
Alan Ranta - Exclaim, Georgia Straight, Vancouver, BC
Badbadnotgood at Venue on August 12… It's not just internet hype. Those cats can really swing. Also, coming to this show right after Shambhala was a hell of a palette cleanser.
Owen Maxwell - CKCU - Ottawa, ON
Theme Songs - Mondays at 10am
Vintage trouble @ Ottawa Bluesfest
I saw many of my heroes for the first time in concert this year, all top 10 concerts ever. Inlcuding Jack White, Queens Of The Stone Age, Arcade Fire, The Arctic Monkeys, and St Vincent. But if one show this year blew me away it was the unknown Vintage Trouble, a band with a 50s soul rock look, sound and attitude. But what set the show apart was singer Ty's antics, frantic dancing, constant call and response (from his time as a preacher) and running through the crowd while continuing chants, even while climbing around a sound scaffolding tent. Insanity doesn't begin to describe it but it was the closest I've come to a religious experience.
Frin Flynn - Station Manager, CHUO-FM, Ottawa, ON
Screaming Females opening up for The Julie Ruin in Montreal in April!
Agnes Obel @ the Blacksheep Inn in February.
Little Scream @ WUFest in November @ Blacksheep Inn.
Aaron Levy - Station Manager, CIVL-FM, Abbotsford, BC
The WPP reunion at the Cobalt in Vancouver Dec. 19 with B-Lines
Run the Jewels in August at Vancouver's the Biltmore
Oh No! Yoko at a house party in Montreal on St Albert
Kin (formerly Trevor Blaak) from Abbotsford, many times over the year, always a stellar show
Jay Hannley - Station Manager, Kootenay Co-op Radio, Nelson BC
Solids / Shooting Guns / Animal Faces
June 18, 2014
Live to air concert in the Basement of Kootenay Co-op Radio. We put this bill together with two of our favourite canadian bands who happened to be crossing eachother's path's through Nelson BC. Intimate show with 30 or so people, that blew the roof off the place. The Next Day both bands were long listed for the Polaris.
Aaron Trozzo - CKXU-FM, Lethbridge, AB
We did a Love & Records Encore show at The Slice on June 19th with Shooting Guns and two rad bands from Lethbridge --> The Yeah Dads and Robotoroboros (RIP). It was the sweatiest, grossest, loudest thing I think I've ever seen at The Slice.
comments powered by

Disqus