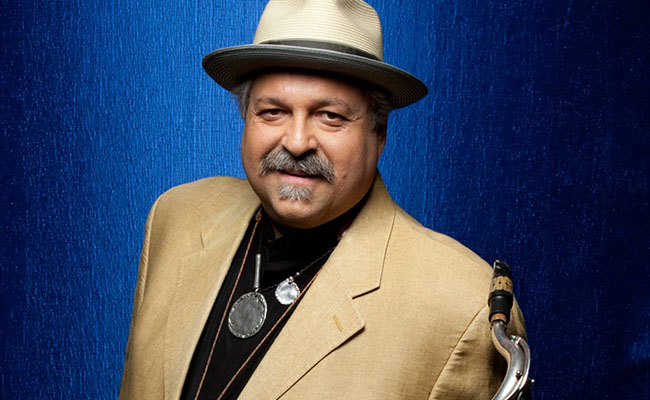 Joe Lovano
Jim Dupuis' Best of Jazz 2016
A look at some of the best jazz had to offer in a very good year.
Canada's vibrant jazz scene doesn't get nearly the attention it deserves from Canadian media. Regular contributor Jim Dupuis has been waving the flag for Canada's young jazz musicians for years with his radio show on Jazz Notes on CFBX-FM in Kamloops, BC and with regular contributions to !earshot.
Share your choices in the comments...
Jim Dupuis, host of Jazz Notes. This show is in its 16th year at CFBX-FM in Kamloops, BC. Jazz Notes presents a high percentage of new jazz-like music and classic tracks which complement it. The Big Easy Gumbo segment provides a stage for traditional jazz and stories. Jim interviews people in the music industry that usually have a connection to jazz. The interviews are aired on Jazz Notes and some are transcribed and packaged as features for publications, primarily earshot-online.com.
My Top 10 records of the year
Best 10 of 2016 Jazz Mainly Instrumental
1. Joe Lovano Quartet -- Classic! Live at Newport -- (Blue Note)
Sax player Lovano recorded this performance in 2005 at the Newport Jazz Festival and finally put it out this year. It includes the late Hank Jones, then in his eighties, who still had his chops. Veteran bassist George Mraz and Lewish Nash on drums round out a superb quartet. Every track is a gem and Lovano and Jones make magic together on Oliver Nelson's"Six and Four." Mraz struts his stuff on the Parkerish "Bird's Eye View" and Nash keeps a steady beat throughout. Maybe you aren't supposed to anoint your own album 'classic" but when it's the truth, that's okay by me.
http://www.joelovano.com/
2. John Stowell Michael Zilber Quartet -- Basement Blues – (Origin)
Stowell and Zilber play together fairly often and it shows. Here they combine to give us a dreamy, bluesy collarboration of mostly original tunes. The bluesist tracks are Basement blues and Violin Memory. Their covers of Jerome Kern's "Nobody Else But Me" and Bill Evans' "Very Early" are exquisite. The rhythm section of John Shifflett on bass and Jason Lewis on drums are tasked with keeping up with these two and succeed admirably.
http://www.michaelzilber.com/
http://johnstowell.com/
3. Alexis Baro & the Pueblo Nueve Jazz Project -- Sugar Rush -- G-Three Music
Cuban born Toronto based Baro has the Afro-Cuban jazz fusion down to a science. He shows his versatility with the trumpet and flugelhorn by playing a variety of tempos on the title track and in a few others. He shows off his ballad work with the flugelhorn on "Please Believe Me." Great percussions, great horn section and an inspired leader make this the best Latin CD I heard this year.
http://www.alexisbaro.com/
4. Renee Rosnes -- Written In The Rocks -- Smoke Sessions
Rosnes combines her interest in earth sciences with her musical passions. The interplay between her piano, Steve Nelson's vibes and Steve Wilson's reeds makes for a delightful geology lesson and the rhythm section of Peter Washington on bass and Bill Stewart on drums goes beyond backing and provides some volcanic eruptions to set it all off.
http://reneerosnes.com/
5. Cuong Vu Trio & Pat Metheny -- Cuong Vu Trio Meets Pat Metheny – Nonesuch
Usually it's Metheny doing the hiring. In this case, trumpet player Vu happens to be his old boss. Vu shows off his chops in his foray into the fusion world of electric Miles as in "Acid Kiss." Metheny shows his dexterity with some fast playing in "Not Crazy" and demonstrates his ballad work in"Seeds of Doubt."
http://www.cuongvu.com/
Pat Metheny (@PatMetheny) | Twitter
6. Threes Company -- We'll Be Together Again – (Chesky Records)
The great bassist Ron Carter teams ups with veteran sax player Javon Jackson and drummer Billy Drummond on this outing. Lots of classic bop here as in "My Man Hubbard" and a Monk cover, but their version of the Jimmy Van Heusen ballad "But Beautiful" steals the show.
http://www.chesky.com/artist/threes-company
Ron Carter (@FTRNFoundation) | Twitter
7. Andy Brown Quartet -- Direct call (Appel direct) – Delmark
Lots of good guitar albums this year, but I keep coming back to Brown. The Chicago area guitarist gives us fast swing, covers of Joe Pass, Jobim and the title track, a cover from Grappelli and Reinhardt. Throw in some Ellington and Hank Mobley and you have a fine display of guitar work.
http://www.andybrownguitar.com/
8. Metalwood – Twenty -- Cellar Live
They only do a CD once every 20 years, so it has to be good—and it is. This fusion packed delight gives equal prominence to all the talented band members. Some standouts are Brad Turner's Milesy trumpet on "Gargentua" and Chris Tarry's bass in many places including "Extra Salty." Mike Murley on reeds and Ian Froman on drums round out this stellar group. Let's have the third CD a little sooner, please.
http://www.coastaljazz.ca/metalwood_cd_release
http://www.coastaljazz.ca/brad_turner_quartet
9. Tim Davies Big Band -- The Expensive Train Set – Origin
Band leader, composer, arranger, and drummer Tim Davies from Australia, has 4 tracks from his Australian band and 4 tracks from his L.A. band. He has them together on one track. This contemporary big band CD has lots of fireworks. "Minor Incidents" could fit into a movie or television sound track and most of the rest showcases the ample talents of the band members. Yes, the big band is alive and well!
http://www.timdaviesbigband.com/
10. Yair Loewenson Trio and Mark Turner -- Old Bottles New Wine – Independent
The much-travelled multi-instrumentalist Loewenson adds the sax of Mark Turner to his trio. While bop is the main course ("Parkeritis" and "Davka") with Turner leading other tracks such as "Four on Six" and "Strings" show off Loewenson's talents. A nice surprise from an independent production.
http://www.yair-loewenson.com/
https://markturnerjazz.com/
Best of 2016 Jazz Mainly Vocal
1. Gregory Porter -- Take Me to the Alley – (Universal Music)
The behatted one has emerged as the best jazz vocalist of his generation. Here he includes jazz, gospel, R&B, hip hop and pop. He's good enough that he could get away with all of them in one CD. He also includes a couple of duets. My favourites are the piano ballad "In Fashion" and the gospely, organ infused "Don't Lose Your Steam."
Gregory Porter (@GregoryPorter)
2. Norah Jones -- Day Breaks – (Blue Note)
Jones has explored a variety of genres since her breakthrough CD Come Away With Me. She has returned to this formula and recruits heavyweights such as Wayne Shorter, Brian Blade, John Patitucci and Dr. Lonnie Smith. Highlights include a cover of Horace Silver's "Peace" and her smoky voice prevails on the opening track "Burn." Day Breaks also includes covers from Ellington, and Neil Young.
http://www.norahjones.com/
Norah Jones (@NorahJones) | Twitter
3. Susie Arioli – Spring – (Universal Music)
Arioli is consistently good and this CD is no exception. This time she teams up with some of Canada's elite musicians including Don Thompson, vibes and piano and trumpeter Kevin Turcotte. While jazz classics such as "Loverboy" and "Travelin' Light" shine through, she summons her inner Patsy Cline for "Can't Say No" to great effect. This is a very enjoyable CD.
http://susiearioli.com/en/
4. Bria Skonberg – Bria – Okeh
The young Canadian is wowing them in New York and elsewhere. This CD could be classified in either category as she is a good trumpet player and a good vocalist. She is now signed to Okeh Records (a division of Sony), which means she now gets to have Stefon Harris, Aaron Diehl and others on her CD, although happily she includes fellow Canadian reed master Evan Arntzen. There is plenty of variety on this CD. Her roots are in traditional jazz and she includes the Sidney Bechet composition "Egyptian Fantasy" She is always full of fun in performance and her vocals shine through on "I Was a Little Too Lonely (And You Were a Little Too Late)."
http://www.briaskonberg.com/
Bria Skonberg (@briaskonberg) · Twitter
5. Kinga -- Guess Who I Saw Today – (Independent)
Formerly, one of Bill King's "Divas," Kinga has assembled a program of jazz classics and R&Bish songs that show off her wonderful voice. Highlights include the title track, "What a Difference a Day Made and the Bill Withers classic "Ain't No Sunshine." Some of Toronto's best appear and Bill King's piano and gorgeous arrangements are as always, superb.
https://www.facebook.com/kingajazz/
Best local release - Kamloops, BC
Anita Eccleston – More Trumpet – (Independent)
It has been a great year for trumpet player/vocalist Eccleston. From Kamloops, she now lives in Vancouver and plays at venues around the city with her duo and in other combinations. For her most recent CD she has dropped the pop covers and concentrated on classic jazz. This is generally a trio album with her musical partner guitarist Andrew Smith and bassist Graham Clark on bass. She adds the cello of Doug Gorkoff for three tracks. Smith provides vocals on one track. Her journey through the Great American Songboook includes "Fly Me to the Moon," "All of Me" and ends with triumphantly with her trumpet and voice with a song that was kind to Louis Armstrong, "What a Wonderful World." This very talented woman is really coming into her own. She brought a larger band to the Vancouver International Jazz Festival on Canada Day. She had a large audience dancing and cheering throughout her performance. A fall mini-tour of the BC interior added more exposure and similar acclaim. Finally, a musician that had, well deserved good things happen in 2016.
http://www.anitaeccleston.com/
Anita Eccleston (@AnitaEccleston) | Twitter
Best live show you saw this year
Joe Lovano Classic Quartet at the Vogue Theatre in Vancouver. There were less jazz big names at the Jazz Festival this year, presumably due to the low Canadian dollar. Thankfully 63 year old Lovano was one that appeared. The tenor sax player hopped and bopped the night away to my delight. As promised it was a night of classic jazz—mainly originals. His younger band kept up to Lovano and it made for a very enjoyable evening.
Most under-rated record of the year
Will Gobel -- Consider the Blues – (Origin)
Bassist/educator Gobel has assembled a hot band. He includes dirges, Gospel and smoky, late night slow, sax blues numbers on this fine release.
http://www.willgoble.com/
Final Thoughts
I understand that celebrity deaths are a drop in the bucket compared to overall deaths worldwide. Still, I am saddened, by the many losses the jazz world has experienced this year (too many to mention) and I'm hoping for a better 2017. Invariably our aging stars will lose their battles with mortality, but it just didn't seem to end. I hope we all have a better year in 2017.
comments powered by

Disqus