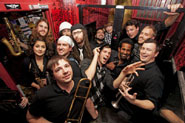 Andrew Harwood of
My Son The Hurricane
Toronto, ON
Signed to Vancouver's Copperspine Records, My Son The Hurricane is a modern twist on the old brass band sound. They have had had amazing success at festivals like SCENE, Hillside, and IndieWeek as well as features on MuchMoreMusic and ExploreMusic. The sky is the limit with this 13 piece brass funk hip hop beast!
Read the !earhot interview with MSTH.
Listen to MSTH on MySpace.com
@msthofficial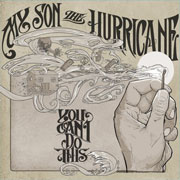 2011 in Review
We've asked artists and programmers look back at the year in music and give their picks for the Best of 2011
Artists
The Pack A.D.
Romi Mayes
Jason Raso
Joshua Hyslop
The Bombox Saints
My Son the Hurricane

Writers & Programmers
Marc "Oxide' LaCasse
Chris Hibbard
Andy Gronberg
Bruno Mazzotta

The Best of 2011 with My Son the Hurricane
My Top 3 records of the year
Primus – Green Naugahyde – (ATO Records)
The Roots – Undun – (Def Jam)
Tyler The Creator – Goblin – (XL Recordings)
Most under-rated record of the year
Jonny Corndawg– Down The Bikini Line – (Nasty Memories Records)
Best local release or a band you think people should know about but don't.
Two Crown King – Two Crown King – (Label)
Two Crown King are friends of ours from London, ON. We've played a bunch of shows with them over the last few months, and they've been incredible. They are a funky hip-hop band with a bunch of groove and soul that sets them apart from a lot of other acts. The band is super tight live, and their self-titled album is always spinning in my car.