Romi Mayes
Winnipeg, Manitoba
Lucky Tonight has been nominated for Roots Solo Recording of the Year at the Western Canadian
Music Awards .
Read our interview with Romi
www.romimayes.com
Twitter: @mayesromi
2011 in Review
We've asked artists and programmers look back at the year in music and give their picks for the Best of 2011
Artists
The Pack A.D.
Romi Mayes
Jason Raso
Joshua Hyslop
The Bombox Saints
My Son the Hurricane

Writers & Programmers
Marc "Oxide' LaCasse
Chris Hibbard
Andy Gronberg
Bruno Mazzotta

The Best of 2011 with Romi Mayes
With her new album Lucky Tonight, Romi Mayes dug deep to reveal her rock roots and expand beyond her start playing Bluegrass. As she says in our interview from November, "I've always been a classic rock head.Then I got interested in the blues. Someone played a Muddy Waters album for me and it completely changed my life. I had to hear everything."
This is what got her excited in 2011...
My Top 3 Records of the Year
K-mac and Howik's Punk Blues Fun House – self titled – (Independent)
This secret gem album that wasn't even nationally released is one of the best rockin raw off the floor spontaneous recordings of the decade let alone the year. Front man Jay Nowicki, of The Perpetrators and kick arse drummer Ken McMahon pull out what you would expect to hear from a top notch Jon Spencer and The Blues Explosion well put together studio album in one take. My favourite track and soon to be a historical rock and roll classic is 'Smokes and Chicken". You can try and track down Kmac for a limited release at kenbmcmahon@yahoo.ca or hear it in a road video I used it in here:www.youtube.com
The Weber Brothers – Baddest Band In The Land – (Independent)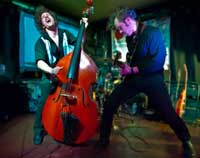 It's no surprise that well seasoned touring veterans The Weber Brothers have put the miles on in kilometres and in experience. Not only one of the best live bands in North America, but also Ronnie Hawkins back up band, The Hawks, The Weber Brothers throw back the hair of any audience, any age, in any room, in any town. Their latest album, Baddest Band In The Land is by far their best yet (and something like their 7th or 8th album) and should be heard by any fan of rock and roll out there. Check http://www.weberbrothers.com for more info.
The Magnificent Sevens – All Kinds of Mean – (Transistor 66)
In this day and age it seems that rock and roll is in threat of death. But it's refreshing when not only can rock and roll stay alive but so can its founding roots in bluegrass, country, harmony and most importantly home grown back porch instrumentation of fiddles, upright basses, acoustic guitars and banjos. And just when you thought you wanted to turn the page because you were about to read an article about another mediocre wanna be hillbilly band, you read on, only to discover that The Mag 7s are rich with diversity, artful simplicity, and passionate giv'er. They may be one of the last true talents in this genre left. And having the hottest chic bass player in short shorts doesn't hurt. Check out the free download of their song "Needle In The Hay" and I challenge you not to love it. Download "Needle in the Hay"
www.mag7s.com