Kathleen Yearwood
Best of 2017: Catherine Fisher
KenMODE, Jesse Matthewson
Share your choices in the comments...
Catherine Fisher, Wine Dark Sea, CJLY FM - Nelson, BC
Catherine Fisher, host of the Wine Dark Sea, Mondays from 8-10pm on Kootenay Co-op Radio, CJLY-FM in Nelson, BC.
My Top 17 of 2017
Anouar Brahem - Blue Maqams - (ECM)
Oud master Anouar Brahem, born in 1957 in Halfaouine, Tunis, was ten when he began studying the oud at the National Conservatory, and then apprenticed with great master Ali Sriti. His ninth album brings Brahem together with jazz greats Dave Holland, Jack DeJohnette and Django Bates. Website
Lusine Grigoryan - Komitas: Seven Songs, Piano Compositions - (ECM)
Composer and ethnomusicologist Komitas Vardapet (1869-1935) spent his life exploring and recording Armenia's musical history. This recording features his 1911 composition Yot Yerg. As Paul Griffiths observes in the liner notes, Lusine Grigoryan has interpreted "not just in what is on the page but the whole folk music background. Her legato phrasing might suggest the duduk, her staccatos the tar; drums and zurna are here, too, together with a folk-like flexibility of rhythm." Website.
Kathleen Yearwood - This Guitar is Wrecked Vol 1 and 2 - (Voice of the Turtle)
I always look forward to new music by Alberta-based composer and musician Kathleen Yearwood. This Guitar is Wrecked opens with a blistering drone-concrete composition.Yearwood's beautiful guitar work and composition skills are in evidence throughout the cds. You can order them on Yearwood's webpage.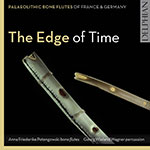 Anna Friederike Potengowski - The Edge of Time: Paleolithic Bone Flutes of France and Germany - (Delphian Records)
I reviewed this for !earshot earlier this year, and it's stuck with me. It isn't easy listening, but it's based on such an interesting premise- flautist Potengowski decided she wanted to go back to the beginning of known human musical language, and began a study of paleolithic bone flutes, including one that is more than 40,000 years old. She created reconstructions of these instruments and experimented with how these could be played. This album is the result. Website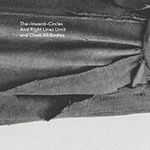 The Inward Circles - And Right Lines Limit and Close All Bodies - (Corbel Stone Press)
This is English minimalist Richard Skelton fourth release and third album as Inward Circles. According to the liner notes, the album "is devoted to burial, obfuscation and mythologisation. There is a desire to obliterate, to destroy, and to discover anew. Each sonic artefact is subject to repeated distortions of pitch and timbre, and, as a result, is transformed beyond recognition. Any traces of acoustic sound that remain are little more than ghosts, as the whole recording is suffused with electricity, a kind of telluric current, an overwhelming chthonic energy." Website
Trio Mediaeval with Arve Henriksen - Rímur - (ECM)
Norwegian trumpeter Arve Henriksen came together with Oslo-based Trio Mediaeval on the Norwegian west coast to discuss and discover mediaeval, traditional, and contemporary music from Iceland, Norway and Sweden. A beautiful listening experience. Website.
Roderick Williams - Howard Skempton: The Rime of the Ancient Mariner - (NMC Recordings)
Chester-born English composer, pianist, and accordionist Howard Skempton has adapted Samuel Taylor Coleridge's poem "The Rime of the Ancient Mariner" for solo voice (baritone Roderick Williams) and small chamber orchestra (the Birmingham Contemporary Music Group). Another Skempton adaptation (The Mill-Water by English poet Edward Thomas) written for sixteen players, including solo viola, rounds out the album. Website
Quartetski - Quartetski Does Bartók: Béla Bartók / Mikrokosmos - (Ambiances Magnétiques)
Hungarian composer and musicologist Béla Bartók gets the Quartetski treatment. The Montreal quintet has previously "treated" works by Stravinsky, Prokofiev, and Mussorgsky, and here they adapt Bartók's Mikrokosmos, an inventive and extensive set of piano exercises composed between 1926 and 1939 to introduce music students to unusual modes, metres, and interval patterns. Website
Godspeed You! Black Emperor - Luciferian Towers - (Constellation)
People already have a lot to say about this recording, so I'll just say, I like it. Website

Tarkovsky Quartet with François Couturier - Nuit Blanche - (ECM)
This is gorgeous. From the liner notes: "Ingmar Bergman once said of Andrey Tarkovsky, "He moves with such naturalness in the room of dreams," and the French-German quartet named after the great Russian filmmaker has developed an associative dream-language of its own." The Tarkovsky Quartet is pianist François Couturier, cellist Anja Lecher, saxophonist Jean-Marc Larché and accordionist Jean-Louis Matinier. Website
Hallé/Hallé Youth Choir - Tarik O'Regan: A Celestial Map of the Sky - (NMC Recordings)
Tarik O'Regan's A Celestial Map of the Sky, performed by a children's and youth choir, was inspired by two woodcuts engraved by German polymath Albrecht in 1515, which Dürerare amongst the oldest known printed European star charts of the northern and southern celestial hemispheres. Website
Joseph Shabason - Aytche - (Western Vinyl)
Saxaphonist and composer Joseph Shabason has said: "So much sax music is about chops, and being able to solo really fast. I feel like robbing the sax of the ability to shred by effecting it and turning it into a dense chordal instrument really helps the instrument become something that it's not usually known for." His playing on this, his debut album of his own music, is beautifully minimal. Website
Mario Batkovic - Mario Batkovic - (Invada Records)
Batkovic describes himself as a Swiss virtuoso solo accordion player born in Bosnia.He started to play as a teen and later studied under Prof. Elspeth Moser at the renowned HochschulefürMusik and Theatre in Hannover, Germany, and went on to graduate as a Master of Arts in Chamber Music Improvisation in the MusikAkademie of Basel, Switzerland. According to Batkovic, he was always in opposition. At the music school he missed the anarchic side of playing in bands, and when playing in bands he missed the classical perfectionism of the HochschulefürMusik. Website
Kim Kashkashian, Lera Auerbach - Arcanum/Dmitri Shostakovich 24 Preludes op. 34 - (ECM)
This is the first joint recording by Armenian-American violist Kim Kashkashian and Russian composer-pianist Lera Auerbach, and it features a viola and piano version of Dmitri Shostakovich's 24 Preludes op. 34, along with Auerbach's own sonata for viola and piano, Arcanum. Website
Jason Sharp - A Boat Upon Its Blood - (Constellation)
Montreal composer and saxophonist Jason Sharp's debut album came out at the end of 2016, but I'm sneaking it in. From the Constellation website: "Taking its title(s) from Robert Creeley's poem "The Heart", A Boat Upon Its Blood deploys the human metronome of amplified pulse as a recurring undercurrent, with compositions that incorporate electro-acoustic and musique concrète strategies, drone, noise, electronics, methodical dissonance, tone poem, layered rhythmic and melodic figures, and improvisation."
Wacław Zimpel and Jakub Ziołek - Zimpel/Ziołek - (Instant Classic)
Polish artists Zimpel/Ziołek explore jazz, post-minimalism, folk traditions and psychedelia. Their music has been compared to "Mike Oldfield in his 70's heyday". An engaging listen.
Pep Llopis - Poiemusia La Nau Dels Argonautes - (Free To Spend)
A 2017 reissue of an iconic 1987 release that mixes sounds of classical minimalism with period electronics, folk melodies, and chanted poetry in Catalan. Llopsis was born in 1945 in Llíria, Comunidad Valenciana. Website
comments powered by

Disqus