Angel Du$t
Best of 2017: Jason Shields
Share your choices in the comments...
Jason Sheilds - BIOS Radio, UMFM 101.5, Winnipeg, Manitoba
I host BiOS RADiO in Winnipeg, Manitoba for UMFM 101.5. The show primarily consists of industrial techno, acid, and other electronic oddities. None of these genres appear on my list this year oddly enough. That's not to say that there weren't some great records in this realm, they just didn't make the cut this year. Also, feel free to check out my music project KHRAKEN on Bandcamp!
https://khraken.bandcamp.com/

My Top 5 records of the year

Charlotte Gainsbourg – Rest (Because Music)
Stunning return from Carlotte Gainsbourg on this release. Her soft vocals which shift between English and French tie together nicely with the incredible production from Ed Banger's SebastiAn. There is a simplistic beauty to this album which makes it an easy choice for my favourite record of the year! The final bonus track with the child singing Happy Birthday is the icing on the cake.
http://www.charlottegainsbourg.com/
https://www.facebook.com/charlottegainsbourg/

Björk – Utopia (One Little Indian)
Utopia is a bit of an oddity, I could understand why people wouldn't find it as accessible as her prior works. As Utopia unfolds it begins to integrate a multitude of "nature sounds" which melds perfectly with Bjork's unique production style. This is further elevated by the incredible vocal range & ominous lyrics this LP offers. Not her strongest work, but it continues to grow on me since its initial release. I will undoubtly be playing this record for months to come.
https://bjork.com/
https://www.facebook.com/bjork/

St. Vincent – MASSEDUCTION (Loma Vista)
This selection may confuse a few people. My radio show primarily plays industrial techno & acid and this is the polar opposite. This album took me a couple listens to fully appreciate. In the end, the pop driven beats with tinges of industrial-rock and absurd lyrics won me over. I was originally introduced to her work from seeing a live performance in 2012. I was never a huge fan of her previous studio releases but MASSEDUCTION is an absolute blast from start to finish. I can't explain why I love this record so much. I just do!
http://ilovestvincent.com/
https://www.facebook.com/St.Vincent/

Borussia – Kinda Love EP (Ed Banger)
This EP received a lot of play from me in the beginning of the year. Young Parasian producer Borussia created a solid 4 track club EP that somehow flew under everyone's radar. Very catchy, very fun, very French. Don't sleep on this one!
https://www.facebook.com/AgentBorussia/

Persona 5 – Original Video Game Soundtrack (Mastard Records)
In all my years, I do not think I have ever listed a video game soundtrack in my year-end roundup. Spanning 110 tracks and 3 CDs (6LPs), this is an absolute masterpiece. The productions are nearly as stylish as the game and that truly says a lot. The OST spans a multitude of genres but is primarily in a loose jazz style. Lyn Inaizumi adds her unique sound to the mix to create a handful of standout tracks that are difficult to not play on repeat. To be honest, there are a few songs on this OST that I will have perpetually stuck in my head until Persona 6 is released. Do not overlook this release because it is a videogame soundtrack. That would be a very silly thing to do.
http://atlus.com/persona5/
https://store.iam8bit.com/products/persona-5-vinyl-soundtrack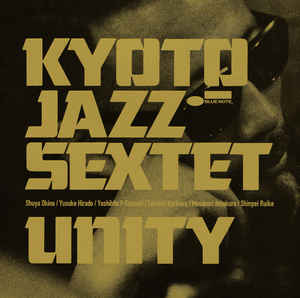 Most under-rated record of the year
Kyoto Jazz Sextet – Unity (Extra Freedom Ltd.)
http://www.universal-music.co.jp/kyoto-jazz-sextet/
https://www.facebook.com/kyotojazzsextet/
Picked this record up on a whim and it is truly incredible. I am not sure if the band is popular in Japan, but I cannot even locate an English review of the album, which is an absolute shame. Be sure to seek out this LP, you will not be disappointed!
Best live show you saw this year
Aphex Twin – Primavera Sound 2017 (Barcelona, Spain)
https://www.youtube.com/watch?v=Fkke5B0P1XY
I wasn't sure what to expect from this performance. After seeing him perform a much more intimate set in 2008 in California I was curious as to how he would approach headlining a music festival as large as Primavera Sound. He did not disappoint! Richard brought stunning live visuals which consisted of morphing and warping the crowds face on the big screen. It truly was a unique experience. Even my "normie" friends loved the performance and we all agreed unanimously that it was one of the best sets we saw the whole weekend.
comments powered by

Disqus