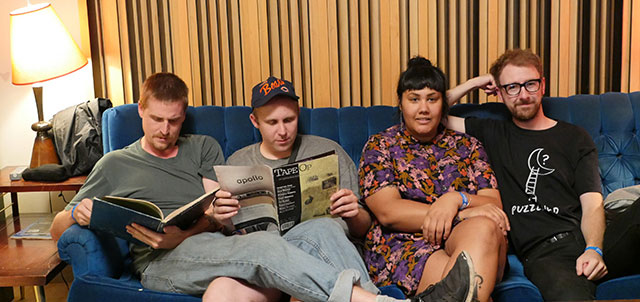 Woolworm
Best of 2016: CFUV MD Troy Lemberg
Troy Lemberg, Music Director at Victoria, BC's CFUV 101.9FM, give us his picks for Best of 2016
Share your choices in the comments...
Troy Lemberg, Music Director, CFV-FM, Victoria, BC
Hi! I am Troy Lemberg, the Music Director at CFUV in Victoria BC as well as host of The Action Index on Thursdays 6:30-8PM. My personal program is a hardcore punk show and I book concerts of various genres in town as well
My Top Records of 2016
Woolworm – Deserve To Die – (Mint)
https://woolworm.bandcamp.com/album/deserve-to-die
Biased pick maybe but also the best album this year. I have told so many people about this album and have been listening to this record since Feb when Woolworm played my 10 year radio show anniversary and they gave me an advance copy of this record. I never stopped listening and knew all the words at the album release show in August. I have been booking this band in Victoria since their very beginnings and am excited to see a full length out on a label and the new fans they have now got!

Dreamdecay – Yu – (Iron Lung)
https://dreamdecay.bandcamp.com/album/y-4
This album was just such a great mix of punk and cool post punk sounds that I fell in love with the release. Then seeing them live twice in 2017 also pushed this album up in my rankings. Check out their KEXP session.


Kelly Lee Owens – Kelly Lee Owens (Smalltown Supersound)
https://kellyleeowens.bandcamp.com/album/kelly-lee-owens
I felt like I was the only one into this album at our station for the first 2 months it was here at the station. Then near the end of its charting time more and more came to discover it. I came into it because of the Jenny Hval featured track but stayed for her production throughout the album.
Best local release
Elan Noon – Have A Spirit Filled – (Self-Released)
https://elannoon.bandcamp.com/album/have-a-spirit-filled
Keenan of Jons' solo project and it is outstanding. Keenan has played in various Victoria projects from noisey groups like Schoolgirl and Sister Blanche Live Band. This solo project sees him play in similar sounds of Jons and other Jons side project Sanity Band. Seeing Keenan do an Elliott Smith cover set at Halloween also connected with the sounds that are on this album.
Best live show you saw this year
I saw a bunch of great live shows this year. I will list 3…
Shabazz Palaces @ Upstairs Cabaret Dec 2nd: I had missed the last time Shabazz had made it over to Victoria and luckily Pretty Good Not Bad put on a winter showcase to bring the band to Victoria. It was more than I could've hoped for and is likely in my top 10 shows I have ever seen. They are just so tight and well put together seamlessly playing a long set.
Woolworm @ Logan's Pub Feb 17th: This was a part of a 2 day 10 year anniversary show for my own radio program. I brought over my friends Woolworm and they played a song I had never seen them performed. It was a perfect set and nice to be up front with all my friends seeing a band I love.
Honorable mentions: Kaitlyn Aurelia Smith, Dreamdecay, Limp Wrist, Courtney Barnett & Kurt Vile.
Most under-rated record of the year
Twist – Spectral (Buzz)
Twist put out a great full length and toured the States/Canada with it. The response out West seemed as if no one gave this record a chance. They played a cool show here in Victoria.
Most over-rated record of the year
White Lung – Paradise (Domino)
This record just didn't live up to my expectations of a White Lung record. Sorry remains my favourite release of theirs.
Record you are most anticipating for 2017
The Courtneys – The Courtneys II (Flying Nun)
New music from the Courtneys! Always wanting more music from them since every release seems to only be a few songs!
comments powered by

Disqus