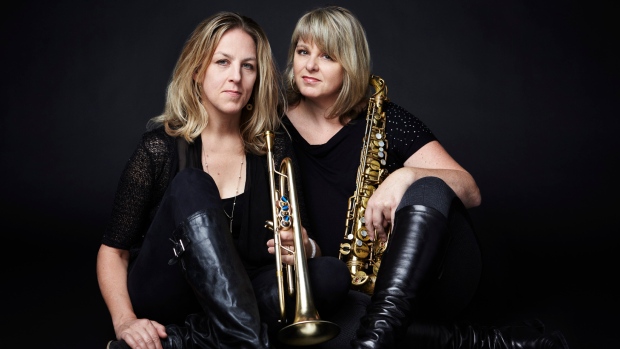 Ingrid & Christine Jensen
Jim Dupuis' Best of Jazz 2017
Interviewer, radio host and Jazz fan Jim Dupuis look at some of the best jazz had to offer in a very good year.
There is no science as to how I pick the artists that end up on these lists. What qualifies? CFBX has had to receive the albums in late 2016 and 2017. Simply, I have to really like the music on their albums. It should be noted that this list contains bands on both large and small American and Canadian labels. More frequently we now have access to Blue Note, Verve, Sony/Okeh, Mack Avenue, etc. But you see Cellar Live, Effendi, Chronograph, OA2, etc., too. Of course, we cannot forget our independent musicians, who provide us with the bulk of our music. Hats off to them. I make a point that musicians from all these groups end up on my lists and we are very grateful that they provide us with music!
For me, it seems like it was the year of the big band or large ensemble. Seven of my top ten instrumental groups contained at least six musicians. It is hard for trios and quartets to compete against that kind of fire power. Yet, some do. Looking at the lists, there are few women in the instrumental section. But, I chose the band with women as my favourite of the year. In the vocal section there were few men, yet I chose Gregory Porter as my favourite of the year (Tied with Cecile McLorin Salvant). So, a tie for vocalist of the year. What's with that? I could not honestly say which album had a more profound effect on me. Both contain amazing musicians and wonderful arrangements which are afforded by big label money. Both vocalists are considered to be at the top in the jazz vocal field. I don't believe in flipping coins, hence we get a tie.
The Honourable Mention lists contain albums which I kept going back to because of their high level of musicianship and they would be a welcome addition to any jazz fan's music collection.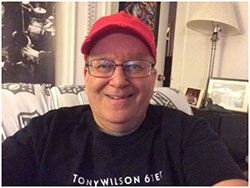 Jim Dupuisis the host of Jazz Notes. This show is in its 17th year at CFBX-FM in Kamloops, BC. Jazz Notes presents a high percentage of new jazz-like music and classic tracks which complement it. The Big Easy Gumbo segment provides a stage for traditional jazz and stories. Jim interviews people in the music industry that usually have a connection to jazz. The interviews are aired on Jazz Notes and some are transcribed and packaged as features for publications, primarily earshot-online.com.
Best of 2017 Jazz Top 10 Mainly Instrumental

1. Ingrid & Christine Jensen with Ben Monder Infinitude (FamGroup)
Great compositions and wonderful musicianship from the Jensen sisters and Ben Monder, along with a spectacular rhythm section. The only group on this list that I saw perform this year. The performance was exquisite. They are now getting, well-deserved recognition as musicians, band leaders, composers and arrangers. Makes a B.C. guy proud!
2. Blue Note All-Stars Our Point of View (Blue Note)
Super-group, recycling the name from the 1980s Blue Note project. Band consists of pianist Robert Glasper, trumpeter Ambrose Akinmusire, saxophonist Marcus Strickland, guitarist/vocalist Lionel Loueke, bassist Derrick Hodge, and drummer Kendrick Scott. Scary-talented and they actually play well together. Add Wayne Shorter and Herbie Hancock on some tracks and as Larry Day of Curb Your Enthusiam says, "What's not to like?"
3. PJ Perry Quartet Alto Gusto (Cellar Live)
Perry, the veteran bopper and alto sax player, has found the fountain of youth. He has assembled a group of talented musicians that take you through, arguably, a softer side of bop and stretch out their talents on classic compositions from the likes of Parker, Golson and Gillespie. Alto Gusto contains plenty of solos, great playing and amazing energy.
4. Prime Time Big Band Live at the Ironwood (Chronograph Records)
There are very few frequently working big bands left and Alberta's Prime Time Big Band is one of them, and a very good one, at that. Live at the Ironwood contains a mix of big band classics such as Sing, Sing, Sing and the Alberta Suite, which is a commissioned composition. This release is a nice mix of classic and contemporary big band music.
5. Louis Hayes Serenade for Horace (Capitol Records)
Drummer Hayes provides this tribute to his mentor Horace Silver and covers highlights of Silver's long, outstanding career. His regular combo and a cameo from vocalist Gregory Porter provide a fitting homage to Senor Blues in the year that we lost him.
6. Paul Tynan & Aaron Lington Bicoastal Collective Chapter 5 (OA2)
Here is another great, large ensemble/big band. The Canadian trumpeter Tynan and the American bari sax player Lington have another winner in their most recent chapter of this series. Both are important educators in their respective countries. BCC5 is a very eclectic mix of compositions and arrangements from big band funk to Chinese folk tunes. It is a gorgeous walk through contemporary jazz.
7. John Beasley presents Monk'estra Vol. 2 (Mack Avenue Records)
Beasley's second homage to Thelonious Monk is a very spontaneous stroll through the Monk catalogue. Thankfully he does not simply rehash Monk's tunes but allows this large group of excellent players room for improvisation. Monk would be proud.
8. Cory Weeds and the Jeff Hamilton Trio Dreamsville (Cellar Live)
The prolific saxophonist, with many other hats, must have his heart rooted in the blues. His soulful playing, such as on "Lady Wants to Know" comes through beautifully. Bennissimo shows off his trademark sound. On this release, his partners, the Jeff Hamilton Trio, are given equal prominence and they show off their considerable talents.
9. Christian McBride Big Band Bringin' It (Mack Avenue Records)
Bassist McBride's big band can play anything. Funk, swing, guitar solos; they have it all. Great selection of standards and originals played by an all-star band.
10. Felix Stussi, et al. Les Malcommodes Invitent (Effendi)
Another gem from Quebec's Effendi Label. Pianist Felix Stussi and friends don't think outside the box. They build new boxes. After all, their name translates to Little Troublemakers. Yet, there is a comforting feel that is rooted in the past and a certain playfulness in their performance. They provide a homage to the late Paul Bley, along with French cabaret music, light avant-garde and a fast bopping finale complete with skat. Who says good music can't be fun? After-all it was Stussi's 50th birthday and musical hijinks ensued.
Honourable Mention:
Ambrose Akinmusire A Rift in Decorum : Live at the Village Vanguard (Blue Note)
Audrey Ochoa Trio Afterthought (Chronograph Records)
Bill Charlap Trio Uptown Downtown (Impulse)
Bram Weijters and Chad McCullough Feather (Ears And Eyes Records)
Emmet Cohen featuring Jimmy Cobb Masters Legacy Series Vol. 1 (Cellar Live)
Heillig Manoeuvre Thoughtful Fun (Independent)
Keith O'Rourke Sketches from the Road (Chronograph Records / Fontana North)
Best of 2017 Jazz Vocal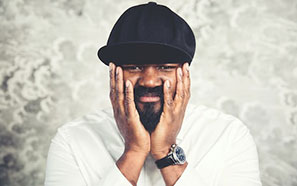 1 (tied). Cecile McLorin Salvant Dreams and Daggers (Mack Avenue Records)
Hard to top this 2 CD offering. Maybe the best woman's jazz voice in existence, today. Mostly recorded live at The Village Vanguard, she takes us through the Gershwins, Kurt Veill, Langston Hughes and whatever's left of the Great American Songbook. She can sing it all!
1 (tied). Gregory Porter Nat King Cole and Me (Blue Note)
An amazing tribute to Nat King Cole including sweeping, orchestral arrangements along with a tight, talented jazz band. Every bit as good as everybody is saying it is. You really remember Nat King Cole, when hearing this album, but Porter does not compromise his own voice for that effect and you are hearing Gregory Porter and not Nat King Cole and he is amazing!
3. Diana Krall Turn Up the Quiet (Verve Records)
It's hard to call this a comeback album, but maybe it is. She returns to the Great American Songbook for mostly slow paced standards and adapts them to her now mature voice. Why? It's what made her famous and she does it so darn well.
4. Bria Skonberg With a Twist (Sony Masterworks/Okeh Records)
Talented trumpeter and vocalist Skonberg is on a hot streak and With a Twist continues that trend. It contains a varied assortment of tunes. You can find clever arrangements of tangos, swing era tunes and even a Leonard Cohen cover. She continues to work with very talented musicians and her playful demeanor enhances the enjoyment of her performances.
5. Johanna Sillanpaa From This Side (Chronograph Records)
Calgary based vocalist/composer, Sillanpaa provides us with a mix or originals and standards. Her originals stand up to any I've heard this year. When you can get Chis Andrew, Ingrid Jensen, George Koeller and Tyler Hornby to play your compositions on your album, you have arrived.
Honourable mention:
Allison Lynch Skin & Flame independent
Andrea MotisEmotional Dance Impulse
Linda Carone Black Midnight Independent
Mary-Catherine Pazzano You're Gonna Hear From Me Glorious Feeling Records
Monica Chapman Small World Independent
comments powered by

Disqus